Overall market analysis
This month, the domestic cyclohexanone market rose along the way. As countries actively reduced production and rebalanced the market affected by the epidemic, bullish sentiment continued to heat up and crude oil fluctuated upwards, bringing benefits. The price of the raw material pure benzene Sinopec was adjusted 5 times this month. Five times of upward adjustments, Sinopec's pure benzene listing price increase boosted the market sentiment, the cyclohexanone market followed the rise. At this stage, the downstream chemical fiber and solvent inquiry was concentrated, and the number of stockists entering the market increased. For the hexanone plant, the operating rate of caprolactam has increased, chemical fiber orders have increased, and the market demand for solvents has been weak. Since the end of May, trading has been less heard. During the month, Fujian Dongxin, Fujian Tianchen, Chongqing Huafeng and Jining Bank of China have all started driving. In the market, the spot stock maintained a tight balance, coupled with the strong raw material pure benzene, the cost side has certain support, the market price is actively pushing up, and the trading atmosphere in the market is general.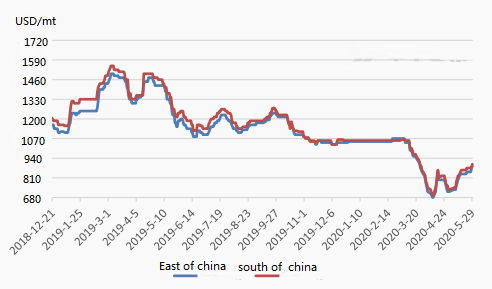 Forecast of the Future Market
Influential

Factors

Main Point Overview

Judgement

Factory

operating rate,

inventory and

overstock

situation

There is no dynamic hearing of the device, and the operating rate is maintained

Stable

Pure benzene

The recent performance of the Asian pure benzene market has been veryeye-catching. Looking at June, with the epidemic situation abroad

Improvements, rising crude oil bottoms and other factors, the pure benzene market is expected to remain strong

Stable

Caprolactam

In June, the market or range is expected to be mainly volatile, but the bottom support is strong, and the range may still rise slightly.

Stable

Solvent market

The solvent market itself has a smaller proportion than the market, and the recent demand is weak, and the trading demand remains rigid.

Synthetic

judgment

At present, the inventory of the cyclohexanone plant is low, and the downstream caprolactam is started and maintained.

The raw material pure benzene is strong, and the cost is supported. The downstream Demand for solvents is weak and price falls are difficult
Conclusions
In June, as the epidemic situation in foreign countries improved, crude oil was raised, raw material benzene was maintained, cyclohexanone factory inventories were low, and downstream caprolactam started to maintain, but since the end of May, the market demand for solvents has been weak, trading has been little heard, and comprehensive In view of this, the cyclohexanone market will be more difficult to rise in the next cycle.

Disclaimer: Echemi reserves the right of final explanation and revision for all the information.
Trade Alert
Delivering the latest product trends and industry news straight to your inbox.
(We'll never share your email address with a third-party.)