
Home
>
Chloroacetic Acid Market Remained Weak
Introduction: The Chinese chloroacetic acid market moved weakly after the Spring Festival holiday. Many producers are operating in a loss. But given the oversupply, the bearish sentiments are full in the market.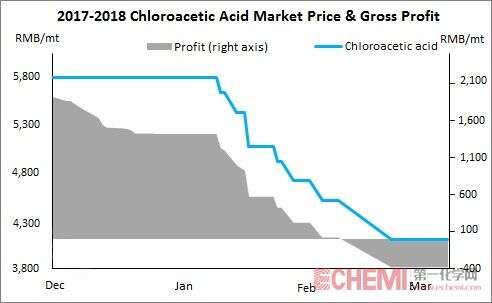 Remarks: Excluding the freight allowance of liquid chlorine and hydrochloric acid.
After the Spring Festival, the chloroacetic acid market remained weak. Many producers are operating in a loss. Freight allowance of liquid chlorine was offset by the by-product hydrochloric acid and mother liquor. Glacial acetic acid prices remained high, and the production cost of chloroacetic acid was high. Currently, most units are running stably.
The pesticide market entered the off-season and the demand for pesticide was weak. Moreover, the operating rate in cellulose and glycine betaine recovered slowly. The overall demand for chloroacetic acid was tepid. Middlemen operated cautiously.
With the declines in prices, the export arbitrage has opened. However, there are many uncertain factors in the market and export merchants operate cautiously. Chloroacetic acid producers are the major exporters. The overall buying interest is flat, which cannot support the chloroacetic acid market to move up. It is predicted that the chloroacetic acid market will continue to move marginally in the short term. Players should focus on the units' running status.

Disclaimer: Echemi reserves the right of final explanation and revision for all the information.
Trade Alert
Delivering the latest product trends and industry news straight to your inbox.
(We'll never share your email address with a third-party.)