
Home
>
Chinese MMA Market Price Hit a Historical High
Introduction: The Chinese MMA market was a little crazy recently. The intensive maintenance in April and May stimulated the market increases. The prices are skyrocketing and mainstream prices have reached RMB 25,500-26,000/mt, up 41% year on year. Today, Echemi will show the details in the MMA market.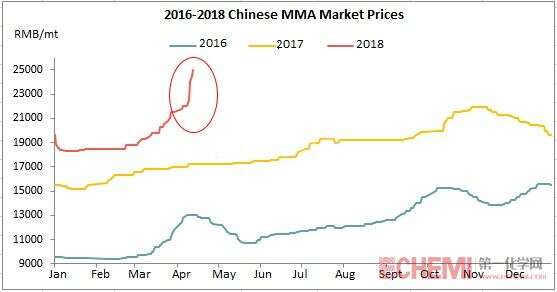 Before April 5, one large-sized producer published the contract offers in April, which reached a historical high at RMB 26,000/mt. Before that, mainstream prices in the trading market never broke RMB 24,000/mt. After the holiday, mainstream dealing prices of MMA had reached RMB 25,500-26,000/mt. Though downstream users were surprised to see the high prices, the maintenance meant the tight supply.
Downstream users were unprepared for these declines. Some users had few MMA to consume. As the downstream users till had order to produce, they had to purchase high-priced MMA. Acrylic board producers said that increases in MMA made their production difficult. They had no choice bu increase the prices to balance the pressure.
According to Echemi, the mainstream negotiation prices for ACR530 in Shandong were around RMB 28,000/mt, up RMB 2,250/mt or 8.74% week on week. As MMA is not the main raw material of coating resin, the increases in MMA market didn't influence the coating resin market too much. Coating resin prices moved up by RMB 200-700/mt.
On the whole, sellers in the MMA market mainly master the voice. Downstream users are trying to balance the production cost. Currently, MMA prices have broke the historical high point and the market is expected to be firm in May on the maintenance at PetroChina Jilin Petrochemical. Players should operate rationally.

Disclaimer: Echemi reserves the right of final explanation and revision for all the information.
Trade Alert
Delivering the latest product trends and industry news straight to your inbox.
(We'll never share your email address with a third-party.)