
Home
>
Aniline Market Prices Showed a Stable-to-Increasing Trend on Tight Supply
Introduction: Entering April 2018, the Chinese aniline market moved stably. Though the market prices saw decline risks, the maintenance and decreasing operating rate supported the aniline market. Moreover, export orders improved and the demand for aniline got better. Aniline producers' ex-works prices moved up by RMB 300-500/mt from April 14 to April 16.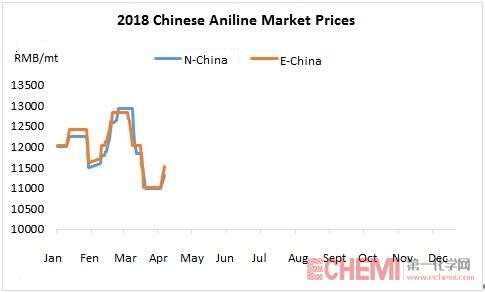 In early April, prices of imported aniline were slightly low in the Chinese market. Moreover, the demand for Chinese aniline from India shrank. Chinese producers suffered sales pressure. In East China, some producers had inventory pressure. Aniline market prices faced decline possibility.
In mid-April, units in Nanjing Chemical and Shanxi Tianji were running at low loads. Some units in Xinpu were shut. The production declined, which supported the market. Moreover, the export orders increased and the export prices went up, which stimulated the export activity and eased the inventory pressure.
The downstream operating rate also moved up, and the downstream demand for aniline moved up. MDI prices went up, which supported the aniline market to some degree. From the production cost aspect, benzene prices moved up, which supported the production cost of aniline.
Supported by the factors in the market, mainstream aniline producers will increase the ex-works prices, which will promote the market prices. But there are still some factors players should focus on. The 100kt/a aniline unit at Nanjing Chemical will shut on April 20. The supply will decline. In May, the maintenance of MDI units in Lianheng and Wanhua will decline the demand for aniline. Meanwhile, the aniline from Northeast China will influence the goods in Shandong. The 100kt/a aniline unit will restart at the end of May. The 200kt/a aniline unit will restart at the end of June. The SCO Summit in June may influence the detailed schedule.

Disclaimer: Echemi reserves the right of final explanation and revision for all the information.
Trade Alert
Delivering the latest product trends and industry news straight to your inbox.
(We'll never share your email address with a third-party.)