
Home
>
China Surpassed Japan to World Top Natural Gas Importer
According to official sources, Northeast Asia LNG imports reached 12.8 Mt in May 2018. The top four LNG importers of the world, Japan, China, South Korea and India all saw grows from the same period in 2017. It's worthy to mention that, China's natural gas import, including LNG and PNG both, reached 34.90 million tons in the first five months of 2018, this surpassed Japan's 34.50 million tons to be the largest natural gas importer of the world.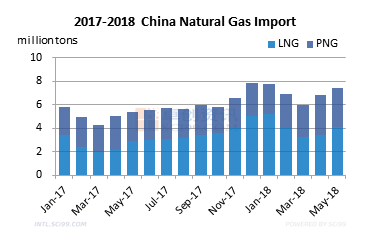 Japan, world's largest LNG importer, achieved 6.4 million tons of imports, up 2.7% Y-O-Y and up 14.2% M-O-M. The LT price was $8.2/mn Btu, and the spot price was $7.9/mn Btu. The import volume turned upwards after a two consecutive month of drops, but the import price dropped greatly from last month.
China imported 4.15 million tons of LNG in May, up 33.15% Y-O-Y and up 30.59% M-O-M. It's worth to mention that China's LNG imports of the first five months have reached 19.87 million tons, up 54.27% from the same period of the previous year, driven by the coal-to-gas switch and city gas storage building, but it is also clear that the growth speed is decelerating.
South Korea received 2.8 million tons of LNG in May, up 12.1% Y-O-Y but down 13.1% M-O-M. And India, as the fourth largest importer of the world, achieved 1.67 million tons of LNG imports in May, up 16.4% Y-O-Y and down less than 1% M-O-M.
The unusual price surge in Northeast Asia was amazingly firm in May. The average DES price of Japan, China and South Korea reached $9.36/mn Btu by the end of the month, 106.6% higher than the previous year's $4.53/mn Btu and creating historical highs at the off-peak season. China's strong buying and tightening world supply together drove the price to swing upwards continuously, despite the nuclear rebooting plans at Japan and weakening demand at South Korea, the traditional top two importers in the past years. Although the peaking price leveled off at the end of the month by some extent due to lack of confidence at sellers, the vitality of the fundamentals was likely to lift up the price level again sooner or later.

Disclaimer: Echemi reserves the right of final explanation and revision for all the information.
Trade Alert
Delivering the latest product trends and industry news straight to your inbox.
(We'll never share your email address with a third-party.)