
Home
>
Maersk subsidiary to open 'green' warehouse for chemicals in Pune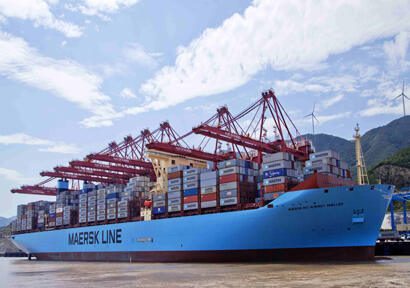 APM Terminals Inland Services, a unit of Danish transport giant AP Moller-Maersk Group, is to open India's first environment approved inland container depot (ICD) for handling chemicals in Pune, according to a report in the Hindu Business Line newspaper.
The Ministry of Environment, Forest and Climate Change has given APM Terminals Inland Services blanket approval to store 35,000 tonnes of chemicals of all types, except explosives and radioactive chemicals, at its facility located 150-km from Mumbai. The ICD can handle 60,000 containers a year. It has 100,000-sq. ft. of warehouse space, half bonded and half non-bonded, besides 50,000-sq. ft. of yard space to store containers. India is a net importer of chemicals, with imports growing at 17% CAGR in the last 10 years and exports at about 8%.
"Given that there is a huge amount of export-import happening in chemicals, one of the biggest challenges that chemical companies face today is the infrastructure to support the regulatory issues and compliance, because there are not too many compliant facilities in India, and this was hindering growth," said APM Terminals' Managing Director for South Asia, Mr. Ajit Venkataraman. "We see this as an opportunity not just for us, but also for the chemical industry to take it to the next level," he said.
Global port operators such as DP World and PSA International are chasing cargo in India's hinterland by acquiring firms running container freight stations (CFS), ICDs and container trains, to offer end-to-end solutions and propel growth in the world's fastest growing major economy. AP Moller-Maersk Group runs Maersk Line, the world's biggest container shipping company, and APM Terminals, one of the big four global port terminal operators. It also runs Damco, a freight forwarder. This helps the Moller-Maersk Group offer end-to-end services to customers.
"As a group, we transformed into a logistics and transport business a year ago. This stems from the fact that customers are looking for end-to-end solutions, they don't want to deal with multiple entities, they just want to deal with one entity who will take end-to-end responsibility. With Maersk Line, APMT and Damco, there is no other group that can give a complete end-to-end solution," said Mr. Venkataraman.
Many of the large chemical players want a single player to deal with in key consumption and production areas. "Since safety, security and compliance is such an important thing for these chemical giants and it fits well with the way we run our operations in a safe and compliant manner, it's a good match in terms of what the customer is looking for and what we can provide," he noted.
APM Terminals Inland Services runs two ICDs – one each in Pune and Dadri – and five CFSs – two in Mumbai and one each in Chennai, Mundra and Tuticorin. Mr. Venkataraman said the firm would look at setting up more such environment compliant warehouses to store chemicals at its other facilities.

Disclaimer: Echemi reserves the right of final explanation and revision for all the information.
Trade Alert
Delivering the latest product trends and industry news straight to your inbox.
(We'll never share your email address with a third-party.)