
Home
>
Bengal Chemicals to resume production of snake anti-venom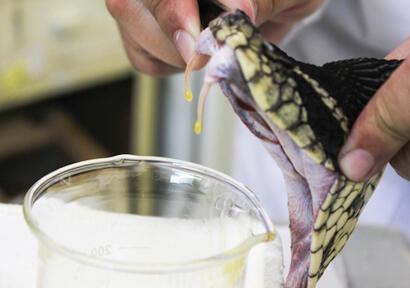 The country's first anti snake venom-maker, Bengal Chemicals & Pharmaceuticals Ltd. (BCPL), is planning to resume production of its flagship offering, the anti-snake venom serum, according to a report in the Hindu Business Line newspaper. A proposal in this regard is said to be awaiting clearance from the centre.
Set up by the renowned Bengali chemist and nationalist entrepreneur, Acharya Prafulla Chandra Ray in Kolkata in 1901, the company – nationalised in 1980 – was forced to stop production of the life-saving serum in 2006-07 following the lack of good manufacturing practice clearances and ageing donor animals, including horses. The unit was then producing 100,000 vials annually.
According to Mr. P.M. Chandraiah, Managing Director and Director (Finance), the company will invest approximately Rs. 30-crore as it plans to buy donor animals (horses) and have a new manufacturing set-up. The company's Kolkata unit will be leveraged for the manufacture of anti-snake venom. The target is to have an annual capacity of 400,000 vials.
Typically, anti-snake venoms are produced using a donor animal – in most cases a horse – which is injected with the snake venom so that it produces a neutralising antibody. Then, the blood is collected and purified to make the serum.
"We intend to resume production of the anti-snake venom serum over the next three years. Proposals have been sent across to the Ministry," Mr. Chandraiah was quoted as saying in the report.
Improving finances
Bengal Chemical had started work on upgrading its anti-snake venom manufacturing facilities in 2008-09. Construction work had begun, but was subsequently put on hold for want of funds.
The company reported its last profit in the early 1950s. Since then, it has remained in the red. However, its finances started improving with restructuring and modernisation of production facilities, improved sales and marketing, and better administration. The company reported its first profit (since nationalisation) of Rs. 5-crore in FY17. In FY18, profits doubled to Rs. 10-crore. Mr. Chandraiah expects the company to report a profit of Rs. 15-20 crores this fiscal, making it the highest profit-making pharma PSU.
"Today, we are profitable and can resume production of the anti-snake venom serum on our own if given the go-ahead," he said. So far, profits have been driven primarily by its home-care, personal care and pharmaceuticals verticals through heritage brands like 'Phenyl' (floor cleaning brand), 'Aqua Ptychotis' (indigestion syrup made from ajwain seeds) and 'Cantharidin' hair oil. The pharma division manufactures generic drugs and antibiotics supplied mostly to government hospitals.
Mr. Chandraiah expects Bengal Chemicals' finances to improve further once the serum making starts. The life-saving drug is in short supply with a handful of private manufacturers dominating the market. "Anti-snake venom serum sales are expected to contribute at least 15-20 per cent to our bottom-line. The market scope is huge," he said. "If we achieve scale, we may look at exports to neighbouring countries where there is demand," he added. India, as per the World Health Organisation (WHO), accounts for nearly 50% of the global snake bite cases and reported deaths.

Disclaimer: Echemi reserves the right of final explanation and revision for all the information.
Trade Alert
Delivering the latest product trends and industry news straight to your inbox.
(We'll never share your email address with a third-party.)