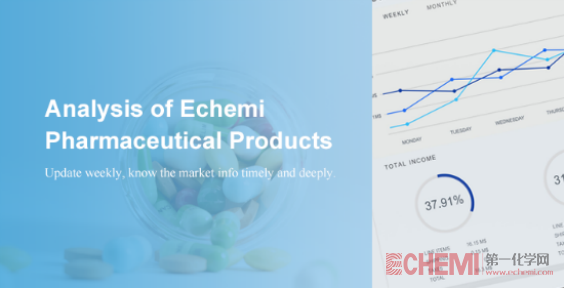 1.Gentamycin Sulfate:$129 /BOU FOB
The price of gentamicin sulfate is relatively stable. The reference price was $129/BOU FOB.
2.Albendazole:$28/KGS FOB
Albendazole supply was tight.The high price would turn lower. FOB USD 28/KGS.
3.Tylosin tartrate powder:$42/KGS FOB
Tylosin tartrate , as an important veterinary drug for pigs, is greatly affected by the pig market. In 2019, due to the persistence of Asfarviridae and the low price of raw pork, the stock of pigs may continue to decline. Therefore, the market prospect of tylosin tartrate was turning pessimistic, It is likely that price would drop continuously.
4.Erythromycin Thiocyanate:$59/KGS FOB
The downstream synthetic product azithromycin price increased,so that the main domestic producer of erythromycin erythromycin, Dongyang Sun, stopped quoting.And the manufacturer was expected to start quoting in the fourth quarter. Ningxia Tairui, Ningxia Qiyuan stopped production, while Yili Chuaning would be able to provide a small quantity.There would be short stock with rising prices.
5.Tilmicosin Phosphate:$50/KGS FOB
Tilmicosin phosphate continued to decline. FOB USD 50/KGS
6.Florfenicol:$60/KGS FOB
Manufacturers began to produce florfenicol for March in March. It is expected to fall then, but the range was limited. FOB USD60/KGS.
7.Azithromycin:$120/KGS FOB
Erythromycin thiocyanate's largest domestic manufacturer, Hec pharm, was expected to start quoting in the fourth quarter. Ningxia Tairui and Ningxia Qiyuan had stopped production. Currently, the goods from Yili Chuaning on the market can be provided in small quantities. There was not much stock of rising price. There are totally 5-6 manufacturers in China. Due to environmental reasons,manufacturers in Hebei have stopped production, while manufacturers in Huangshi and Shandong have limited production. The market supply was tight, the price was stable in a high position because of short supply. The fluctuations would be not big. Azithromycin FOB $120/kgs.
8.Ivermectin:$175/KGS FOB
Ivermectin was out of stock in China.Suppliers are offering goods to regular customers and handle previous orders, so new inquiries would not get further quotations.The tension of shortage of ivermectin would continue.
9.Paracetamol
Price of paracetamol continued at high level.Manufacturers were very cautious to quote. They did not accept big orders, and were dealing with the previous orders. The tension was still continuing.
10.Colistin Sulphate
The market of colistin sulfate is stable. Prices are mainly affected by the exchange rate. FOB 12515 USD/ MT
11.Neomycin Sulfate
The price of neomycin sulfate showed a steady decline. Price is negotiable.
12.Oxytetracyclinehydrochloride
The price trend of oxytetracycline hydrochloride is also now in a slow decline.

Disclaimer: Echemi reserves the right of final explanation and revision for all the information.
Trade Alert
Delivering the latest product trends and industry news straight to your inbox.
(We'll never share your email address with a third-party.)