
Home
>
Hazardous Waste warehouse caused damaging explosion of Jiangsu Xiangshui
An explosion occured at jiangsu Tian Jiayi chemical co., LTD which was located in Chenjiagang town, Xiangshui county, Yancheng city, east of China's Jiangsu province. That happened at about 14:48 on March 21, Beijing time.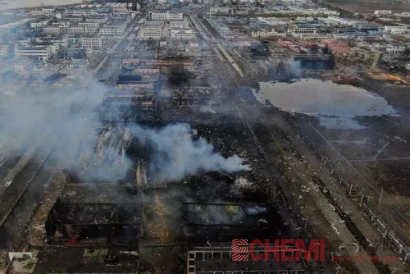 Data showed that the solid waste storage capacity of Jiangsu Xiangshui Tianjia Yihua factory was up to 1078 cubic meters, which is used to store the waste liquid and solid waste produced in the factory. In addition, the plant has a hazardous waste storage yard for the storage of hazardous waste, with an annual output of 4,500 tons. The plant has solid waste, waste liquid incinerator, burning 4500 tons of solid waste, waste liquid.
There were 64 people died, 26 have been identified, 38 identity to be confirmed, and 28 people were missing.
Echemi Consequence Forecast
1.Safety inspection may reinforce
Large-scale safety inspections would cause large numbers of chemical plants to be shut down or delay their production. The shortage of chemical products may lead to a wave of price hikes.
2.Chemical industry parks shutdown and short supply of chemicals
Serious of chain reactions would appear such as shutdown of chemical industry parks and short supply of chemical raw materials. 16 chemical enterprises in Xiangshui Chemical Park were forced to stop production, and the substantial reduction of raw materials caused the turmoil of the chemical market! It is reported that chemical factories in the park have been suspended, chemical prices have been disrupted. The explosion makes the dye market supply shortages, ushered in a wave of inflation! Factories in nearby industrial parks will also be affected. Because the shut down of chemical park and the suspend of production, many subsidiaries of a number of listed companies suffered great losses.
3.Suggestion: Stock up before sharp prices
Series of inspection and improvement of environment protection and chemical production security are conducting in different regions of China, causing suspension of production and reduction of output. It is suggested that a timely purchase may prevent short supply and high cost of buying.

Disclaimer: Echemi reserves the right of final explanation and revision for all the information.
Trade Alert
Delivering the latest product trends and industry news straight to your inbox.
(We'll never share your email address with a third-party.)