Event process:
Shandong held an urgent video government meeting on the safety production of dangerous chemicals and issued a notice of immediate implementation of emergency actions for the investigation and remediation of dangerous chemicals in hazardous chemicals enterprises, organizing all dangerous chemicals and explosives enterprises in shandong province to start immediately. Supervision departments at all levels quickly carried out safety law enforcement inspections, and "reviewed" the hidden dangers and rectified the hidden dangers.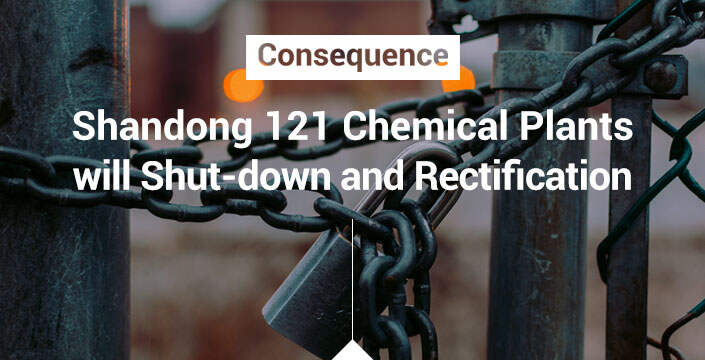 The Provincial Emergency Department consists of five inspection teams, led by the leaders of the department, and conducts supervision and inspection on nitro compound production enterprises in 11 cities including Qingdao and Zibo without prior notice. Up to now, it has supervised and inspected 18 enterprises, found 287 problems and hidden dangers, and filed 9 enterprises for punishment, and ordered 7 enterprises to suspend production and rectify.
Up to now, a total of 762 inspection teams have been dispatched in various cities and districts.4,050 enterprises have been inspected, 22,504 problems and hidden dangers have been discovered, and 7,796 rectifications have been completed on the spot. 113 enterprises have been filed, and 121 enterprises have been ordered to suspend production.
Consequence Forecast:
The chemical industry in Shandong would turn into a stable downtrend. The operating rate of chlor-alkali enterprises in Shandong continued to decrease. Some downstream enterprises began safety inspections, and production shutdowns and production cuts appeared. The supply of liquid chlorine in the market was insufficient. The caustic soda market, will witness maintenance season in April.
As the price of caustic soda continued to fall, the pressure of plants did not decrease. Therefore, some enterprises began to stabilize the price of liquid chlorine. Some enterprises also showed an appropriate increase. The price of aniline showed a "cliff-style" decline, and began to rebound since last week with a "Roller coaster" trend.
This week, due to the fact that some enterprises in the northern region have not started producing, the market demand is stable.Coupled with the pressure on production costs of enterprises, the price of aniline is to heading upward. At present, some enterprises in Shandong Province are subjected to safety supervision, and there may be low-cost shipments of raw materials. It is expected that the aniline market will be stable in the short term.

Disclaimer: Echemi reserves the right of final explanation and revision for all the information.
Trade Alert
Delivering the latest product trends and industry news straight to your inbox.
(We'll never share your email address with a third-party.)