
Home
>
Hubei Muya Biotechnology: An enterprise specializing in ginkgo biloba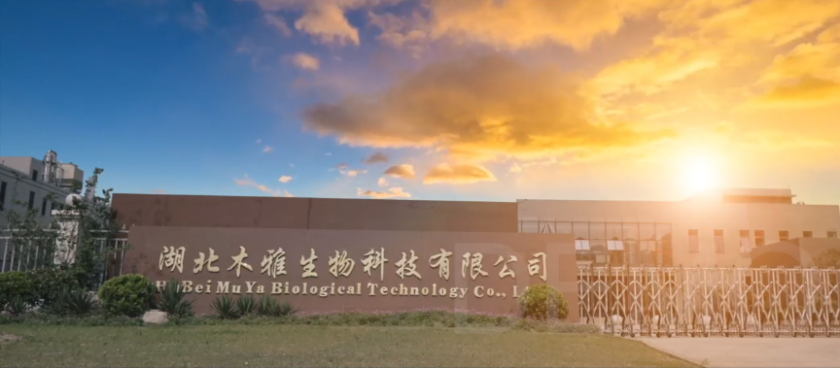 Ginkgo, also known as Gongsun Tree, first appeared in the carboniferous period 345 million years ago. It is a relic plant from the Ancient Permian period. It is regarded as "living fossil". Ginkgo tree is full of treasure, and it is believed in the traditional Chinese medicine theory that ginkgo leaves can boost blood circulation and remove blood stasis, clear collaterals and kill pain, astringe lung and relieve asthma, resolve turbidity and lower blood lipid, which can be applied to treat thoracic obstruction, cardialgia, stroke, hemiplegia and aphasia caused by stasis blocking channels. Modern scientific research has found that ginkgo biloba leaves contain more than 160 kinds of effective medicinal ingredients.
The most representative flavonoids in ginkgo biloba leaves inhabit platelet aggregation and scavenge free radicals in human body. It is widely used in medicine, dietary supplement, food additives, energy drinks, and cosmetics. As the aging in China becomes more serious and the demand for cardiovascular dietary supplements is increasing, the deep processing industry of ginkgo biloba has a huge development prospect.
Hubei Muya Biotechnology Co., Ltd is a large modern pharmaceutical enterprise specializing in ginkgo biloba cultivation and deep processing. In 2014, it was registered in Dawu County Yangping Industrial Park with total assets of 280 million yuan. The factory covers an area of 100.4 mu (6.69 ha) with an additional ginkgo cultivation base of 10500 mu (700 ha). Currently, there are 105 employees, more than 30% of whom are technological talents engaging in the R&D of high-tech products. Muya always adheres to the development concept of relying on resources of science and technology, strictly ensuring quality and serving health. The company implements the one-stop development mode of R&D, production and sales of medicinal materials cultivation, extraction development of drugs and dietary supplements. The company, with strong R&D strength and the enterprising spirit of continuous innovation, is committed to developing natural biological health industry. At present, the company has obtained Drug Production License and the production record for ginkgo biloba extraction has been completed. The record number is ZTCB20180090.
The planting base of the company is located in Dawu, Hubei Province at the border of Hubei Province and Henan Province, southwest of Mount Dabie. There are abundant rain and plenty of rivers with a good ecological environment. Ginkgo biloba planting base owns transfer lands of more than 10,000 mu (666 ha), which are all independently managed by the company. At present, the entire ginkgo base has constructed and hardened roads for about 110 kilometers. It has drilled 30 deep wells and build 110 reservoirs with varied sizes. Three living areas and one drying workshop equipped with one ginkgo leaf drying production line have been built in the base. Its annual production and processing capacity is 5,000 tons. By 2017, ginkgo trees of more than 10,500 mu (700 ha) have been planted and the total number of ginkgo trees has reached more than 18 million. In 2017, it was rated as a key leading enterprise in Hubei Province. Ginkgo base of the company develops rapidly and is managed well. With the coming of productive period, the yield of dry leaf will increase substantially year by year. The company fully implements the concept of green agriculture and green herbs. It aims at building a green traditional Chinese medicine base with no pesticide in plants, water sources and soil. Besides, the company cooperates with scientific institutes to carry out biocontrol studies, which improved the level of cultivation management. In addition, the company also adopts pollution-free pesticide technology measures to comprehensively control pests and diseases. At the same time, by taking the advantage in proprietary trading, the company implements GAP in the whole process of planting, picking, processing and storing products to ensure that the amounts of pesticide residues are lower than FAO/WHO or national standards.
Ginkgo biloba deep processing plant covers a total area of 100.4 mu (6.69 ha) and is designed and constructed in accordance with GMP requirements. At the same time, the company invests heavily in the construction of GMP ginkgo biloba leaf extraction workshop and technology R&D center with leading levels in China. The company is equipped with crushers, outfeed conveyors, feeding conveyors, dynamic extracting tanks, continuous countercurrent extraction machine sets, extracting tank deslagging and slag-extruding system, macroporous resin columns, three-effect counter-current flash evaporators, ZPLG vacuum disc continuous dryers, low-temperature vacuum belt dryers and such a series of advanced standardized equipment. The company always insists that quality is the basis for a company's survival. The company is equipped with a full set of advanced equipment for quality inspection, a physical and chemical analysis lab, a microbes test laboratory, a gas analysis room, a high-performance liquid phase analysis room and a stability laboratory. The cleanliness level of the clean area in the microbiological testing room is grade C. The microbiological testing room is equipped with an independent constant temperature and humidity air conditioning system which can meet the local grade A cleaning requirements under environment grade C. The company performs quality management in strict accordance with regulations and contents of quality management. The testing places, facilities and instruments meet current production varieties and inspection requirements. This can ensure that products can meet quality requirements and product quality can be strictly controlled. With a highly responsible attitude towards quality, Muya is well recognized by global customers. The company has always adhered to the cooperation concept of quality first, reputation first, continuous innovation and common growth. With the scientific spirit and the honest attitude, it devotes itself to working for the modernization of traditional Chinese medicines and deeply exploring the extensive and profound health concepts of traditional Chinese medicine. Our company will continuously enhance core competitiveness of traditional Chinese medicine industry, provide service to human health career and improve health level of human beings.

Disclaimer: Echemi reserves the right of final explanation and revision for all the information.
Trade Alert
Delivering the latest product trends and industry news straight to your inbox.
(We'll never share your email address with a third-party.)