
Home
>
Anhui: "Order wheat" has a good harvest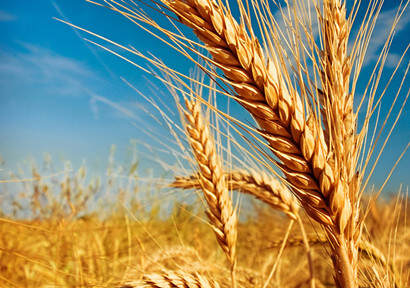 Hurricane and thunder... Two large combine harvesters are harvesting mature wheat at Weiqiang Family Farm in Yongzhen, Longqiao District, Suzhou City, Anhui Province. "The control effect of wheat scab is ideal this year. The yield of wheat is not only high, but also good in quality. It is estimated that the yield per unit area is 200 Jin higher than that of last year. It's the best harvest in recent years. Wei Qiang, a big grain producer, told reporters. His more than 2,000 mu of wheat was contracted with seed enterprises to plant according to the required varieties and patterns. After harvesting, the enterprises recovered the wheat. The price was about 0.1 yuan higher than the market price per kilogram.
"The quality of wheat this year is better than that of last year, which is closely related to the prevention and control of pests and diseases." Relevant personages of Anhui Planting Bureau said that the Anhui Provincial Government took the prevention and control of scab as one of the ten key tasks of spring agricultural production in the province, and carried out the prevention of wheat scab 82.8 million mu, accounting for 112.3% of the task of prevention and control. Compared with last year, the area of prevention and control increased by 10.96 million mu.
Green, efficient and high quality have become the baton of wheat production in Anhui Province. Optimize varieties for market. Around the improvement of wheat quality and efficiency, special wheat production bases with high quality will be built, and strong gluten, weak gluten wheat and black (waxy) wheat with distinctive characteristics will be vigorously developed. On the basis of optimizing planting structure, all localities should base themselves on green and high-quality development and strengthen demonstration guidance.
With the implementation of the green high-yield and high-efficiency construction project of the Ministry of Agriculture and Rural Areas as as the starting point, the green high-quality and high-efficiency construction of wheat was carried out in six counties (districts) including Yingzhou, Yingdong, Voyang, Longqiao, Wuhe and Fengtai. Focus on creating special brand for grain, saving fertilizer and medicine, comprehensive utilization of straw, multi-functional development of agriculture, agronomic and agricultural machinery integration and other aspects to create and upgrade, change the mode of crop production and agricultural industry development. More and more high-quality wheat orders are directly bought into warehouses by enterprises at high prices. At present, the harvest of 42.965 million mu wheat in Anhui Province is imminent, harvesting from south to north. During the summer harvest period, about 190,000 combine harvesters are planned to be put into operation in the whole province. The level of machine harvesting will stabilize to over 98.5%, and the wheat harvest can be basically completed in about 10 days. Planning and deploying as early as possible, strengthening technical training and tool information arrangement, and doing a good job of emergency services. Agricultural machinery departments should strengthen the comprehensive utilization of straw and the popularization and application of grain drying machines and technologies. Organizing strength to go deep into the front line, providing technical consultation and door-to-door service to ensure that the operating equipment in good condition into the production of "Sanxia".

Disclaimer: Echemi reserves the right of final explanation and revision for all the information.
Trade Alert
Delivering the latest product trends and industry news straight to your inbox.
(We'll never share your email address with a third-party.)