
Home
>
Opening Speech of the Founder of Echemi at the Natural Extracts Sourcing Meeting
Opening Speech of the Founder of Echemi at the Natural Extracts Sourcing Meeting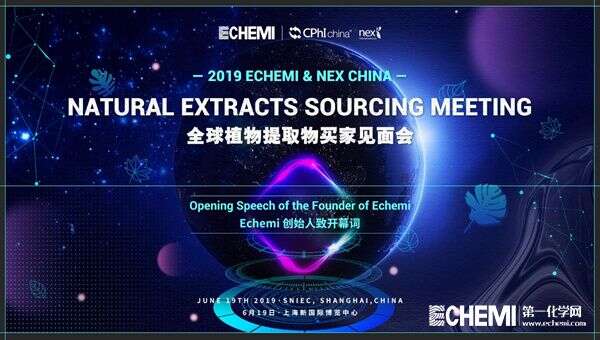 On Jun. 19, 2019 Echemi Natural Extracts Sourcing Meeting was held at the meeting area of W6, SNIEC. At 9:30 a.m., David, CEO of Echemi gave the opening speech.
At the opening ceremony, David firstly thanked more than 40 global buyers and over 100 Chinese suppliers for coming to the grand event, and then he analyzed the market of natural extracts industry.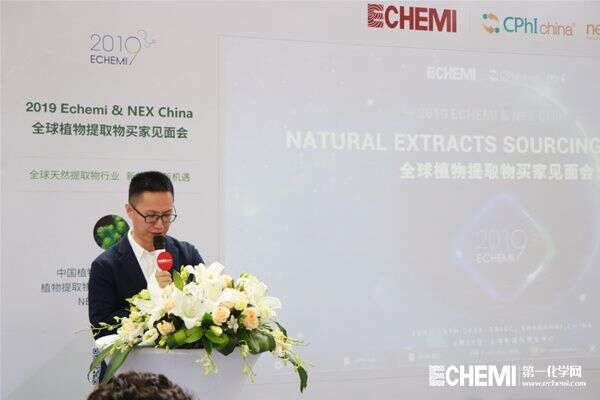 He analyzed that in 2006-2017, the global plant extract industry market scale is on the rise. In 2006, the global plant extract industry market size reached only 10.1 billion US dollars. In 2015, the global plant extract industry market volume reached 29.1 billion US dollars. As of 2017, the global plant extract industry market scale increased to 38.95 billion US dollars, an increase of 16.97%. The average annual market development speed is about 12.5%. The export market of plant extracting products in China is relatively stable, and the United States, Japan, and France have always been the main markets for planting products. In the latest 5 years, Mexico and India have also imported a large number of Chinese plant extract products, mainly based on pigment products. Asia, Europe and North America are still the main areas for the export of my plant extracts, and exports to these three regions account for 82.6% of China's total plant extract exports.
Asian markets: China's plant extracts account for up to 39.4% of exports to Asia. Among them, Japan and ASEAN, which are mainly traditional Chinese medicines, are Asia's major export markets.
European market: As the world's largest botanical market, products based on plant extracts are favored by local consumers. The main countries that export to European plant extracts are Spain, Germany, France and the United Kingdom.
US market: The North American market or the US market is the most important export market for plant extracts in China. Since 2005, it has been ranked first in the export of plant extracts. Taking dietary supplements is a habit of most Americans, which has also spawned an increase in the demand for plant extracts in the world's largest dietary supplement market. The US market has become the global indicator of plant extracts for medical and health care. The increase or decrease in USA market demand will directly affect the changes in other markets around the world.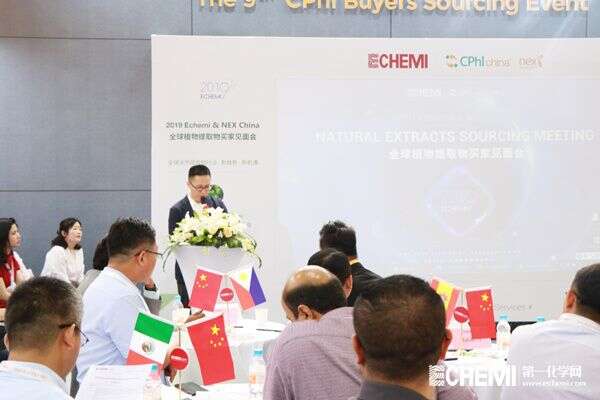 Thirdly, David introduced Echemi platform. He said that as a leading part of food and pharmaceutical industry business in China, Echemi is focusing on trends in product prices, market trends and environmentally friendly products. The plarform is to provide better products and services to global chemical companies, so that more end buyers, distributors and retailers would find required products, analysis of related products, prices and the factory information. www.echemi.com is also a platform to help factories display their production and sales capacity. It is a bigger platform and channels combined with exhibitions.

Disclaimer: Echemi reserves the right of final explanation and revision for all the information.
Trade Alert
Delivering the latest product trends and industry news straight to your inbox.
(We'll never share your email address with a third-party.)