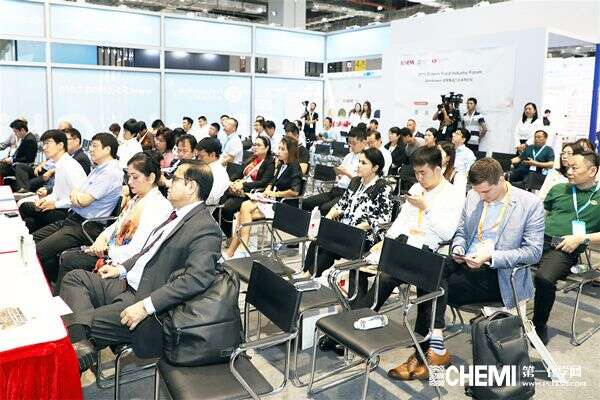 The rapid development of food industry is closely related to food additives, which plays an important role in the innovation and development of food industry and the improvement of food quality and safety. With the continuous development of economy and the continuous increase of population, China's food industry develops rapidly, and the production scale and quantity of food additives are also expanded and increased to varying degrees.
As an international B2B Chemical platform, Echemi focuses on food industry. 2018 Echemi Food Ingredient Sourcing Meeting & Food Industry Forum was a tremendous success. Therefore, Food Ingredient Asia China Exhibition continues to cooperate with us this year to hold 2019 Echemi Food Ingredient Sourcing Meeting & Food Industry Forum.
The Echemi Food Ingredient Sourcing Meeting & Food Industry Forum was held at Hall 4, NECC. At 9:30 a.m., David, CEO of Echemi gave the opening speech. At the opening ceremony, David firstly thanked more than 20 global buyers and over 100 Chinese suppliers for coming to the grand event, and then he analyzed the recent food industry market. Thirdly, David introduced Echemi platform. He said that as a leading part of food and pharmaceutical industry business in China, Echemi is focusing on trends in product prices, market trends and environmentally friendly products. The plarform is to provide better products and services to global chemical.
At 9:40 a.m. Professor Steven Liu from Tunghai University delivered a speech entitled Trends of Natural Preservative Developments and Application. The whole speech was divided into two parts: comparison of types of food storage in ancient and modern time, and innovative trend of food storage.
At 10:00 a.m., Mr. Mohammad Fahim from Pakistan gave us a detailed analysis about the Pakistani food ingredients market. In his speech, he firstly analyzed the food ingredient industry in Pakistan, including beverages, bakery, healthy food, and Halal. Then Mr. Fahim shared some data about Sino-Pakistan import/export volume under the Belt and Road Initiative. Finally, he analyzed how digitization changed the buying pattern in Pakistan.
At 10:20 a.m., Dr. Liu Jian from Huiyang Biological Technology Co., Ltd., China. delivered a speech about the food ingredient trehalose. The whole speech was divided into five parts: discovery, features, functions, usages and production of trehalose.
At 10:40 a.m., Mr. Anwar from Canada delivered a speech entitled What we need from Chinese suppliers to Improve. In his speech, he analyzed the work environment, product packaging environment, and challenges they face.
At 11:00 a.m., three buyers were invited to have a Q&A interaction with the host. During this section, they shared with the audience there feelings about the forum, and their opinions about the current food industry.
The lunch started at 11:30 p.m., and after that, at 13:00 p.m., the face-to-face sourcing meeting began. During three rounds, global buyers and Chinese suppliers had friendly conversation, and many of them reached the agreement to have further cooperation. And then, Echemi interviewed some buyers, who shared their perspectives of the food industry.

Disclaimer: Echemi reserves the right of final explanation and revision for all the information.
Trade Alert
Delivering the latest product trends and industry news straight to your inbox.
(We'll never share your email address with a third-party.)