
Home
>
Echemi Overseas Buyers' Opinions on Chinese Suppliers and Industry Development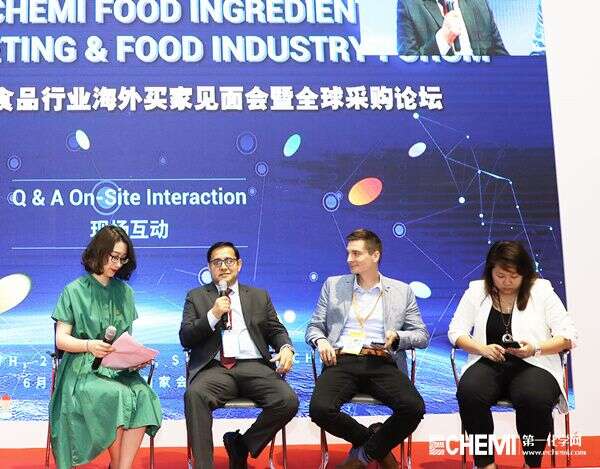 (The host Jane, Manzur, Henri, Vania)
The 2019 Echemi Food Ingredient Sourcing Meeting & Food Industry Forum was held at Hall 4, NECC. At 11:00 a.m., three buyers were invited to have a Q&A interaction with the host. They are Henri from Finland, Vania from Indonesia, and Manzur from Bangladesh. During this section, they shared with the audience there opinions about the food industry, the merits and demerits of Chinese suppliers, and online purchase of chemicals.
Q1. What are the qualifications for your suppliers in China? For example QC, factory qualification, environmental protection and R&D?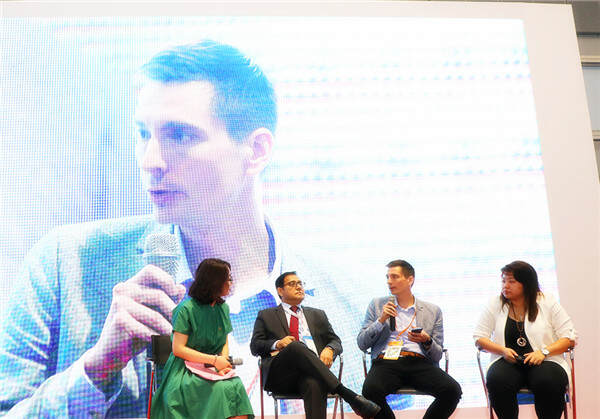 Henri: Well, first of all, I want to thank you for invitation. It's my privilege to be here. We work in different fields and different fields need different certificates, so it's no use to list them all. But for example you talked about environmental protection, I can take that one (as an example). Usually companies, customers, we only care about profits, right? That's understandable, but I think we should be more concerned about environmental protection. Every certificate, for example, ISO, REACH, they have the environmental part. How do European Union puts it? What's the purpose of REACH? I can make one quote. It says, "REACH aims to improve the protection of human health and environment." That's the whole purpose of REACH. So everybody can ask themselves, "Is health important? Is our environment important?" If we don't have health, we have nothing. Also if we want to do business in the future, in this beautiful planet earth, I think it (the environment) is very important.
Vania: Thank you Jane. First of all, it's a different market from him. Indonesia, like Mr. Fahim has said, is a Muslim country. So for our Chinese suppliers, we require Halal, which I think would be the most important certification for the Indonesian market. And some Indonesian manufacturers also export to the overseas market, like the USA, some Chinese market, also others, so I would say Kosher would be another beneficial certification that Chinese manufacturers would like to have. And second, ISO, like food safety ISO, environmental safety ISO, will be preferable as well. I think that's all qualifications for our Indonesia market.
Manzur: I am from Bangladesh. You know, from that part of the world, the price is a very important issue. But as far as food is concerned, definitely quality counts because it's with the life, human life. So quality, price, and definitely another thing is delivery time, because you know food is an item whose shelf live is very important. So from the production to delivery, [the time] is very important. And then also for the economy, as far as the price and the value is concerned, the price is expected to be stable. The whole supply chain, the management should be done in such a way that we can maintain a price with stability. My other friends have covered the qualifications, so I will not emphasize that anymore.
Q2. Compared to the global market, what would be the advantages and disadvantages of Chinese suppliers?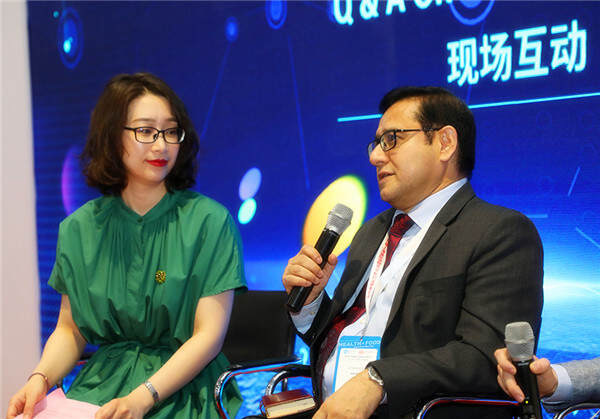 Manzur: We have experience actually. Our company deals with global companies, European, North American, Japanese...so compared to other countries, China is very efficient. The Chinese companies in business always focus on customer requirements and they are constantly use dialog with us. And also they are proactive in terms of quality, price, and customer requirements. So I should say, compared to other countries, Chinese companies are coming up very fast and that is why we always prefer to source things from China.
Henri: Well of course there are both disadvantages and advantages. Firstly disadvantages. We buy a lot from European suppliers, and the reason is the delivery time, of course. If you buy from European suppliers, the good will be in our customers' warehouse within a week or so. From China, it might be forty days, fifty days, and if it's so long, there is a lot of our funds. But in China there is also advantages. Some products, for example, some vitamin C, xanthan gum, China produces 80% of the whole world capacity, so in that case, China is a very good choice.
Vania: In terms of distance, I think China and Indonesia is much closer, so for our Chinese suppliers, it only takes them fourteen days to ship at most. Another advantage for us is that Indonesia and China have free trade agreement, so that really makes Chinese suppliers to have a very competitive pricing. For the disadvantage, I think, not much can sit there, because there are so many Chinese suppliers already market their products to Indonesia, and they have already known the requirements there, so I think the disadvantage is the fluctuation of the price.
Q3. What's your expectation of new products and new trend of food industry?
Henri: One of the upcoming trends is healthy aging. Of course no body wants to get old, right? You cannot avoid it (getting old), but how to get old healthily? The last years of life, how can we live happily and healthily, so that's most likely the huge trend, I think. And also people are more interested about organic food and natural food, berries, things like that, etc.
Vania: Indonesia has a different trend with the European market. I can say for now that it is moving to functional beverages, and we have more bakeries and pastries, whose demand is becoming bigger. And moreover we also have healthy drinks, like yogurt.
Manzur: Like my Pakistani colleague, Mr. Fahim, we share the same market trend and requirement. Halal is one thing. Mr. Fahim has almost covered the issues there. Health is an important issue; pure clean food is an issue. These things are coming up, so I think out supply chain partners can help us and share what is happening around the world. And one more thing I would request Chinese companies to invest in R&D. I have seen that companies like DuPont, they invest heavily. You have the volume, so whenever you can come up with new products, definitely you can beat companies like DuPont and others because they charge too high. Countries like Bangladesh, poor countries from South Asia, cannot afford sometimes. So I would request the Chinese companies to invest more in R&D. When more products can be introduced , we can benefit from those things.
Q4. How do you learn online purchase? Have you tried or will you? What will be the good and shortcomings of online purchase?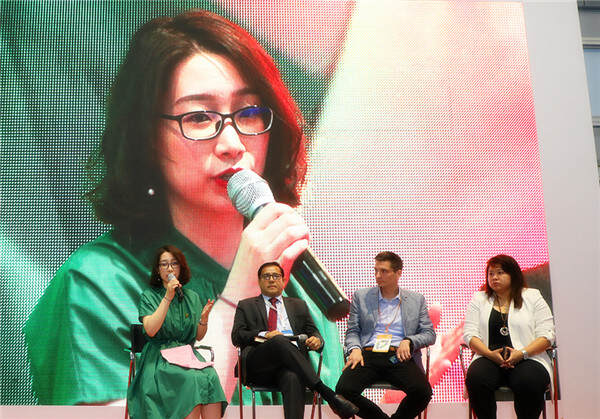 Henri: To be honest, we haven't tried it yet because we work in wholesale. We need to negotiate a lot of details, payment details, delivery details. It is not like you buy something from Taobao where you choose, click, buy. It's not like that. And I think we still need a lot of human-to-human contact, which is important. Customer relationships are really important, and that's why we are here. But in the future, we might try some online purchasing for the major products being in the market for a long time. Of course, then we need a trustful good company, like you, Echemi.
Vania: It's the same here. We haven't tried it at all. The main point of online purchase, I think, is verification, good certification, supplier certification. If that point is sorted, I think we might have a try.
Manzur: In a digital time, this [online purchase] saves time and it can speed up things. And it's also important to have human contract and negotiation. A lot of negotiations and discussions cannot be done online, but can still dialogue some business models online, so let's see. But it is very important because of the promptness, speed, we can save time, so it will definitely have some impact.

Disclaimer: Echemi reserves the right of final explanation and revision for all the information.
Trade Alert
Delivering the latest product trends and industry news straight to your inbox.
(We'll never share your email address with a third-party.)