
Home
>
Tongwei, Gansu Province: Flowers of honeysuckle grow everywhere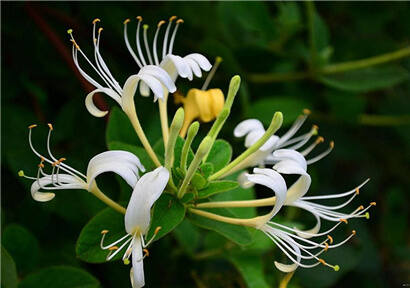 For the first time, 52-year-old Yang Jingde stood on the big stage, wearing a ribbon printed with "Honeysuckle Growers", facing hundreds of cadres and masses, sharing his story of "planting Honeysuckle and grasping Honeysuckle by hand" in non-standard or even somewhat rigid Mandarin. Yang Jingde is a villager in Qizui Village, Lijiadian Township, Tongwei County, Gansu Province. A few mu of yellow land, he planed for decades, but also did not figure out a hall of fame, coupled with the children are still in college, spend more money, life is very unsatisfactory. Until this year, his life has gradually improved.
"Village cadres recommend planting honeysuckle, saying that the harvest is good and the benefit is high." At first, he was not confident, and even thought it was unreliable. "In the past, corn and wheat were planted, but honeysuckle was planted. The risk was too great." Under the organization of village cadres, Yang Jingde and the villagers went to Qingliangyuan Honeysuckle Industry Poverty Alleviation and Development Co., Ltd. to visit and study. Li Jiadian Township Chang Nan Shaoyu introduced that the enterprise not only has a demonstration base for standardized cultivation of honeysuckle, but also has a relatively complete industrial chain.
Watching and learning dispelled Yang Jingde's worries. Only then did he know that honeysuckle had been planted in Tongwei for some time. Last year, with the support of the government and enterprises, Yang Jingde planted 4 mu. "Planting maize and wheat is labor intensive and low-income. In contrast, the management and protection of honeysuckle is more relaxed. As long as weeding and pruning are in good time, it will be possible to be busy for a period of time at the flowering stage, without affecting migrant workers." Yang Jingde said. In June of this year, Yang Jingde and his wife began to collect flowers. Enterprises have flower acquisition points in the village, cash payment, which greatly facilitates their cash collection and sale. Over 100 kilograms of flowers they picked in the past half month have sold more than 2,000 yuan. It is estimated that after they have all been picked, they will earn at least 12,000 yuan. While the iron was hot, he applied for planting 10 mu honeysuckle on his own initiative. At the standardized planting base of honeysuckle in Lijiadian Township, reporters saw that the green honeysuckle swayed gently with the breeze, giving off a light fragrance. Flower pickers are busy working in the fields. Clusters of honeysuckle carry their hope of getting rid of poverty and getting rich.
Xu Binke, Standing Committee of Tongwei County Party Committee, told reporters that the planting area of honeysuckle reached 70,000 mu in 13 townships of the county, and became the largest standardized planting base of honeysuckle in Northwest China, covering 78,000 poor households, each planting more than 3 mu, with an annual income of more than 15,000 yuan. "The name of honeysuckle gives it noble status, planting honeysuckle, all over the world `gold and silver'."
The local government also actively explores the mode of enterprises and cooperatives to mobilize farmers'enthusiasm for planting. "On the one hand, we will guide enterprises to set up flower acquisition sites nearby, reduce transportation costs and settle accounts in cash. On the other hand, we will support enterprises to build a whole industrial chain from seedling breeding, standardized planting to processing and marketing, and broaden the"enrichment road"that honeysuckle has built for growers. Xu Binke said. Wang Xiufang, a villager of Lijiadian Village in Lijiadian Township, and her lover have been working abroad for a long time. They see that honeysuckle grows well and the harvest is getting better and better year by year. Wang Xiufang transferred more than 9 mu of land to Taiqing Garden Honeysuckle Farmers'Professional Cooperative, and received the first land resources dividend of 4550 yuan.
This year Tongwei will also expand the planting area of honeysuckle. It is planned to build a standardized planting demonstration park with a total area of 100,000 mu by next year to help more people embark on the road to prosperity of honeysuckle blossoming "honeysuckle".

Disclaimer: Echemi reserves the right of final explanation and revision for all the information.
Trade Alert
Delivering the latest product trends and industry news straight to your inbox.
(We'll never share your email address with a third-party.)