
Home
>
Domestic Instrument Automation Technology Help Petrochemical Industry to Advance
Domestic Instrument Automation Technology Help Petrochemical Industry to Advance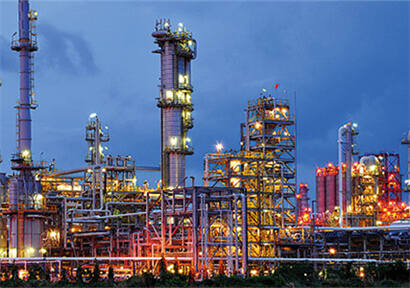 On June 19-21, the 2nd China Petrochemical Instrument Automation Technology Seminar was held in Hangzhou, sponsored by the China Instrument and Instrument Society, sponsored by the Production and Credit Commission of the China Instrument and Instrument Society, and co-sponsored by Zhejiang Central Control Technology Co., Ltd. The meeting summarized the outstanding achievements of domestic application of instrumentation automation technology in petrochemical enterprises, and proposed that the ability and level of independent innovation of instrumentation automation technology should be further accelerated to better help the industry achieve safety, environmental protection, energy saving and high efficiency. Xiao Jian, founder of China Control Science and Technology Group Co., Ltd., said that facing the development of digitalization, networking and intellectualization, realizing the security and controllability of key core technologies has become the only way for China's industry to move towards a global high-end value chain.
"The transformation and upgrading of Sinopec industry is entering a new stage, which requires us to constantly improve the ability of independent innovation, optimize the allocation of resources and industrial structure, enhance the core competitiveness of enterprises, and even start layout and planning from the bottom, including control chips, bottom hardware, operating systems, databases, and intermediaries. Every key link, such as software and applications. Zhu Jian said. Quxianming, member of the Advisory Committee on Strategies for Building a Strong Manufacturing Country and director of the Manufacturing Research Office of the Chinese Academy of Engineering, also said that China's petroleum refining industry should be accelerated to become a leading industry in the world. While laying a good industrial foundation and improving the level of the industrial chain, the industry should be realized through digitized, networked and intelligent manufacturing. Transition and upgrading. Our country must break through the short board of intelligent manufacturing equipment and arm the petroleum refining industry with independent intelligent manufacturing equipment as far as possible so as to make the whole industry safe and controllable, mainly including new sensors, intelligent instruments and precision instruments, intelligent control system, industrial robots, intelligent energy terminal service equipment, crude oil and finished products. Oil on-line blending equipment, etc. Over the past few years, the independent innovation achievements of supporting instruments and instruments in China's petrochemical industry have emerged, especially in some large petrochemical and coal chemical projects. Chemical enterprises have cooperated closely with instrumentation enterprises and achieved outstanding results. "The petroleum refining and chemical industry has a good foundation of automation and management. In recent years, we have been in the forefront of the implementation of intelligent manufacturing. The intelligent transformation of Jiujiang Petrochemical Company and Zhenhai Refinery and Chemical Company has been very successful. They have achieved digital and networked manufacturing and are striding towards the goal of building an intelligent factory. Quxianming said.
Among them, CNC has cooperated deeply with many petrochemical enterprises to promote the independent innovation and development of Petrochemical Instrument automation. At the meeting, Yan Chunming, director of the electronic control department of Ningbo Engineering Co., Ltd., Sinopec, shared the research and development and application of DCS, a large-scale coal deep processing project jointly created by China and Tianjin. Zhongtian Co-Creation, Ningbo Project and Zhejiang Central Control have jointly tackled key technical problems, achieved a major breakthrough in the scale of domestic control systems, and successfully realized the independent innovation of DCS for the first time in the super-large-scale coal-to-olefin project. This is the largest domestic plant-wide DCS control system application project at present, and its results can be fully applied and applied. It has been extended to large-scale steam cracking projects such as ethylene production. Wu Dongsheng, Deputy Engineer of Shenhua Ningxia Coal Group Olefin II Company, introduced that the construction of Shenhua Ningxia Coal Million Tons Olefin Intelligent Factory realized the full-level application of self-owned equipment systems from equipment to instrumentation, DCS control system, bridge software, control optimization software APC, MES, which fully proved the feasibility of core domestic equipment. In terms of practicability and reliability, the project has significantly optimized human cost, diene yield, energy utilization and performance management efficiency. Xu Shenghu, Deputy Engineer of Jiujiang Branch of China Petrochemical Co., Ltd.
said that Jiujiang Petrochemical Co., Ltd. and CNPC had strategic cooperation in the construction of 8 million tons/year intelligent refinery plant, and realized the integrated optimization and commissioning of the whole refining process. With ODS as support, the system integrated important data such as MES, ERP and LIMS, and established a nuclear-based system. Rapid evaluation of raw oil of magnetic technology, development of domestic model of main device mechanism, promotion of APC application and pilot RTO, make direct economic benefits significantly improved. Fan Zhiqian, director of electromechanical equipment center of Shouyang Chemical Co., Ltd. of Shouyang Coal Group, shared the experience of CCS transformation project of 400,000 tons coal-to-ethylene glycol project in Shouyang Chemical Co. The anti-surge and performance control of the air compressor and supercharger in the project are automatically put into operation, which reduces the disturbance of load variation caused by the pressure equalization of molecular sieve, and achieves stable and fully automatic operation effect. The energy-saving benefit exceeds 4 million yuan annually. Embracing the market and practicing internal skills "China's instrumentation and automation industry has developed rapidly and basically meets the market demand, but there are still shortcomings in high, precision, cutting edge, specialized and special products, which need to be further understood and combined with users." Liu Zheming, secretary-general of CITIC of China Instrument and Instrument Society, has calm thoughts on the current situation of the industry.
Liu Zheming introduced that the China Instrument and Instrumentation Society is conducting research on the technical requirements of instrument automation for "neck-jammed" instruments in petrochemical industry. At present, some independent innovation automation products still have some problems, such as insufficient stability and reliability, insufficient capability of production enterprises in materials, product design, manufacturing process, manufacturing equipment, testing and verification, lack of third-party authoritative verification or certification, and blocked channels of information dissemination.

Disclaimer: Echemi reserves the right of final explanation and revision for all the information.
Trade Alert
Delivering the latest product trends and industry news straight to your inbox.
(We'll never share your email address with a third-party.)