
Home
>
China acetone supply glut may continue in July on weak demand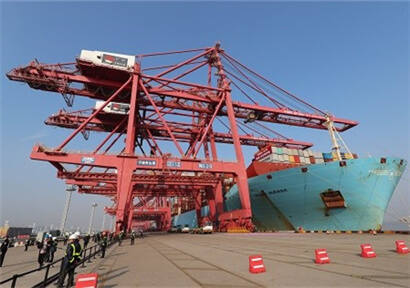 China's domestic acetone supply glut is expected to continue in July as supply will remain unchanged and demand may weaken due to high temperatures in summer.
Demand is likely to weaken further because of stricter environmental inspections and high temperatures.
As a result, many small and medium-sized downstream producers in Jiangsu, Shandong and Henan shut their plants or cut output, a trader said.
The overall run rate at domestic phenol and acetone sector may continue to stay at high levels in July as no plans of turnarounds and output cutbacks in July were heard.
However, some market sources said many acetone producers suffered negative margins due to high feedstock benzene and propylene values, along with weak phenol prices; the possibility that suppliers will cut their output could not be ruled out.
Margins of China's phenol and acetone producers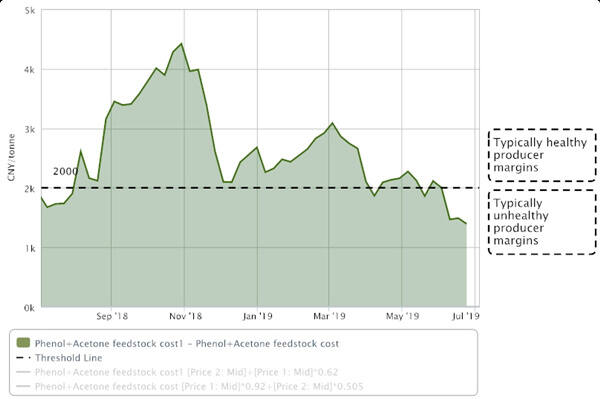 Domestic acetone prices moved downwards in June due to unbalanced supply and demand, with price fluctuating within the range of yuan (CNY) 200/tonne.
On 28 June, the average price of acetone in east China was at CNY3,025/tonne ex-tank, down by CNY175/tonne or 5.5% from CNY3,200/tonne on 3 June, ICIS data showed.
Domestic acetone price trend from June 2018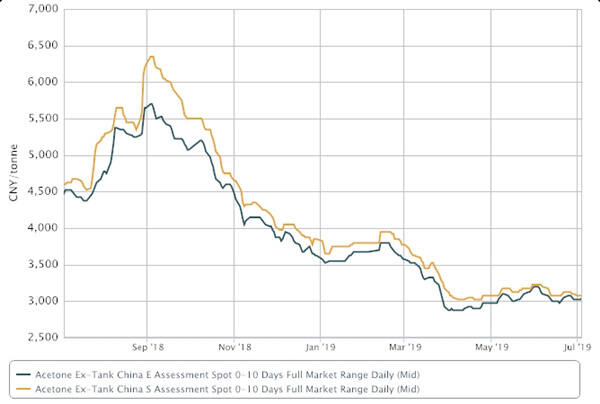 Sinopec Mitsubishi Chemical shut its 180,000 tonne/year bisphenol A (BPA) plant on 10 June for around one month of maintenance, and Ningbo Nan Ya Plastics also shut its 150,000 tonne/year BPA plant on 19 June for around one month of maintenance.
Therefore, acetone consumption dropped by 3,700 tonnes in June, and is expected to fall by 3,300 tonnes in July.
On the supply side, Shanghai Cepsa shut its 250,000 tonne/year acetone plant for around five days of maintenance in June, while other phenol and acetone plants operated at full capacity.
The average operating rate at domestic phenol and acetone sector was at around 98% in June.

Disclaimer: Echemi reserves the right of final explanation and revision for all the information.
Trade Alert
Delivering the latest product trends and industry news straight to your inbox.
(We'll never share your email address with a third-party.)