
Home
>
Hydrogen Energy Industry Bringing Cluster Effect into Full Play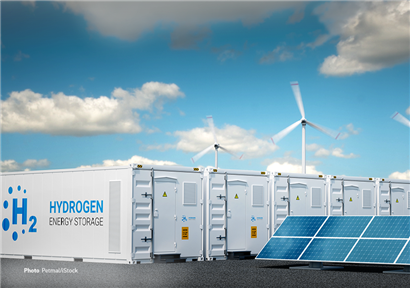 Not long ago, in Handan Economic and Technological Development Zone, Hebei Province, a hydrogen energy equipment Industrial Park project covering 180 mu with a total investment of 2 billion yuan broke ground. It is understood that the project is divided into two major functional zones: the hydrogen energy comprehensive functional zone and the hydrogen energy industrial park, focusing on the construction of hydrogen equipment industry manufacturing base which integrates hydrogen production, hydrogen storage and hydrogen transportation. Handan hydrogen energy industry started earlier, with abundant hydrogen energy resources, perfect innovation platform and leading hydrogen energy equipment. Ding Wei, Standing Committee of Handan Municipal Committee and Minister of Propaganda, told the Economic Daily that as early as the 1960s and 1970s, the 718 Research Institute of Zhongchuan Heavy Industry, located in Handan City, had carried out research on hydrogen production and related technologies. At present, many technologies are leading in the world.
At present, the hydro-electrolysis hydrogen production equipment system with hydrogen production capacity of 0.5-1000Nm3/h (standard cubic meter per hour) has been formed in the 718 Institute of Zhongshan Heavy Industry, which is mainly used in power, non-ferrous metallurgy, petrochemical and other fields. At the same time, the pressurized bipolar pressure filter water electrolysis hydrogen production device was developed first in China, and the full automatic control operation of the device was realized.
"The pry-mounted water electrolysis hydrogen production equipment, vehicle-mounted water electrolysis hydrogen production equipment and 600Nm3/h hydrogen production equipment developed by us are all at the advanced international level." Li Meng, deputy director of hydrogen production equipment Engineering Department of 718 Research Institute of China Shipping Heavy Industry, said that the company has sold more than 800 sets of water electrolytic hydrogen production equipment, and its users are all over the country. It has exported to more than 20 countries, such as Norway, France, Russia, South Korea and India, with a domestic market share of more than 60%.
In order to further open up the market, the 718 Research Institute of Zhongshan Heavy Industries has laid out a hydrogen equipment manufacturing project in Handan Hydrogen Equipment Industrial Park, which is under construction. It plans to build a system of hydrogen production, hydrogen storage, hydrogen transportation and hydrogen utilization, centering on the technology and equipment of water electrolysis hydrogen production and the conversion of green energy. We will strive to build a comprehensive hydrogen energy industry chain that integrates investment, equipment manufacturing, operation services and gas sales. At the same time, Xinxing Energy Equipment Co., Ltd., located in Handan Jingkai District, has also laid out the production line of hydrogen storage tank with high-pressure hydrogen storage technology in the hydrogen industry park, relying on the largest CNG cylinder long tube trailer in the world in volume and caliber, to build the production base of hydrogen transport equipment.
Shen Tao, Deputy Secretary of the Party and Labor Committee and executive vice-director of the Management Committee of Handan Jingkai District, said that Handan would stimulate the vitality of the hydrogen energy industry innovation platform through innovation, develop and launch a series of core technologies and equipment with high added value, break the monopoly abroad, establish leading brands in the industry, and focus on building the hydrogen energy equipment industry cluster. 。 According to the introduction, Handan will build a R&D, production and demonstration center of hydrogen energy industry around the four links of "production, storage, transportation, injection and application". In the R&D sector, Handan will promote technological breakthroughs in professional fields and gradually master the key core technologies for the development of hydrogen industry, such as hydrogen production, application and engine. At the same time, Handan will rely on existing enterprises to attract business, introduce a large number of hydrogen energy enterprises, and build a full-chain industry covering hydrogen energy equipment, fuel cells and vehicle production. By 2025, 20 hydrogen energy enterprises will be introduced and 2 to 3 leading domestic and international enterprises will be fostered. In the application of hydrogen energy, Handan plans to build more than five 500 kg to 1000 kg gas filling stations, set up hydrogen Bus Demonstration Line in the city, vigorously promote the demonstration of fuel cell heavy-haul vehicles, and gradually promote it.

Disclaimer: Echemi reserves the right of final explanation and revision for all the information.
Trade Alert
Delivering the latest product trends and industry news straight to your inbox.
(We'll never share your email address with a third-party.)