
Home
>
Wuhan instant noodle consumption into the top ten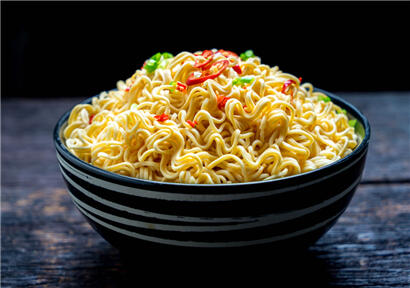 Recently, American consulting firm Riess Consultancy released a report on instant noodles, which said that in 2018, China consumed more than 40 billion instant noodles, far ahead of other countries, and became the world's number one worthy of them.Chinese people accidentally ate a world number one? Among them, the food on the cat is particularly important. According to Tianmao's "Map of Soak Noodle Taste" released today, 40 million people ate more than 600 million bags of instant noodles on Tianmao in 2018. Shanghai, Beijing, Hangzhou, Shenzhen, Guangzhou, Wuhan, Nanjing, Suzhou, Chongqing and Zhengzhou ate the most ferocious food, ranking top 10.
If your memory still stays on braised beef noodles, mushroom stewed chicken noodles and fresh shrimp and fish noodles, then you are out. People also have more choices about instant noodles than they did ten years ago. In front of those who advocate "a bowl of late-night noodles", besides the "entry-level" taste of coriander, salted egg yolk and tomato eggs, there are also advanced versions of exotic flowers such as duck neck taste, crayfish taste, sour and hot sausage, flower carved drunk chicken taste and even cheese taste, which are convenient on the online shopping platform. The "exotic flower taste" of noodles can be described as all kinds, only unexpected, not unavailable. According to the data, Wuhan people preferred crayfish taste more and purchased it most frequently.
However, compared with these minority tastes, the more mainstream seafood and Laotan pickles are still the most mainstream choice for Chinese people to make instant noodles. South seafood and sour vegetable, from the geographical distribution, a Yangtze River has become a geographical dividing line to divide the north and South tastes. The market of instant noodles is gradually warming up.
Besides the diversification of taste and food materials, the "Yan Value Party" also put forward higher requirements for packaging. From bagged noodles for simple meals at home to cupped and barreled noodles for fruit bellies on business trips, in recent years, carton-packed instant noodles for visiting relatives and friends or making a ritual meal have emerged. Take Master Kang Express Express instant noodle restaurant as an example. The noodle box is equipped with a complete set of tableware and ingredients at one time. Even though the price of a single box is as high as 30 yuan, it is still being snatched by the customers. The process of instant noodles is like enjoying a big meal. Since its birth in 1958, instant noodles have gone through a period of Jiazi. According to the World Instant Noodle Association, the sales of instant noodles in China reached 44.4 billion in 2014, and began to decline gradually in 2015. By 2016, only 38.52 billion copies were sold, a new low. However, since 2018, sales of instant noodles in China have begun to pick up significantly, and are expected to rise to 2014 levels in 2019.
Nowadays, the high-level feeling of eating instant noodles out of French food has become a necessary skill for young people to show their good life. Among the consumers who consume instant noodles, the majority are after 95, and nearly 70% are women. In the future, instant noodles may become a new essential skill in the demand of the other half.

Disclaimer: Echemi reserves the right of final explanation and revision for all the information.
Trade Alert
Delivering the latest product trends and industry news straight to your inbox.
(We'll never share your email address with a third-party.)