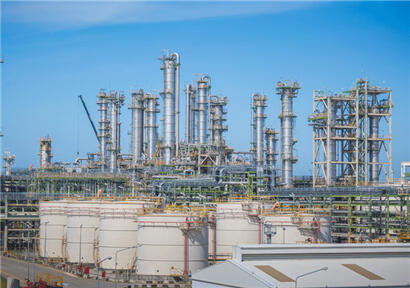 Following the joint venture of Saudi Arabian Petroleum Corporation (Saudi Arabia Amy) and China Weapons Industry Group, another large-scale petrochemical project will be settled in Panjin, Liaoning Province. On September 5, Lyondell Basell (hereinafter referred to as Lyondell Basell) signed a memorandum of understanding with Liaoning Baolai Enterprise Group Co., Ltd. (hereinafter referred to as Baolai Group) to plan and build large-scale petrochemical projects in Panjin.
According to the memorandum, Lee Ander Basel shares in Liaoning Baolai Chemical Co., Ltd., a subsidiary of Baolai Group, with a 50% equity ratio, as well as in the light hydrocarbon comprehensive utilization project under construction, and establishes a governance structure with equivalent board and supervisor seats.
According to the plan of both sides, the medium and long-term petrochemical industry projects with a total investment of 12 billion US dollars (about 85.7 billion RMB) will be implemented in the next 10 years.
According to public data, Baolai Group planned to implement a comprehensive utilization project of 3 million tons of light hydrocarbons during the 13th Five-Year Plan period, which was listed as the State Council's "three-year rolling key project to promote the old industrial base in Northeast China" in July 2017.
The first phase investment of this project is 18 billion yuan. There are 84 main projects. The main products are 800,000 tons/year polyethylene, 600,000 tons/year polypropylene, 350,000 tons/year styrene and 120,000 tons/year butadiene.
The main business of Baolai Group involves petrochemical industry, fine chemical industry, wholesale of refined oil products and logistics trade. In 2015, Panjin North Asphalt Fuel Co., Ltd., a subsidiary of the company, was granted the right to use imported crude oil for 7 million tons per year and the qualifications of the Ministry of Commerce for importing non-state-owned crude oil.
LeandBasel is one of the largest polymer, petrochemical and fuel companies in the world, headquartered in the Netherlands, with products in more than 120 countries and regions.
According to Liaoning News Network, Panjin will become a world-class polyolefin and chemical production base after the completion of the above-mentioned petrochemical projects, and promote the development of related industrial chains, including plastic packaging, engineering construction, equipment manufacturing and other industries, which will spur industrial investment of more than 100 billion yuan. The project is located in Liaodongwan New Area Petrochemical and Fine Chemical Industrial Park in Panjin, Liaoning Province. In order to build a world-class petrochemical industry base, the industrial park has absorbed many large-scale petrochemical projects.
For example, Panjin Petrochemical Base Project of Changchun Chemical Industry, Panjin Chemical Industry and Warehousing Logistics Base Project of Chemicals Linkage, Aromatic Hydrocarbon Fine Processing Project of Reid Chemical Industry, etc.
In February this year, Saudi Arabia and the United States signed cooperation agreements with China Weapons Industry Group and Liaoning Panjin Xincheng Group, and planned to build a refining and chemical integration project in the industrial park. The project includes 15 million tons/year refinery, 1.5 million tons/year ethylene and 1.3 million tons/year paraxylene plant.
Saudi Amy's official website said that the total investment of the project will exceed US$10 billion, and it will become the largest Sino-foreign joint venture in China. It is expected to be put into commercial operation in 2024.
The open data show that the Petrochemical and Fine Chemical Industry Park of Liaodongwan New Area is the largest petrochemical base in northern China. The park is divided into Petrochemical area and fine chemical area according to its functions.
Petrochemical sector mainly undertakes refining projects and four major industries with ethylene, propylene, carbon tetra and aromatics as their sources, and focuses on promoting the industrial chain with aromatics as raw materials.
Fine Chemical Zone mainly relies on the park resources and Panjin existing industries to develop high value-added fine chemicals and new materials. Petrochemical and fine chemical industries are the largest pillar industries in Panjin. In 2018, the main business income of petrochemical and fine chemical enterprises above the city's scale reached 189.82 billion yuan, an increase of 28.3% over the previous year, accounting for 74.2% of the city's industry.

Disclaimer: Echemi reserves the right of final explanation and revision for all the information.
Trade Alert
Delivering the latest product trends and industry news straight to your inbox.
(We'll never share your email address with a third-party.)