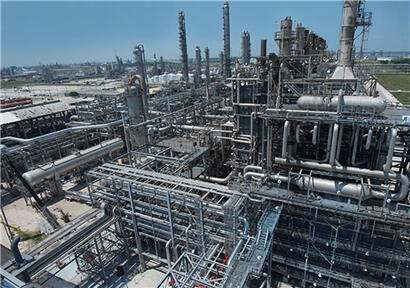 LyondellBasell will not build a propane dehydrogenation (PDH) project in the US as it focuses on capital discipline and phasing in growth projects.
"We do not intend to build a greenfield cracker in the US, and we do not intend to build PDH in the US - that I can take off the table," said Bob Patel, CEO of LyondellBasell, at the company's investor day meeting in Houston, Texas, US.
This is in line with the company's renewed focus on capital discipline, where it plans to phase in organic growth projects in the next several years. LyondellBasell had been considering a PDH plant along with a downstream polypropylene (PP) project in the US.
While it still plans to build PP, upstream PDH will not be 
an option.
"It's more about phasing. We will build a PP plant in the next decade," said Patel.
However, for propylene, LyondellBasell will weigh whether it is better to make or buy.
If it can buy propylene with "owner economics" while focusing on derivative markets, that would be the preferred option. More news on the propylene strategy should come out shortly, he noted.
PROJECTS UNDERWAY
LyondellBasell is currently undertaking two major capital projects in the US - its 500,000 tonne/year Hyperzone high density polyethylene (HDPE) project in La Porte, Texas, slated for start-up by the end of 2019, and its propylene oxide (PO)/tertiary butyl alcohol (TBA) project with 470,000 tonnes/year of PO and 1.1m tonnes/year of TBA in Houston by the second half of 2021. However, beyond these major projects, it will undertake only small-to-medium size projects in the US through 2022.
One example is an expansion of its catalyst capacity in Edison, New Jersey - deemed a "high return, medium capex [capital spending] project" - to support the growing polyolefins technology licensing business.
Further ahead, in 2024 and beyond in the US, LyondellBasell plans to build a 500,000 tonne/year Spherizone PP project, another 500,000 tonne/year Hyperzone PE plant, and undertake a debottlenecking of its Channelview, Texas cracker to expand ethylene capacity by 250,000 tonnes/year, the company outlined at its investor day.
But through 2022, as its major capital projects in HDPE and PO/TBA roll off, LyondellBasell aims to boost free cash flow by $2.1bn from a 2019 base. That would come from an additional $1.0bn in operating cash flow from new projects, and $1.1bn in lower capex.
From 2016-2018. LyondellBasell's cash flows from operating activities averaged $5.4bn/year.
"Disciplined organic and inorganic growth will be the hallmark of our company going forward," said Patel.

Disclaimer: Echemi reserves the right of final explanation and revision for all the information.
Trade Alert
Delivering the latest product trends and industry news straight to your inbox.
(We'll never share your email address with a third-party.)