
Home
>
TDI Market Showed a Inverted V-Shape in Oct 2017
Market Review: The TDI market jumped first and then slid in October. As the market down sentiment was strong before the National Day holiday, the trading was not smooth. Producers were bearish and the sales prices went down. After the National Day, most goods were traded in the range of RMB 35,000-36,000/mt. With the trading volume increased, the inventory declined greatly. Thus, the TDI market rebounded. Up to October 31, the prices of Chinese-made TDI were in the range of RMB 39,000-39,300/mt in East China. Prices for TDI from BASF were in the range of RMB 39,300-39,800/mt.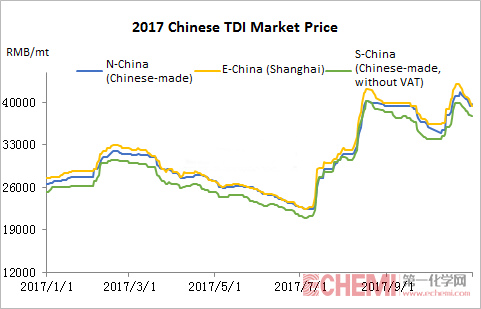 Supply: The TDI unit at Cangzhou Dahua started to undergo maintenance on October 12. Other units ran normally. The overall operating rate in the Chinese TDI industry was around 89%. The unit at Cangzhou Dahua was expected to restart in November, and units in South Korea were also expected to restart. The supply of TDI was expected to be ample in November.

USD Market: The international TDI market went up first and then fell down. As some units in South Korea underwent maintenance, offers for TDI produced in South Korea went up in mid-October. Up to October 31, offers for TDI from South Korea were in the range of $4,700-4,800/mt CFR China. Higher prices for TDI produced by Bayer jumped to $5,200/mt. Up to October 31, negotiation prices for TDI were in the range of $4,650-4,850/mt CFR China.
Downstream Demand: TDI and polyether prices were at high levels in October. Though TDI prices slid, the polyether market remained firm and increased at the end of October. Increasing polyether prices aggravated the production cost of sponge. Some small-sized sponge producers cut down operating rate. Moreover, the consumption in the waterproof coating industry was modest and the demand for TDI was stable. In November, with the weather getting cold, the demand may decline in North China.
Forecast: In November, most Chinese TDI units will run normally and the supply will increase. It is heard that the TDI produced in Shanghai may be sent to other regions. As there are bearish sentiments in the market, the buying interest is modest. It is predicted that the TDI market may be weak in H1 November.

Disclaimer: Echemi reserves the right of final explanation and revision for all the information.
Trade Alert
Delivering the latest product trends and industry news straight to your inbox.
(We'll never share your email address with a third-party.)