
Home
>
Nitric Acid Market Increased Greatly in Oct 2017
The Chinese concentrated nitric acid market moved upwards in October. The dealing prices in Jiangsu, Zhejiang, Anhui increased by RMB 565-600/mt. Dealing prices in Shandong and Henan increased RMB 495-570/mt. Dealing prices in Northeast China and Northwest China increased by RMB 50-300/mt.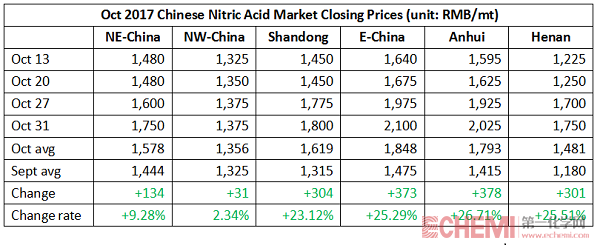 Liquid ammonia prices jumped contentiously, which pressured the production cost of nitric acid. The production activity was not high and the supply shrank. Moreover, the profits of aniline and TDI were satisfactory, and the demand for nitric acid was strong. Players wanted to raise prices and the wait-and-see sentiments got strong.
Up to October 31, mainstream negotiation prices for 98% nitric acid were around RMB 1,533/mt, up 12.97% from last month and jumped 51.48% from last year.
Units Status: The concentrated nitric acid units in Shandong Hualu-Hengsheng Chemical, Shandong Haihua, Dahua Group, Shandong Hongda Chemical, Zhangqiu Riyue Chemical and PetroChina Jilin Petrochemical were shut. Unit in Henan Jinkai, Huaertai Chemical, Anhui Huainan Chemical and Jiangsu Huachang Chemical were running at low loads. The overall operating rate was around 40%.
Forecast: In November, the concentrated nitric acid market will move marginally. In H2 November, the nitric acid market may see down pressure. Players should focus on the dynamic in the producers. The liquid ammonia market gets soft, and the support to the nitric acid market is weak. The downstream demand for nitric acid is stable and thin. It is predicted that the negotiation prices for 98% nitric acid will be in the range of RMB 1,550-1,650/mt in Shandong.

Disclaimer: Echemi reserves the right of final explanation and revision for all the information.
Trade Alert
Delivering the latest product trends and industry news straight to your inbox.
(We'll never share your email address with a third-party.)