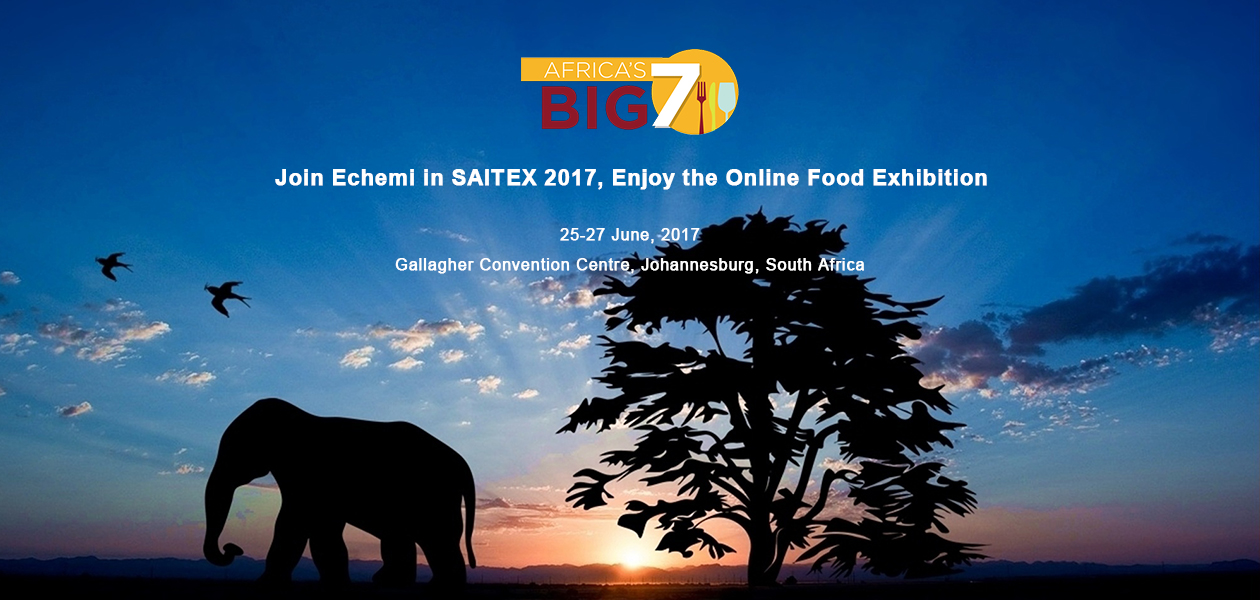 Echemi Online Exhibition for Big Seven, Suit Your Needs from Chinese Manufacturers
Echemi will attend Africa's Big 7 during June 25-27, 2017, in Johannesburg South Africa, which is the only food & beverage trade show in Africa. This year, Echemi will hold an online exhibition to show high-quality manufacturers for visitors.
Ehemi Online Exhibtion
Echemi Online Exhibition provides a convenient way for visitors. Firstly, visitors can get manufacturers' information directly via Echemi Online Exhibition. During Africa's Big 7, visitors who comes to Echemi's booth could browse a large number of manufacturers though Echemi's website and get useful information of their factories and products. Secondly, Echemi Online Exhibition can help visitors save time. Exhibitors can visit more than ten factories and various kinds of products in a short time. Comparing with other exhibitors who visit around the whole exhibition, visitors in Echemi Booth can save a lot of time and also save money. Thirdly, Echemi provides most reliable information for visitors. The manufacturers in Echemi Online Exhibition are all picked by Echemi. For example, Sino-Linchem International, Inc., Jiangsu Kolod Food Ingredients Co.,Ltd and Guizhou Sino Basic Chemicals Co.,Ltd produce high-quality chemicals, such as phosphoric acid, potassium chloride, dipotassium phosphate and so on. Till Now, there are ten manufacturers on Echemi Online Exhibition, and there will be more manufacturers when the exhibition opens.
About Echemi
Because of professional service and positive attitudes, Echemi now has owned over 30,000 purchasers and 5,000 suppliers. Echemi aims to develop itself as one of the most professional, high-efficient and convenient chemical transaction platform in China. Now, there are various categories of products in Echemi, like painting, food additive, personal care, water treatment and so on. Furthermore, Echemi takes an active part in a large numbers of exhibitions all over the world, such as the USA, the UK, the Middle East and so on.
About Africa's Big Seven
Africa's Big 7 is the only food & beverage trade show in Africa to bring together hundreds of global farm to fork suppliers with motivated buyers from each segment of the buying community. Now in its 16th year Africa's Big Seven and partner event SAITEX (Africa's largest product sourcing expo), attracts more than 14,000 trade visitors and 800 exhibitors. Exhibiting at Africa's Big 7 will provide you with an unrivalled opportunity to meet and engage with buyers and potential business partners from across the continent.
No Certified business license

This supplier did not upload its business license.

Certified business license

Supplier uploads its business license firstly. If it pass Echemi audit , supplier can get logo of certified business license.

Certified factory

Echemi go to the factory and do a serious actual investigation. If the factory meets requirement, it can get logo of certified factory.

Certified credit guarantee

If the supplier get credit guarantee from Echemi, it owns logo of certified credit guarantee.

Silver member

The supplier purchased Echemi silver member service.

Gold member

The supplier purchased Echemi gold member service.

Diamond member

The supplier purchased Echemi diamond member service.

Crown member

The supplier purchased Echemi crown member service.