
Home
>
COATING KOREA Busan Will Open in BEXCO from August 29 2018
COATING KOREA Busan will open in BEXCO from August 29 this year.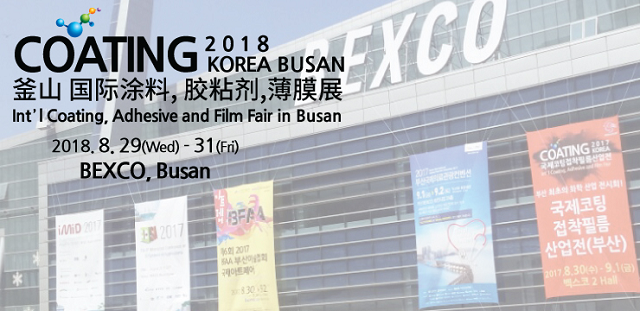 The feast of technologies that support manufacturing & chemical industries in Yeongnam region, International Coating, Adhesive and Film Fair 2018 in Busan
International Coating, Adhesive and Film Fair 2018 in Busan in which you will find the latest technology and products in the domestic coating, adhesive and film industries embracing Yeongnam region willl be held in BEXCO, Busan, under the supervision of E-SANG NETWORKS CO., LTD and the sponsorship of Busan Metropolitan City during three days from August 29 to 31. Coating Korea Busan, where industry workers gathered together and then successfully held its first event last year, is scheduled to be held this year with a larger size and more variety of content.
Busan, an international city rising as a mecca for manufacturing and chemical industries, has a continuing increase in demand for coatings and adhesives being used in the footwear and textile industries as well as in the automotive industry.
In addition, it is geographically close to Ulsan, which has the largest chemical complex in Korea, Changwon, which is specialized in defense & aviation industries and machine industry, and lastly Japan, so that it is expected that business exchanges between buyers of the related industries and participating companies will be actively carried out through International Coating, Adhesive and Film Fair 2018 in Busan.
Busan Metropolitan City has been promoting the establishment of a base infrastructure for strengthening competitiveness with the development of the local root industry through the project to strengthen the competitiveness of the root industry by the Ministry of Trade, Industry and Energy since 2013. It is also actively performing corporate support activities with the goal of improving the surface treatment and coating technologies used to the main industries, such as machinery, automobiles, shipbuilding, etc., in Busan Metropolitan Area, of promoting the technology advancement, and of strengthening the global competitiveness. Coating Korea Busan is aiming for playing a role as a place to exchange various technologies for the re-leap of manufacturing industry in Yeongnam region based on such industrial competitiveness in that region and the generous support from Busan Metropolitan City.
In COATING KOREA Busan 2018, you will be able to meet related products and technology through the exhibition, and a variety of other events are held for three days. 『2018 Coating and Adhesion Autumn Seminar』 will be held under the supervision of "Coating and Adhesion", a typical technology comunity in Naver, and the sponsorship of E-SANG NETWORKS CO., LTD for two years in a row. This seminar, with about 250 participants, will cover the latest coating technology trends and industrial applications.
In addition, 『Seminar on advance anti-corrosion technologies for structures in extreme conditions』 will be held under the supervision of Pukyong National University. This technology seminar will be held for the purpose of improving technological competitiveness of small and medium enterprises in paint, shipbuilding & marine, automobile parts, and construction and general machinery industries and of preventing economic loss of nation-based industries, presenting a direction toward safe South Korea.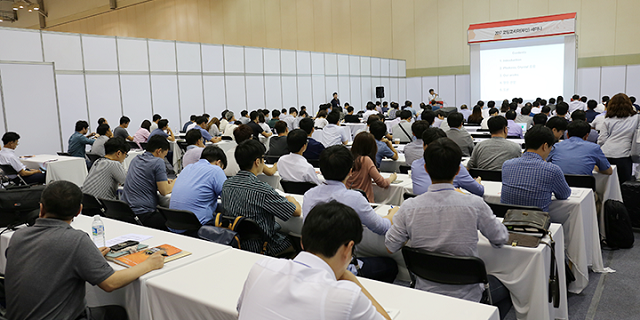 [Picture: Many buyers are participating in the technical seminar held at Coating Korean Busan 2017./ Provided by: E-SANG NETWORKS CO., LTD]
E-SANG NETWORKS CO., LTD, the organizer for COATING KOREA, said, "Event though it was held for the first time last year, more buyers and industry workers from Yeongnam region, including Busan, Ulsan, etc., than we expected visted Coating Korea Busan. It will be held this year as a more fruitful exhibition than last year through various events and professional technical seminars in addition to the participation of global companies. Through this year's exhibition, Coating Korea will become a place of business exchange between coatings, adhesives and film industries that represent South Korea including the Seoul Metropilitan Area and the Bu-Ul-Gyeong region". Moreover, it also said, "We are finding companies to participate in Coating Korea Busan. We will offer participating companies various benefits such as buyer matching, technocal seminar support, discount on participation fee, booth location preoccupancy, etc., so that we hope that the related companies will participate in the event with great interest". Please note that Coating Korea Busan 2018 is taking pre-resistrations on the exhibition at its website, and registrants can enter it for free, and for further inquires and the details, you only need to contact the exhibition secretariat(02-3397-0134) or visit the website(www.coatingkorea.com)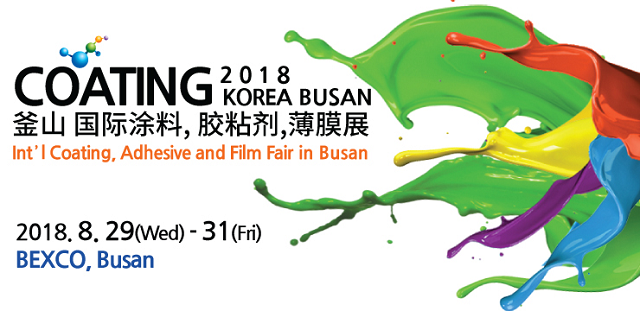 
Disclaimer: Echemi reserves the right of final explanation and revision for all the information.
Trade Alert
Delivering the latest product trends and industry news straight to your inbox.
(We'll never share your email address with a third-party.)