
Home
>
Intumescent Coatings Market Forcasted for Accelerated Growth by 2024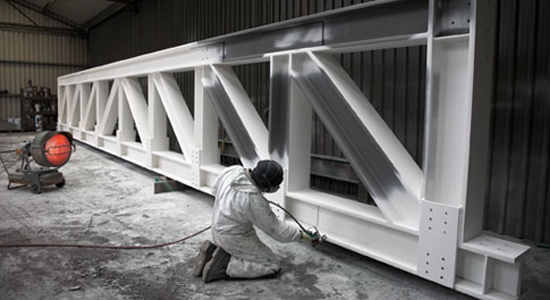 Intumescent is substance which swells if contacted with heat exposure; thus it expands in volume and decreases in density. The coating undergoes a thermochemical reaction once it comes in contact with high temperature which results in thermal protection to the surface. The intumescent coatings play a vital role in fire protection of structural elements. Intumescent coatings can shield various types of structural part specifically columns, beams, and hollow sections depending on the shape. The resistance to fire capacity totally depends on the type of intumescent coatings. Intumescent coatings can cover a wide range of structural sections including universal beams and columns, circular and rectangular hollow sections, and concrete-filled tubes. Depending on the type of intumescent coating, it is possible to protect people for up to three hours after fire break out.
Based on technology, the global intumescent coatings market is segmented as solvent-based, water-based, and epoxy-based. Water-based coating segment is witnessing rapid growth in the coatings market and is widely used owing to its quick drying ability. On the basis of end-user, the global market is segmented as oil, gas, construction, automotive, and others. Based on type of composition, the global intumescent coatings market is further segmented as cellulosic and hydrocarbon.
Increasing population, urbanization, and advancements in new technologies related to the coatings may impact the growth the intumescent coatings market in a positive way. Rising demand for cellulosic-type coatings composition in automotive industry, in order to deliver a fire protection feature to the vehicles due to implementation of consumer's safety standards, may drive the global intumescent coatings market. Easy installations and wide range of operating temperatures are some of the factors expected to boost the global intumescent coatings market. Compulsion of safety and protective equipments in industries such as chemical oil and gas, where the probability of the fire break out is extreme due to production of combustible elements are the major factors leading the growth of the intumescent coatings market. Growing awareness between consumers related to building fire protection system will help in augmenting the growth of the intumescent coatings market in future.
Asia Pacific is significantly the largest market due for intumescent coatings owing to growing industrialization and rising infrastructure development in India and Indonesia. Moreover, Europe is expected to take a steady growth due to rising construction in Eastern Europe. North America has been focusing on the development of bio-based solutions respective to intumescent coatings industry; hence, it is expected to grow in a positive way.
Some of the key market players dominating the intumescent coatings market include AkzoNobel, Carboline, Sherwin-Williams, Jotun, Contego International, Hempel Marine Paints, No-Burn Inc., Null Fire, Benjamin Moore & Co., Albi Manufacturing, and Flame Control. Other major players influencing the global market are 3M, Crown Paints, Leighs Paints and Rudolf Hensel, Rodda Paints, Miller Paint Co., Flame Stop, and Axalta Coatings Systems.
Intumescent Coatings Market: Regional Segment Analysis
North America
U.S.
Europe
UK
France
Germany
Asia Pacific
China
Japan
India
Latin America
Brazil
Middle East and Africa

Disclaimer: Echemi reserves the right of final explanation and revision for all the information.
Trade Alert
Delivering the latest product trends and industry news straight to your inbox.
(We'll never share your email address with a third-party.)