Reflecting on two weeks of connectivity and content, Informa Markets has today revealed the success of its first Vitafoods Virtual Expo and Summit. The interactive online platform offered visitors and exhibitors alike the ability to facilitate virtual meetings and explore the latest trends, science and innovation to help them succeed in the health and nutrition industry. Presented by KSM, the virtual meeting and knowledge platform focused on fostering intelligent connections as well as seamless networking.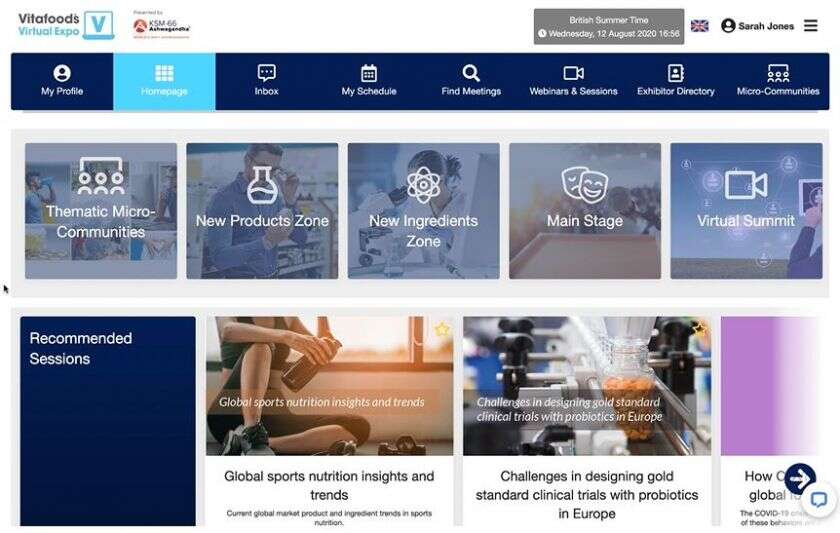 Chris Lee, Managing Director, Health and Nutrition Network, Europe, at Informa Markets, comments: "Guided by the aims and motivations of our visitors and exhibitors, our goal in setting up the Vitafoods Virtual Expo and Summit was to keep the global nutraceuticals community connected, inspired and energised in these challenging and uncertain times."
"We had an outstanding response to the event overall; exhibitors have praised the wealth of meetings and great connections that they were able to make thanks to our data-driven matchmaking, while visitors have been inspired by the rich insights and fresh perspectives from key speakers and the six Thematic Micro-Communities discussions. These communities are a great example of how digital events can offer a personalised experience that connects suppliers to the right visitors and offers content tailored to attendees' specific needs," continues Chris.
Key event statistics for the Vitafoods Virtual Expo and Summit include:
- 151 exhibiting companies at the Expo
- 5,877 confirmed and qualified meetings
- 13,662 total visitor attendees across the Expo and Summit
- 4,030 hours of content, including talk and webinars viewed across the Expo and Summit
- 36,618 chat messages sent and received
- A truly global event with attendees from Europe, APAC, North America, South America, the Middle East and Africa
Chris Lee concludes: "The Vitafoods Virtual Expo and Summit marks a milestone as the first step in the development of our new hybrid event strategy, which comprises both virtual and face-to-face events. We're excited about our forthcoming plans for 2021, starting with a digital event for our audience in Asia in January. Of course, we're looking forward to being able to host in-person events alongside our digital ones as soon as we're able to do so safely. Watch this space for news on our next event!"
About Informa Markets:
Informa Markets creates platforms for industries and specialist markets to trade, innovate and grow. Our portfolio is comprised of more than 550 international B2B events and brands in markets including Healthcare & Pharmaceuticals to Infrastructure, Construction & Real Estate, Fashion & Apparel, Hospitality, Food & Beverage, and Health & Nutrition, among others. We provide customers and partners around the globe with opportunities to engage, experience and do business through face-to-face exhibitions, specialist digital content and actionable data solutions. As the world's leading exhibitions organiser, we bring a diverse range of specialist markets to life, unlocking opportunities and helping them to thrive 365 days of the year. For more information, please visit www.informamarkets.com.

Disclaimer: Echemi reserves the right of final explanation and revision for all the information.
Trade Alert
Delivering the latest product trends and industry news straight to your inbox.
(We'll never share your email address with a third-party.)