Trade Data
Find Your Best Suppliers
Find Your New Customers
Monitor Industry Competition
Extended Data Analysis
Supply Chain Visibility
Free Search
Market Development
1.Fully grasp the trends of buyers in the target market and quickly locate the customer group.

2.Effectively identify customers and accurately respond to inquiries through accurate customer portraits.

3.Accurately find key foreign markets to expand market share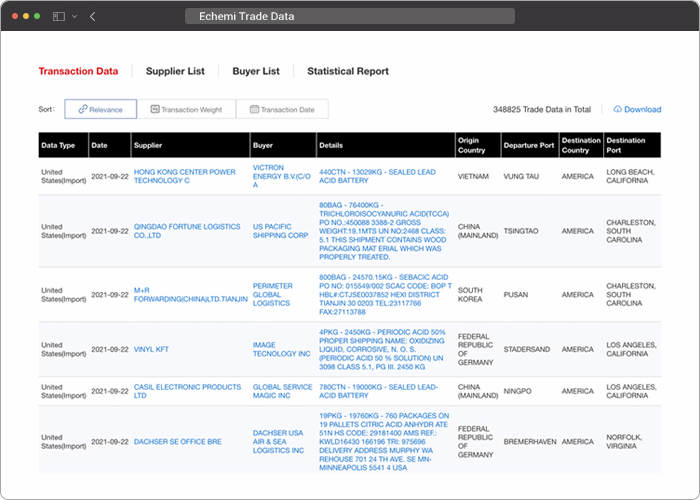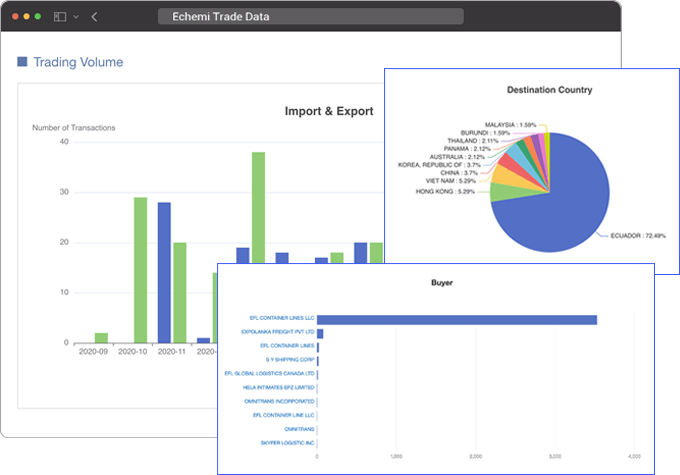 Customer Maintenance
1.A comprehensive understanding of the purchasing habits and transaction history of cooperating customers.

2.Carry out effective customer relationship management to avoid losses.

3.Research and judge the purchasing data of customers that have cooperated, and keep abreast of the transactions between customers and other suppliers in a timely manner.
Peer Monitoring
1.Comprehensively grasp the trade dynamics of all competing companies in the target market and in-depth analysis of key indicators such as the business distribution of major competitors.

2.Monitor changes in the composition of existing or newly-added competing companies, and make adequate preparations at any time to accept high-quality customers from competitors.

3.Grasp the dynamic changes of foreign competitive markets in the industry, and comprehensively analyze the prices, shipping cycles, quantities, etc. of products in foreign markets.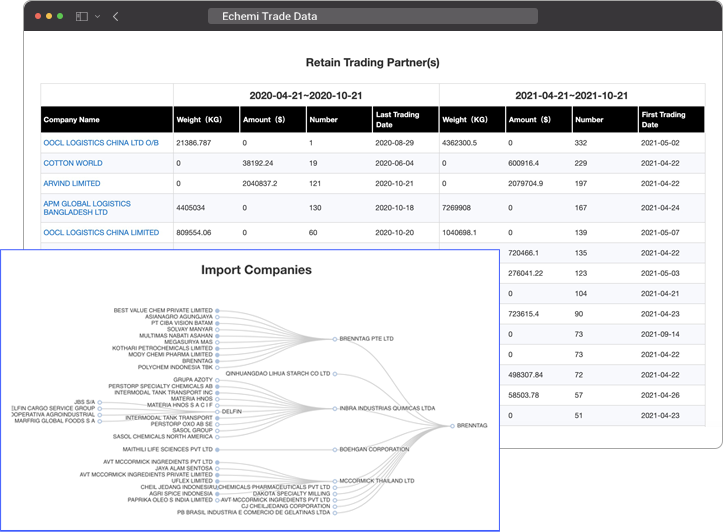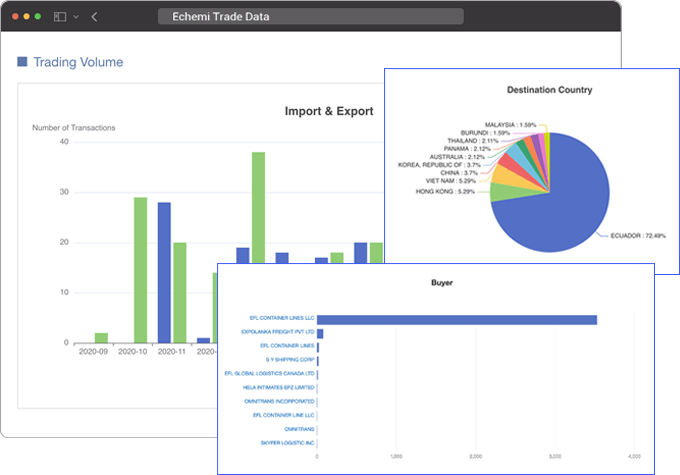 Market Analysis
1.Analyze foreign market price trends and market distribution

2.Analyze changes in your own competitiveness in the market and the situation of major purchasers and suppliers.

3.Analyze the year-on-year and quarter-on-quarter growth changes of the market.

4.Analyze the distribution of departure ports/arrival ports/overseas loading ports, etc.

5.Analyze the low and peak seasons of product trading.
Comprehensive data support and practical foreign trade analysis
Precisely locate the target market, quickly grasp the trade market, and efficiently develop foreign trade customers
From passively waiting to proactively developing high-quality customers
Free search in our service , please  Sign in to use trade data service.
Light Trial Subscription

Continuous Monthly Subscription

*Data Download Available*

Continuous Yearly Subscription

($133.33 per month)

*Data Download Available*
Buy Now