
Home
>
Ongoing metals tariffs cloud newly signed US, Canada, Mexico free trade pact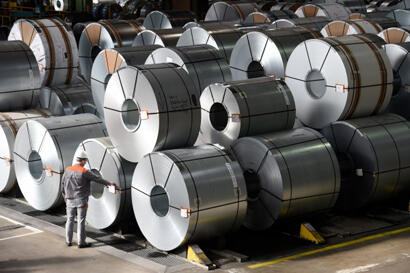 Canadian Prime Minister Justin Trudeau urged the US Friday to lift tariffs on imports of steel and aluminum that are affecting cross-border oil and natural gas projects, in a reminder of the trade tensions that still remain even as the two countries and Mexico signed a pact that overhauled the North American Free Trade Agreement.
The metals are inputs in the fabrication of pipelines, liquefaction terminals, and the casing in drilling wells, making duties on the materials an extra cost for developers that can harm their ability to be competitive with similar projects in other parts of the world.
Related story: Trudeau again calls for Section 232 tariffs to be dropped ahead of USMCA signing
During the Group of 20 leaders' summit in Argentina, Trudeau said the new free trade agreement that replaces NAFTA eases uncertainty that would have worsened had the deal not been reached, protecting jobs that rely on good relationships between the US, Canada and Mexico. But, he said, much work remains to be done to remove barriers, and he prodded US President Donald Trump to come to the table on metals tariffs.
"The recent plant closures by General Motors, which affects thousands of Canadian and American workers and their families, are a heavy blow," Trudeau said at the summit. "And, Donald, it's all the more reason why we need to keep working to remove the tariffs on steel and aluminum between our countries. With hard work, good will, and determination, I'm confident we will get there. Our shared interests, prosperity, and security demand it."
Currently, the US imposes 25% tariffs on imports of steel from Mexico and Canada and any quotas imposed on steel imports would likely replace those tariffs. The issues of steel import quotas and tariffs were not addressed in the discussions over the free trade pact that the three countries signed. Trump has dubbed the pact the United States-Mexico-Canada Agreement, a name Canada has pointedly not endorsed in its messaging. Trudeau referred to it in his remarks at the signing as the new NAFTA.
For his part, Trump did not mention the steel and aluminum tariffs during his prepared remarks at the summit. Instead, he focused on the manufacturing jobs that he said will be created in the US from raising wages and implementing intellectual property protections.
"We have dramatically raised standards for combating unfair trade practices; confronting massive subsidies for state-owned enterprises; and, currently, if you look at it, currency manipulation that hurt workers in all three of our countries," Trump said. "The currency manipulation from some countries is so intense, so bad, and it would hurt Mexico, Canada, and the United States badly. We've covered it very well in this agreement."
INDUSTRY REACTION
Officials of some energy industry trade associations have said the new pact should benefit the sector in the long run, but they are concerned about lingering trade issues, including the metals tariffs.
In a recent statement, the American Petroleum Institute expressed its support of the USMCA and urged Congress to pass the agreement. The API cited as key provisions of the agreement: continued market access for US gas and oil products and investments in Canada and Mexico; continued zero tariffs on gas and oil products; and a requirement that Mexico retain at least current level of openness to US energy investment.
But John Tintera, president of the Texas Alliance of Energy Producers, has said while he supports the Trump administration's increased focus on domestic energy security, he is worried that the administration's trade policies enacted to support other industry sectors, such as the steel industry, ultimately could harm the energy industry. Other sectors, including agriculture, are concerned about ongoing tariffs on certain goods.
"Signing USMCA is a significant win for American farmers, but it's a win that comes with a big caveat," Brian Kuehl, executive director of the advocacy group Farmers for Free Trade, said in statement Friday. "While USMCA offers exciting opportunities for market access into America's largest and closest [agricultural] export markets, any gains will continue to be offset by the losses farmers are experiencing from retaliatory tariffs as long as they are in place."

Disclaimer: Echemi reserves the right of final explanation and revision for all the information.
Trade Alert
Delivering the latest product trends and industry news straight to your inbox.
(We'll never share your email address with a third-party.)