In-cosmetics Korea is excited to announce that it will bring the region's personal care professionals together digitally this month, during its first ever virtual learning experience that will run from 15-19 June 2020.
Running in place of this year's face-to-face event, 'in-cosmetics Korea Educational Week' will enable knowledge-hungry Korean scientists to safely learn about the hottest ingredient launches and future trends, ensuring they can continue their professional development and seek out new innovations.
The series of online webinars will cover a diverse range of topics, with Givaudan, Lubrizol, Nikko Chemical, LipoTrue and Cargill Beauty APAC among those that will discuss the latest local and global trends, scientific advances, and their newest product launches.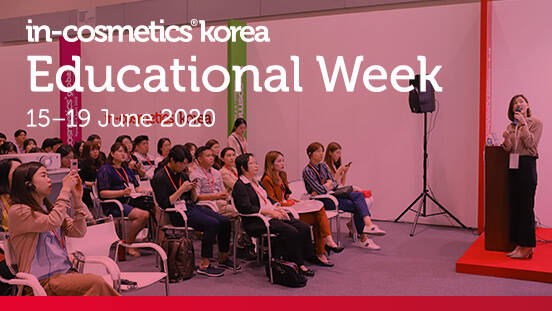 Five trending Korean market topics
Each day of in-cosmetics Korea Educational Week will focus on a different theme:
- Monday 15 June – Industry Insights Day: Representatives from Kline, Mintel and UL Prospector will take a deep dive into the market trends impacting the Korean cosmetics industry. They will present the latest consumer research on active and functional ingredients, deliver advice on intelligent product design and compliance, as well as providing examples of Chinese beauty brands putting innovation first.
- Tuesday 16 June – Clean Beauty: Presentations from Cargill Beauty APAC, BEAUTYSTREAMS and Lipoid Kosmetik will highlight the trends driving clean beauty concepts and the role of storytelling strategies in helping re-interpret the 'green' trend for consumers.
- Wednesday 17 June – Trends and Innovation: REACH24H, Euromonitor and Nikko Chemical will help attendees understand the landscape of all major cosmetic policy activity across the Asia-Pacific region, and the top trends driving industry growth.
- Thursday 18 June – Skin Sensitivity: With environmental pollution and excessive screen time negatively affecting skin conditions, Sequential Skin, Seppic Asia and LipoTrue will join the programme. They will profile personalised beauty prescriptions and new dermo-cosmetic actives that provide beneficial properties for new skincare formulations.
- Friday 19 June – Natural Skincare: From charcoal to collagen, numerous products that are typically found in food have made their way into personal care products, offering a wide range of health benefits. Representatives from GlobalData, Givaudan and Lubrizol will highlight how an increased public interest in organic and natural products is driving new skincare trends.
Daily doses of innovation and inspiration
Complementing the live webinars, in-cosmetics Korea Educational Week will also showcase an array of innovative raw materials launched within the last six months.
Profiles of brand new, innovative personal ingredients from exhibitors including Res Pharma, Taiyo Kagaku, Bloomage Biotechnology will also be available online to inspire new formulations and product development. Selected products will be accompanied by a video introduction from regional expert Mike Son of Reach24, who will explore its unique benefits and explain how it can be utilised in innovative formulations.
The in-cosmetics Korea Educational Week virtual conference will be hosted on the in-cosmetics webinar channel and will remain on demand after. To register to attend, please visit: https://korea.in-cosmetics.com/en/landing-pages/Online-Conference/. Sessions will run from 15-19 June from 15:00-17:00 (Korean Standard Time), 07:00 – 09:00 (British Summer Time) or 02:00 – 04:00 Eastern Daylight Time, in Korean or English.
Ends
For further press information please contact Beki McVicker or Lottie Croker at in-cosmetics press office on +44 (0) 207 240 2444 or email: in-cosmetics@stormcom.co.uk
About Reed Exhibitions
Reed Exhibitions is a leading global events business. It combines face-to-face with data and digital tools to help customers learn about markets, source products and complete transactions at over 500 events in almost 30 countries across 43 industry sectors, attracting more than 7 million participants.
Our events, organised by 35 global offices, leverage industry expertise, large data sets and technology to enable our customers to generate billions of dollars of revenues for the economic development of local markets and national economies around the world. Reed Exhibitions is part of RELX, a global provider of information and analytics for professional and business customers across industries. www.reedexhibitions.com
About RELX
RELX is a global provider of information-based analytics and decision tools for professional and business customers. RELX serves customers in more than 180 countries and has offices in about 40 countries. It employs over 33,000 people, of whom almost half are in North America. The shares of RELX PLC, the parent company, are traded on the London, Amsterdam and New York stock exchanges using the following ticker symbols: London: REL; Amsterdam: REN; New York: RELX.
*Note: Current market capitalisation can be found at http://www.relx.com/investors

Disclaimer: ECHEMI reserves the right of final explanation and revision for all the information.