On February 3 and 4, GlaxoSmithKline and Gilead announced their 2020 annual results. Since AIDS is a very important business area for the two companies, this article hopes to take this opportunity to introduce the importance of the global AIDS market. Trends, the following analysis summarizes the 10-year market data of major drugs in the global AIDS market, and gives a general introduction from the varieties, companies, and combination drug programs.
One. Breaking through US$7 billion, Bittovi has rapidly grown into a leading species
AIDS is gradually becoming a chronic disease, and the global market is expanding rapidly. Current data shows that the global AIDS market will exceed US$27 billion in 2020. In the second year of its listing, Bittovi has rapidly grown into a leading product in the AIDS market, with sales in 2020. It is as high as 7.3 billion US dollars, which continues to rise by 53%!
two. Atripla to Bitovin, from TDF to TAF as the basic single-tablet complete plan
AIDS drugs are divided into nucleoside (acid) reverse transcriptase inhibitor NRTI, non-nucleoside reverse transcriptase inhibitor NNRTI, integrase inhibitor INSTI, protease inhibitor PI, etc., and 2NRTI combined with other types of anti- Viral drug cocktail therapy is currently the most successful AIDS control program. The success of cocktail therapy has brought breakthroughs in AIDS control. Nowadays, fixed-dose STR (Single-Tablet Regimens) has significantly prolonged the life of patients, and the market share is rapidly expanding.
The rate of growth of Bittovi is amazing, but it is also expected, from Atripla to Bittovi, the changes in AIDS market leaders, we can know: 1. Cocktail therapy has become the mainstream of the market, especially, A single-tablet complete program is the best choice; 2. TAF-based recipes have gradually replaced TDF-based recipes; 3. TAF-based integrase inhibitor complete programs are quickly becoming the mainstream of the AIDS market , Bitowei is a typical example.
three. 62% market share: Gilead is the well-deserved overlord of the AIDS market
In the global AIDS drug market, Gilead, GlaxoSmithKline, Bristol-Myers Squibb and Merck are the most important companies, especially Gilead, which accounts for 62% of the global AIDS market (statistics have not excluded Sales of hepatitis B drugs). With the continued decline of Gilead's direct antiviral drug business for hepatitis C, the company's AIDS drug business continues to increase rapidly, especially the success of the TAF-based integrase inhibitor complete program, which brings new growth points to Gilead. It has become the most dazzling financial report data of Gilead.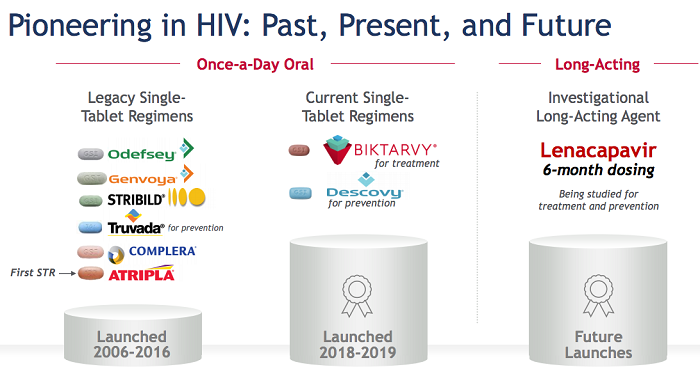 four. Long-term control plan will be an important direction for future AIDS control
The new cocktail therapy has turned AIDS into a chronic disease, and long-term medication for AIDS patients will become more and more common. Therefore, the compliance and safety of long-term medication are increasingly valued! Here, GlaxoSmithKline's anti-AIDS 2DR program has taken the lead, with Juluca, Dovato and long-acting program Cabenuva on the market.
Among them, the listing of Cabenuva can be regarded as a milestone in AIDS control, which has opened a new era.
Cabenuva is an important milestone progress
Fives. The next big look: Gilead Lenacapavir
Lenacapavir is a first-in-class HIV capsid inhibitor. Since the data was disclosed, it has attracted great attention in the industry. Gilead is rapidly developing its long-term treatment or prevention program for AIDS.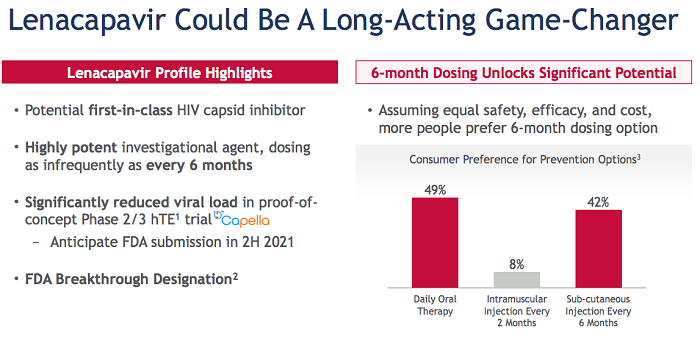 On November 18, 2020, Lenacapavir released the poc data CAPELLA, which showed excellent virus control ability in multidrug resistant AIDS patients. In the second half of 2021, the clinical benefit data of newly treated AIDS patients will also be disclosed, which is very worth looking forward to. At the same time, the fixed-dose combination will also be launched quickly in 2021 or 2022, which is expected to be a blockbuster treatment that continues to innovate the standard treatment plan for AIDS.

Disclaimer: Echemi reserves the right of final explanation and revision for all the information.
Trade Alert
Delivering the latest product trends and industry news straight to your inbox.
(We'll never share your email address with a third-party.)