Opening Speech of the Founder of Echemi at Animal Health Industry Analysis Forum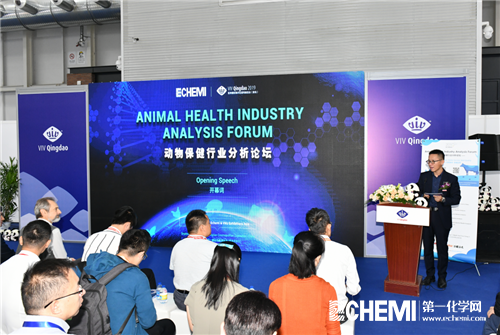 On Sept. 20, 2019 Echemi Animal Health Industry Analysis Forum was held at Qingdao Cosmopolitan Exposition. At 9:30 a.m., David, CEO of Echemi gave the opening speech.
At the opening ceremony, David firstly thanked more than 30 global buyers and over 60 Chinese suppliers for coming to the grand event, and then he analyzed the animal health industry.
He analyzed that through years of development, the global animal health market has entered a period of stability. In addition to the negative growth in 2009 due to the global financial crisis, the animal health market has maintained a steady growth. The market size increased from $13.7 billion in 2004 to $31.9 billion in 2018, with a compound annual growth rate of 5.7%.
The market size of China's animal health industry still lags far behind world leading countries. However, with the gradual attention paid by the country to animal epidemic prevention and control and food safety, the domestic animal health industry has developed rapidly and maintained a relatively upward trend. China's animal health market reached 4 billion euros (or 1 billion RMB) in 2017, and is expected to reach 9 billion euros (or 70 billion RMB) in the next seven years.
The global market for animal health will increase to $54 billion in 2025, which indicates a promising future. The market will mainly be concentrated in the European and American, and the products will mainly be used in veterinary drugs applied on economic animals. In terms of sales regions, the American market will take up to 43%, which is the largest in the world; the European market accounts for 24%, and the other regions accounts for 33%. In the case of product types, veterinary medicine will make up 57%, biological product makes up 29%, feed additives of veterinary medicine makes up 14%.
Thirdly, David introduced Echemi and his aspiration to cooperate with all parties to promote the development of the industry. He said that as a leading part of the animal health industry in China, Echemi focuses on product prices, market trends and environmental-friendly products. By following the website of Echemi, especially the special reports of global exhibitions on the animal health industry, you will know a lot more of animal healthy industry.
Today, Echemi will work with friends all over the world and Chinese suppliers to create a meaningful and rewarding time, a collaborative journey in the animal health industry. Let's join in hands, strengthen cooperation and create potential value. We believe new concepts and new blood for the industry through our hard work, innovation and energy will trigger fast development and prosperity of the industry.

Disclaimer: Echemi reserves the right of final explanation and revision for all the information.
Trade Alert
Delivering the latest product trends and industry news straight to your inbox.
(We'll never share your email address with a third-party.)