Introduction: On March 26, 2018, China's Ministry of Commerce announced that it has started an anti-dumping investigation into imported phenol from the United States, European Union, Republic of Korea, Japan and Thailand.
The ministry received an application for an inquiry from domestic producers, who accuse foreign manufacturers of dumping phenol on the Chinese market at prices below their fair value, according to an official statement.
The investigation should be concluded by March 26 next year, but, in special circumstances, may be extended to September 26, 2019, according to the statement.
According to the following chart, the capacity of phenol in China jumped during 2013-2017. Most capacity was put into operation in 2013 and 2014. The supply of Chinese-made phenol increased slowly. The degree of dependence on import declined from 24.2% in 2013 to 9.3 in 2015. However, the import volume increased again in 2016. The import volume increased from 243kt to 366kt from 2016 to 2017.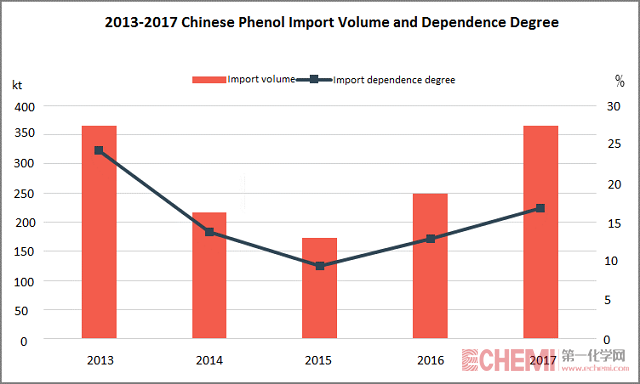 In H2, 2016, Chinese phenol units underwent maintenance intensively and a large amount of imported phenol entered the Chinese market. In 2017, the import volume continue to increase and the growth in Q1, 2017 was obvious. Prices for phenol in the spot market increased and the arbitrage window opened, so the imported phenol with low prices enter the Chinese market. Up to the end of 2017, the degree of dependence on import was still at 16.8%.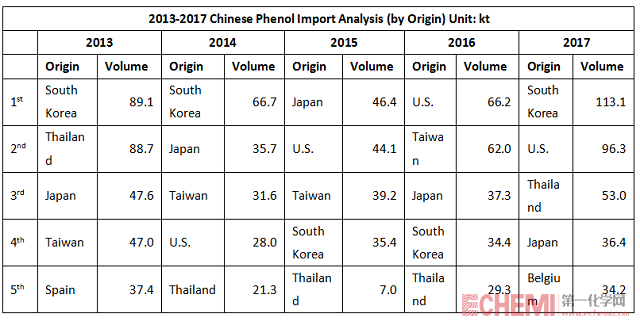 The new anti-dumping investigation won't effect the phenol market in the short term. The degree of self-sufficiency in China is around 86%. Changes in phenol's supply and demand will be the major influencing factor.

Phenolic resin and BPA are the two major applications of phenol. According to Echemi, the consumption volume for phenol in 2017 was 2,150kt or so, increasing 16.2% year on year.


Disclaimer: Echemi reserves the right of final explanation and revision for all the information.
Trade Alert
Delivering the latest product trends and industry news straight to your inbox.
(We'll never share your email address with a third-party.)