Invitation of 2019 ECHEMI Natural Extracts Sourcing Meeting
Introduction
In recent years, along with the gradual popularization of the concept of "returning to nature" and "green consumption", plant extract products are warmly praised globally and show strong growth momentum. Animal extracts is as a new industry corresponding to plant extracts, it also gets tremendous attention. At present, more trade communication is expected by enterprises.
In 2019, ECHEMI together with the organizer of CPHI China to hold 2019 ECHEMI Natural Extracts Sourcing Meeting upon the celebration of the 19thanniversary of CPHI China. ECHEMI, as bridge of trade communication, has held various forums and sourcing meetings in the past 3 years. The event will gather up to 20 buyers from the world to have face-to face meeting with more than 300 exhibitors. We will support every key process of import and export including transaction service, payment support, overseas warehouse support, orders support and many other things. We are devoted to help the buyers and suppliers to make the deal easier.
Target on Global Natural Extracts Industry New Trends , New Opportunities
Time: June 19th, 2019
Address: SNIEC(Shanghai new international expo center),Hua mulan road, Shanghai, China
2019 ECHEMI Natural Extracts Sourcing Meeting Schedule:
June

19th

SNIEC

9:00-9:30

Sign in

9:30-9:50

Speech of analysis of the global natural exextract market

9:50-10:00

Opening speech-Bree (General Manager of ECHEMI Pharma Division)

10:00-10:30

Sourcing Meeting Part1

10:30-11:00

Sourcing Meeting Part2

11:00-11:30

Sourcing Meeting Part3

11:30-12:00

ECHEMI Interview& Contract signing ceremony

12:00-13:00

Lunch Time & Break

13:00-18:00

Freetime in CPHI exhibition
2019 ECHEMI Food Ingredient Sourcing Meeting &Food Industry Forum
Time: June 20th, 2019
Address: NECC(Shanghai national exhibition),Zhu Guang Road, Shanghai, China
June

20th

NECC

9:00-11:30

ECHEMI Food Industry Forum-

Market Analysis of European/North& South American/Southeast Asian/Middle East Food Ingredients Industry

11:30-12:30

Lunch Time & Break

12:30-16:00

ECHEMI Food ingredient Sourcing Meeting
Official Hotel during the event:
(2 days free accommodation during CPHI 2019)
Double Tree Hotel by Hilton Shanghai
Address: No 889, Yang Gao Nan Road, Shanghai,China
Contact now to participate:
Ms Victoria Tel:0086-532-55766095 Email:vip2@echemi.com
Ms Elynn Tel:0086-532-55717981 Email:Elynn@echemi.com
Ms Annie Tel:0086-532-55717956 Email:Annie@echemi.com
List of part of natural extract suppliers: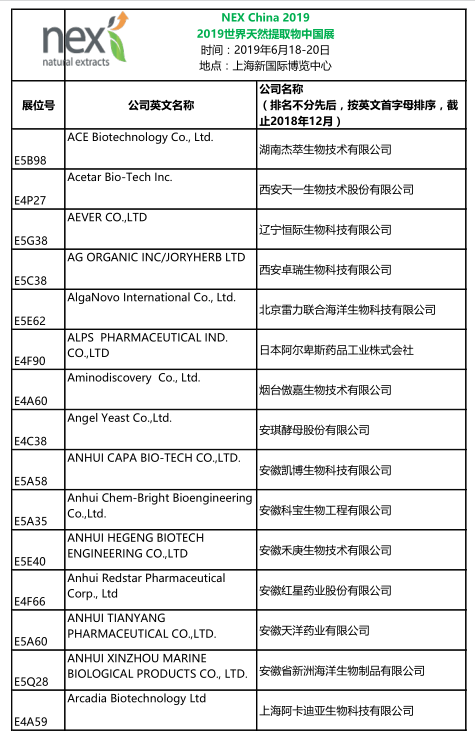 图片1

Disclaimer: ECHEMI reserves the right of final explanation and revision for all the information.