On April 29, Novo Nordisk announced that China State Drug Administration officially approved Semaglutide injection (0.5mg, 1mg pre-filled injection pen) in China to supplement diet and exercise to improve glycemic control in patients with type 2 diabetes mellitus (T2DM).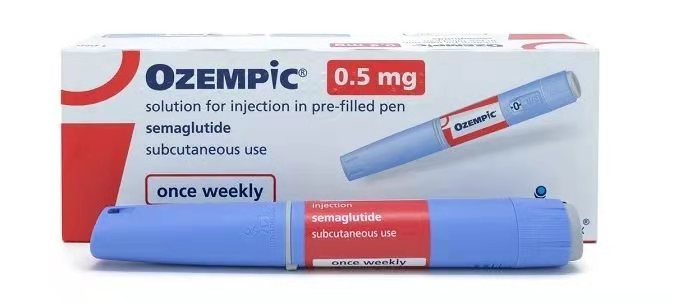 Semaglutide structure

Semaglutide is a long-acting glucagon-like peptide-1 receptor (GLP-1R) agonist that requires only one subcutaneous injection per week. GLP-1R agonist activates GLP-1 receptor by mimicking natural GLP-1, enhances insulin secretion and inhibits glucagon secretion in a glucose-concentration-dependent manner, delays gastric emptying, and reduces food intake through central appetite suppression, thereby lowering blood glucose. -1RA is not only effective in lowering glucose, but also has a low risk of hypoglycemia when used alone, as well as reducing weight, lowering blood pressure and improving lipid profile.
Semaglutide is based on the natural human GLP-1 molecule by replacing amino acids at positions 8 and 34 (alanine → α-aminobutyric acid and lysine → arginine), while the lysine at position 26 is linked to the C18 fatty acid side chain by a spacer group. After modification of human GLP-1 molecule, Semaglutide achieved resistance to degradation by dipeptidyl peptidase 4 (DPP-4), tight binding to albumin, significantly prolonged half-life in vivo, and once-weekly dosing, while retaining up to 94% of the structural characteristics of GLP-1 amino acid sequence homology, with a better safety profile.

Comparison of T2DM treatment drugs

The hypoglycemic and weight-reducing effects of Semaglutide injection have been demonstrated in large clinical studies in the SUSTAIN series, including SUSTAIN 2 (Semaglutide vs. selegiline), SUSTAIN 3 (Semaglutide vs. exenatide microspheres), SUSTAIN 4 ( Semaglutide vs. glargine insulin), SUSTAIN 5 (Semaglutide + background therapy vs. background therapy), SUSTAIN 7 (Semaglutide vs. dulaglutide), SUSTAIN 8 (Semaglutidevs. calagliptin) SUSTAIN 10 (Semaglutide vs. liraglutide), among others, have demonstrated the superior efficacy of Semaglutide injection for the treatment of T2DM compared to active control drugs.The FDA first approved Semaglutide injection (trade name: Ozempic) for marketing in December 2017 to improve glycemic control in adults with type 2 diabetes.
Last June 13, Novo Nordisk first presented data from the Phase III study (code name: SUSTAIN CHINA MRCT) of Semaglutide for the treatment of patients with type 2 diabetes in China at the ADA2020 conference.
The SUSTAIN CHINA MRCT study is a 30-week randomized, double-blind, Phase IIIa clinical trial designed to evaluate the efficacy and safety of metformin-based combination with Semaglutide (once weekly subcutaneous injection) or selegiline (once daily oral dose) in the treatment of patients with type 2 diabetes. A total of 868 subjects were enrolled in the study, 70% of whom were Chinese and 13% were Korean. Subjects were randomized to receive Semaglutide 0.5 mg (n=288), 1.0 mg (n=290) or Selegiline 100 mg (n=290).
The results of the study showed that after 30 weeks of treatment, both doses of Semaglutide were superior to sitagliptin in reducing HbA1c levels. Both doses of Semaglutide were significantly higher than selegiline in terms of HbA1c attainment and the proportion of composite endpoints attained. The safety data were consistent with the results of previous studies.

Disclaimer: Echemi reserves the right of final explanation and revision for all the information.
Trade Alert
Delivering the latest product trends and industry news straight to your inbox.
(We'll never share your email address with a third-party.)