Overview of the Current Market Situation
Due to the continuous spread of the epidemic around the world, many well-known foreign pharmaceutical manufacturers have not only invested in the R&D and production of Remdesivir, but also have a tendency to scale up production. Of course, they are authorized by the patent holding company. In China, many pharmaceutical R&D companies also attach great importance to the R&D work of Remdesivir. Their synthesis technology is relatively mature, and their products are only for research and development. In China, the industrial chain of upstream pharmaceutical intermediates of Remdesivir is relatively sound and possesses technological advantages. Although the different segments are supplied by core manufacturers, it still cannot prevent emerging pharmaceutical R&D companies from investing in it. In terms of demand, as the epidemic continues to spread, the global demand for Remdesivir has been on an upward trend. One reason for the fall in prices in August was due to exchange rate fluctuations, and the other was due to increased global production.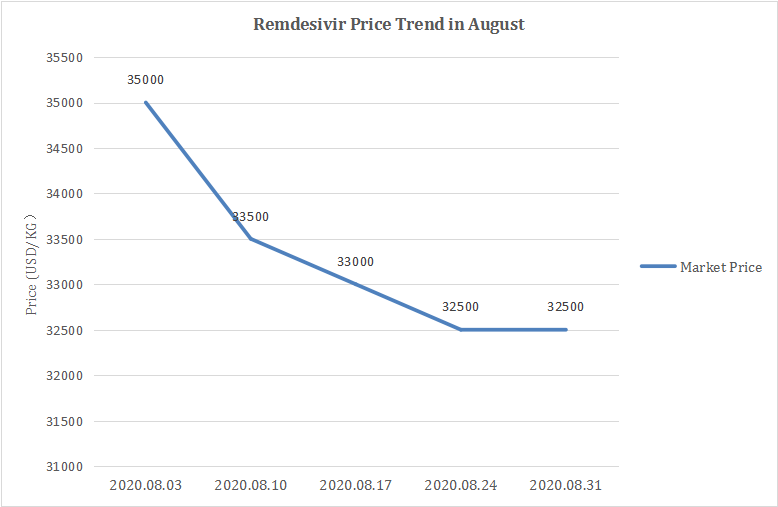 Forecast of the Future Market Situation
In September, the overall market situation was similar to that in August. However, the phenomenon of overcapacity will be eased. As the industry chain continues to develop healthily, companies without core technological advantages will be eliminated. The industry will tend to be centralized. So at that time, if the epidemic continues to spread, the price of Remdesivir will also have an upward trend. On the whole, the epidemic will not disappear or lessen in September. With the advent of autumn and winter, it is impossible to predict whether the epidemic will further intensify.

Disclaimer: Echemi reserves the right of final explanation and revision for all the information.
Trade Alert
Delivering the latest product trends and industry news straight to your inbox.
(We'll never share your email address with a third-party.)