Introduction: The capacity in the Chinese epichlorohydrin market is surplus and some units are always run at low operating rates or shut. Some units underwent maintenance previously have restarted, and the supply is increasing. Market prices in the spot market move marginally and Chinese producers' export activity is high.
The annual capacity of China's epichlorohydrin had reached over 1,000kt/a in 2012. Though the capacity saw increases and declines in recent years, the total capacity remained above 1,000kt/a. but the demand recovered slowly and the overall supply was surplus. Moreover, most producers' profits were at low levels. Hence, some producers cut down the annual operating rates.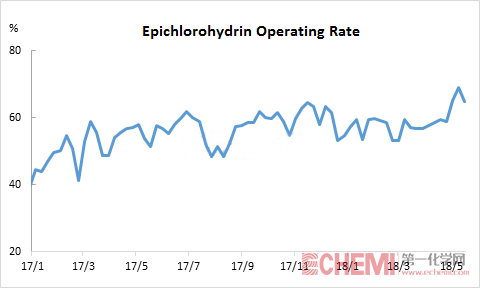 According to the chart above, the overall operating rate improved. In May 2018, the operating rate improved obviously. In April 2018, some units shut in H2, 2017 restarted and the supply increased. However, the demand was weak.Moreover, two units with the capacity at 75kt/a and 60kt/a respectively will be put into operation in Q3, 2018. Players lacked of confidence for the coming market.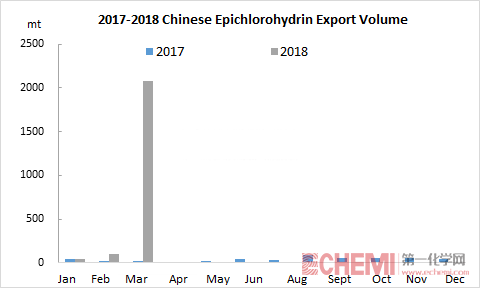 In recent years, the import volume of epichlorohydrin in China were higher than the export volume. The annual import volume was in the range of 20-40kt. As for the annual export volume, it was less than 1kt in recent 4 years. In Q1, 2018, the export volume reached 2,221.01mt, jumping 2,747.93% year on year. Around 6kt of epichlorohydrin were exported without the record of customs. The export volume was expected to hit a historical high.

Disclaimer: Echemi reserves the right of final explanation and revision for all the information.
Trade Alert
Delivering the latest product trends and industry news straight to your inbox.
(We'll never share your email address with a third-party.)