
Home
>
Providing Functional Solutions to Modern Colour Demands
In an interview, Friedhelm Felten, Executive Vice President and Head, Pigments & Functional Materials, Merckwith Chemical Today Magazinetalks at length about how factors like digitization, individualization and miniaturization will have a major role for the global pigments industry in changing its colours.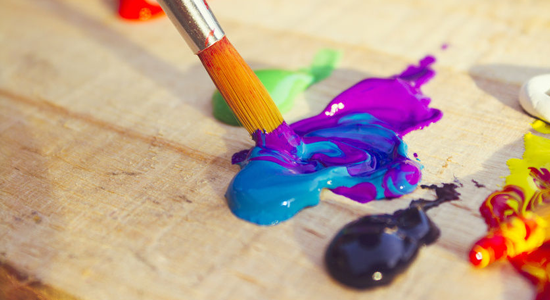 By Debarati Das
Trends influencing growth of pigments industry
Our customers operate within a very diverse range of industries, and each industry has its individual trends. However, for cosmetic applications, the trends are strongly driven by the fashion industry where the latest trends in colour and effects are always driving our product range and development. Today, the trend towards adding function to colour is increasing. We have responded to this demand with our new "smart effects" product range. In the coating industry, customers are demanding for more metallic-like effects, for which we launched our new Meoxal® range.
Globally, the packaging industry is clearly driven by sustainability and a reduction in packaging. Anti-counterfeiting solutions are increasingly gaining interest here. The impact of digitalization as a mega trend will influence us more and more and we have to see how this will influence the needs of our direct customers. The way they process our pigments will change in the future and we have to make sure that we keep up with them.
In every industry, devices have become smaller and more powerful. The call for miniaturization has existed for several years now. These days the connection to the internet and internal company networks presents challenges in the design and material composition of new developments. Designers and developers aim to integrate more and more features into the devices and must deal with the side effects of this vast concentration of components in less space. In this environment, functional pigments are required to provide heat or electrostatic dissipation, flame retardancy, mechanical strength, or integration of electrical circuits via LDS directly into structural parts of the devices, to name just a few applications.
Growth sectors for pigments industry
Cosmetic and coating applications are still the growth drivers. However, electromobility and the request for individualization may change the picture. Car manufacturers are trying to reduce weight by using more mass colouration in plastics rather than coating the plastics. Individualization may push the use of pigments in printing and plastic applications.
Changing pigment requirements in developed and emerging markets.
For the automotive industry, the quality of products manufactured in the EU and the Americas is perceived as higher than, for example, in Asia. However its value chain has been moved to Asia, especially to China. Product quality and availability are global KPIs. This is especially true for intermediate parts. The processes and raw materials being used are of differing quality. On the other hand, in the packaging industry, the demand for a high-sparkling and high-quality gold appearance is very strong in Russia and Asia – stronger than in the Western world – and our customers are demanding good effects. So, it really depends on the type of application.
Pigments as a critical element in the plastics industry.
Effect pigments are known to increase the perceived quality of plastics, even if they are just used at 1 percent concentration. They are mainly used today in packaging, consumer electronics, and the consumer goods industry. However, you have to know how to process them to obtain a good result. This knowledge is not always available to processors. In this regard, we offer our application service so that our customers get a good result.
Growth potential for functional pigments in the Asia-Pacific region
There is no easy answer to this question, as growth is often linked to design studios and development centres in the US and Europe with initial production of materials in the West. However, this is slowly changing due to several polymer producers relocating their development centres mainly to China. In my personal point of view, the growth potential is in the low double-digit range.
Challenges faced by pigment industries
Individualization and trends like car sharing and autonomous driving may change the demand for pigments. For example, the interior of a car might become more important than the exterior in terms of functionality and connectivity. The car becomes the new smartphone and Merck will ensure to deliver important materials like pigments, LC and OLEDs.
Effect pigment solutions from the company.
Our company is one of the world's leading suppliers of effect pigments for the coating, plastics, printing, cosmetics, food and pharmaceutical industries. Effect pigments underscore the emotional impact of colour and are an important design element when surfaces with special impressions or qualities are created. Application possibilities range from cars to packaging and high-tech products up to building facades. In addition to decorative effect pigments,
Merck offers functional pigments and additives that offer practical advantages and specific additional benefits for coating manufacturers and those active in the plastics and printing industries. Yet, functional materials play a vital role in numerous products and applications. With inventiveness, expertise, and specialty chemicals, we develop valuable functional future-oriented solutions – from perfect surfaces and control of conductivity to authentication of products and banknotes. Besides this, Merck also offers cosmetics manufacturers functional solutions for skin care and protection. We view ourselves as a curious trendsetter who creates new possibilities for customers time and again.
Focus on R&D and innovation
We try to innovate, not only related to new effects with new products. We also want to deliver solutions. That is why we develop applications as well. Two examples are our in-mold-3D technology (IM3D), with which you can create a 3D visual in plastic parts, and our RGB printing technology, with which pictures can be created with just three pigments of our Spectraval® series.
Functional solutions with a difference
Merck's DurazaneTM range, which consists of polymers that form ceramic surfaces after curing, can be used for a multitude of applications ranging from easy-to-clean surfaces for architecture to industrial or high-temperature protection in combustion engines in the automotive and aerospace industries. Another innovation that's not a pigment but is very new is Merck´s Tivida® range. This new class of fluorosurfactants is as eco-friendly as it is non-toxic and non-bioaccumulative. With the increasing need for non-toxic materials, these anionic and non-ionic surfactants close an important gap.
On the pigment side, Merck added Iriotec® 7340, a new light-coloured pigment, to the Iriotec® 7000 series. This is the brightest pigment in the range of pigments providing permanent antistatic dissipation.
Last but not least, Merck has added new pigments for laser-marking applications, Iriotec® 8210 and 8826, fulfilling the need for increased marking speeds and top material compatibility.

Disclaimer: Echemi reserves the right of final explanation and revision for all the information.
Trade Alert
Delivering the latest product trends and industry news straight to your inbox.
(We'll never share your email address with a third-party.)