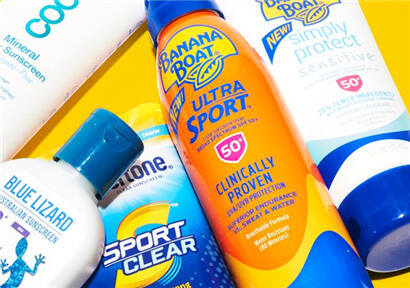 The average annual growth rate of sunscreen market scale in Indonesia in 2018 is 10%, which will increase by 14% in the future. It is estimated that by 2023, the market will reach 262.5 billion Rafia. Recently, the mass media and various research institutes have continuously reported the phenomena of skin diseases, dermatitis and early aging caused by global warming and ultraviolet radiation, and the sales of products for skin protection and hair care are also increasing. And because motorcycles are a daily mode of transportation, it is also difficult to avoid ultraviolet radiation. According to KOTRA Indonesian Trade Museum, most of the consumers with the ability to buy sunscreen products live in Urban Office workers, who spend most of their time in offices or shopping malls, and most of them use motorcycles to travel. Motorcycle riders use gloves or masks to protect themselves from sunshine, and sunscreen products with SPF are used for long trips.
According to Erie data, the market size of Indonesian sunscreen reached 133.8 billion Rafia (about $96.1 billion) in 2018, an increase of 14% over the same period of last year, due to increased consumer concern for sunscreen and rising prices of sunscreen products. The average annual growth rate of sunscreen market in Indonesia is 10% in 2018, and it will increase by 14% in the future. It is estimated that by 2023, the market will reach 262.5 billion Rafia.
Indonesian consumers pay most attention to the sunscreen index when they buy sunscreen. They prefer SPF 50 products and SPF 100 and SPF 110 products when they travel. Compared with the products used by adults, there are not many kinds of sunscreen brands used by children, but the number of parents who want to protect their children is increasing while traveling.
With the forecast of increasing imports of sun-proof products from Indonesia, large international brands have launched a variety of products. Piehl 's Plaste launched sunscreen bar products, Colorscience launched powder products, Bioderma, L'OREAL, Skin Aqua and Biore also launched consumer friendly sunscreen products.
sunscreen products still occupy a relatively high proportion in the retail market of Indonesia. In order to ensure competitiveness in the sunscreen market, products with different dosage forms should be launched like international brands.
Except for 2014 and 2015, the import scale of related products has been increasing continuously in the last 10 years, with an increase of 22.92% in the first quarter of 2019 compared with the same period last year. Over the past three years, Korean products have shown a rapid growth trend, and have entered Indonesia's third largest import target country. The import volume of Korean products increased by 194.5% over the previous year, accounting for more than 10% of the total import market. At the end of the first quarter of 2019, the import volume of Korean products was 6.37 million US dollars, an increase of 40.2% over the same period of the previous year.
KOTRA Jakarta trade museum said, "according to interviews with the staff of Indonesia's main drugstores, Indonesia consumers once thought that BB, CC cream and foundation cream containing sunscreen can be enough to protect themselves from sunscreen, and no need to buy sunscreen again. In large supermarkets, NIVEA and Vaselin Such body milk or creamy cosmetics with sunscreen function sell well.
And generally speaking, in Indonesia, the sales volume of sunscreen products is higher than that of Sunscreen Spray and sunscreen rods. Although the overseas brands have introduced various formulations, the products of local brands are not very rich.
He also suggested that "in order to gain an advantage in the Indonesian sunscreen market in competition with German, American and local brands, it is necessary to highlight the particularity and originality of the product, add ingredients in sunscreen products to relieve the pain caused by sunburn, or if the product has the effect of correcting skin color, it will be able to absorb." More attention should be paid to consumers who want to buy sunscreen products.
According to the on-site survey of KOTRA Jakarta Trade Museum and the survey results of Euromonitor and other professional research institutions, Indonesians prefer sunscreen with good function to product price.
Korean enterprises intending to expand the Indonesian market in the future should adopt the strategy of highlighting cost-performance ratio, product specificity and originality.

Disclaimer: ECHEMI reserves the right of final explanation and revision for all the information.