Echemi (www.echemi.com) has upgraded the website version!

What's new on Echemi?
1. Wholesale: A New Section Emerged!
Wholesale Chemicals provides you with all kinds of chemical products including paints and coatings, food ingredients, pharmaceutical raw materials, fine chemicals, botanical extracts, and rubber plastic ingredients. Suppliers' timely quotations are clearly shown on the list of each category. These six categories will provide everything you want about chemicals!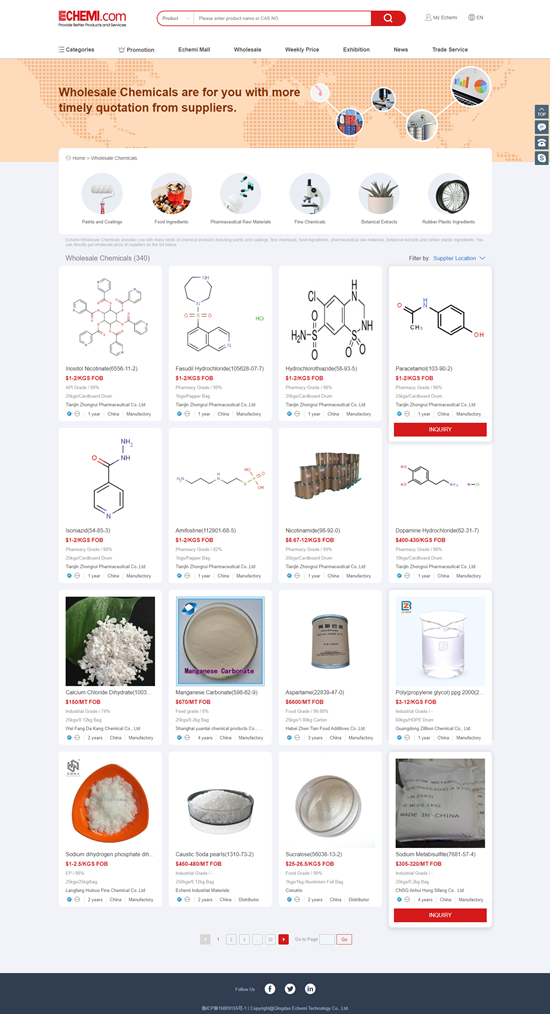 (Wholesale)
2. New version of the Homepage, Weekly Price, and Promotion!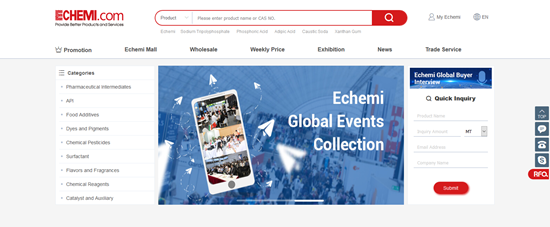 (Homepage)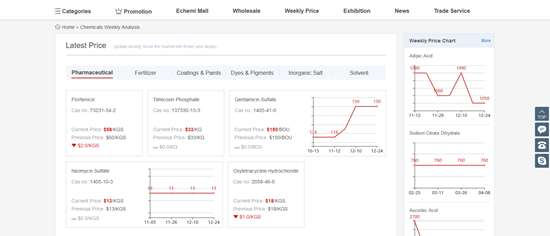 (Weekly Price)

(Promotion)
3. The entrance to EU Echemi

(Entrance to EU Echemi)
What has Echemi kept?
1. Echemi Mall: Echemi's Self-Owned Products
With the support of Echemi's factory, Linyi Evergreen, Echemi is capable of providing high-quality chemicals covering industrial materials, pharmaceutical chemicals, food additives, and rubber and plastic. All those products are of high quality, and will be delivered through a strong supply chain system.
2. Trade Service for Buyers
1) Supplier Credit Investigation
Echemi, Sinosure and other famous credit bureaus provide Credit Investigation Report of Chinese suppliers to global buyers. The report includes suppliers' established date, registered capital, turnover, profits, etc. This service can help buyers know the suppliers' situation and realize better cooperation.
2) Factory Inspection
Echemi can provide Factory Inspection Report of suppliers' factories with the support from Chinese famous credit bureaus. The report can include situations of factory, production lines, filling lines, warehouse, etc. Moreover, photos and video materials can be provided. Buyers can know Chinese factories well without need to make field trips.
3) Agent Purchasing Service
With more than ten years' chemical industry and foreign trade experience and rich supplier resources, Echemi can provide professional Agent Purchasing Service. This service can help buyers know China's chemical market and solve complicated export procedure, such as logistics, commodity inspection, etc. Moreover, Echemi provides the best supply chain solution with Internet technology. Global buyers need not set offices in China and they can purchase goods from China rapidly and conveniently.
4) Report Service
Based on the years of chemical experience and rich suppliers resources, Echemi provides Price Trend Service to buyers. This service include weekly prices, operation status of suppliers, price changes, etc. Moreover, weekly report, monthly report, semi-annual report, annual report and customized reports can be provided. This service can help global buyers know the Chinese chemical market well and seize the best opportunity to make purchasing.
3. Trade Service for Suppliers
1) Buyer Credit Investigation
Echemi can provide the global buyers' Credit Investigation Report by uniting with Sinosure for suppliers. This service can help suppliers get insight into buyers' credit status and operational risks. Suppliers can avoid the potential trade risks.
2) Supplier Member Service
The Supplier Member Service concentrates information, finding buyers, trading and services on the platform. Supplier member can enjoy 12 rights, which can offer suppliers deep chemical marketing solutions and help suppliers expand the global market.
3) Accurate Inquiry
RFQ (Request For Quotation), posted by buyers via Echemi or entrusted Echemi, will be reviewed and screened twice before send to suppliers. Echemi will perfect the review mechanism continuously and provide better inquiries and accurate procurement requirement to suppliers.
4) Echemi Integrated Service for Foreign Trade
The Integrated Service will make foreign trade safer and more convenient.

Disclaimer: Echemi reserves the right of final explanation and revision for all the information.
Trade Alert
Delivering the latest product trends and industry news straight to your inbox.
(We'll never share your email address with a third-party.)