
Home
>
DKSH cooperates with ECHEMI to digitally expand its innovative ingredients

DKSH cooperates with ECHEMI to digitally expand its innovative ingredients and chemicals portfolio
------ DKSH brand shop officially launched on ECHEMI
DKSH officially launched its brand shop on ECHEMI on April 19, 2019. In cooperation with ECHEMI, DKSH will provide a more convenient online service for its customers, globally. Launching on ECHEMI is one of many milestones in DKSH's digital transformation. It is also a strategic objective for ECHEMI to continuously improve user experience for its customers and to further develop global enterprise markets.
DKSH will initially provide access to around 200 products from its pharmaceutical ingredients range. Following the launch, DKSH will make more products available from its food and beverage, specialty chemicals and personal care portfolios. Meanwhile, DKSH can be contacted through its ECHEMI webshop to answer enquiries from its customers online.
Why choose ECHEMI?
At present, there are more than 8,000 registered sellers, over 10,000 yellow pages suppliers and more than 60,000 registered buyers on ECHEMI. It is distributed in nine fields, such as paint and coatings, fine chemicals, polyurethane, water treatment, surfactant, cosmetics, pharmaceuticals (API), food additives and plant extracts. The website has weekly price, news report, exhibition live broadcast, special promotion activities, China export data analysis and other columns favored by overseas buyers.
ECHEMI can get about 3,000 inquiries every month from all over the world. There are more than 1,000 active suppliers publishing commodity prices online. The total transaction volume of online matchmaking has reached 2 billion yuan in 2018.
Now ECHEMI has cooperated with the UK UBM, DMG and Reed exhibition group, the German Dusseldorf exhibition company, having deep media cooperation and holding buyer sourcing meeting and activity together, which focus on food, paint, cosmetics, fine chemicals and other industries.
In short, ECHEMI could bring more opportunities for you to develop your business online.
About DKSH
DKSH is the leading Market Expansion Services provider with a focus on Asia. The Group helps other companies and brands to grow in the Consumer Goods, Healthcare, Performance Materials and Technology sectors. DKSH's portfolio of services includes sourcing, market insights, marketing and sales, distribution and logistics as well as after-sales services. Publicly listed on the SIX Swiss Exchange, the Group operates in 35 markets with 33,000 specialists, generating net sales of CHF 11.3 billion in 2018. With its strong Swiss heritage and long business tradition since 1865, DKSH is deeply rooted in Asia Pacific. The DKSH Business Unit Performance Materials distributes specialty chemicals and ingredients for food, pharmaceutical, personal care and various industrial applications. With 29 innovation centers and regulatory support worldwide, we create cutting edge formulations that comply with local regulations. With around 1,080 specialists, the Business Unit generated net sales of CHF 960.4 million in 2018.
DKSH's functional products enhance your product performance and have a wide range of applications:
• Specialty chemicals: for applications including paint, coating, ink, polymer, engineering plastic, adhesive, rubber, agrochemical, petrochemical, packaging, graphic, technical film and other specialties
• Pharmaceutical ingredients: Active Pharmaceutical Ingredients (APIs) excipients, intermediates, nutraceuticals, animal care solutions, packaging materials and more
• Food and beverage ingredients: for applications including beverage, dairy, confectionery, bakery, food supplements, nutrition, processed food, food service and more
• Personal care and cosmetic ingredients: for applications including skin care, hair care and color, oral care, sun care, makeup, toiletries and more
The range of tailored value-added services can support you to increase your market potential. From regulatory support and consulting to sourcing new and hard-to-find ingredients; from innovation and formulation capabilities to marketing intelligence solutions – you can gain from our integrated one-stop approach.
How to find DKSH brand shop on ECHEMI?
Method 1:
Enter www.echemi.com and search the supplier DKSH as following:

Method 2:
Enter www.echemi.com and find DKSH brand shop entrance at below area at homepage: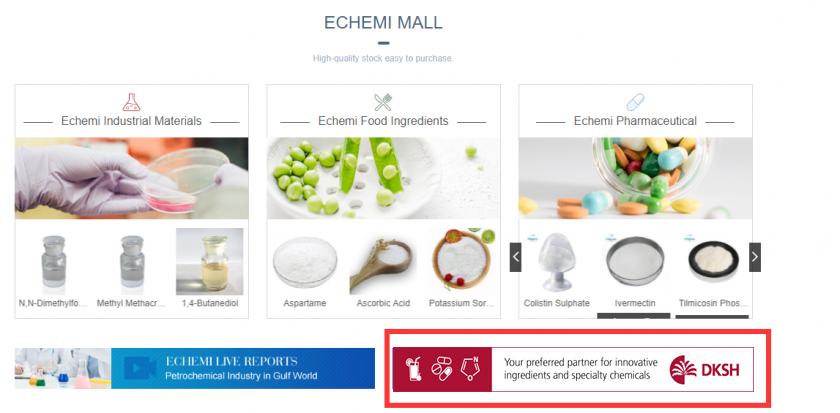 Method 3:
Enter https://www.echemi.com/shop-us20190312183051839/index.html to view DKSH brand shop directly.
Hope the brand shop of DKSH online will give you more different experience on ECHEMI.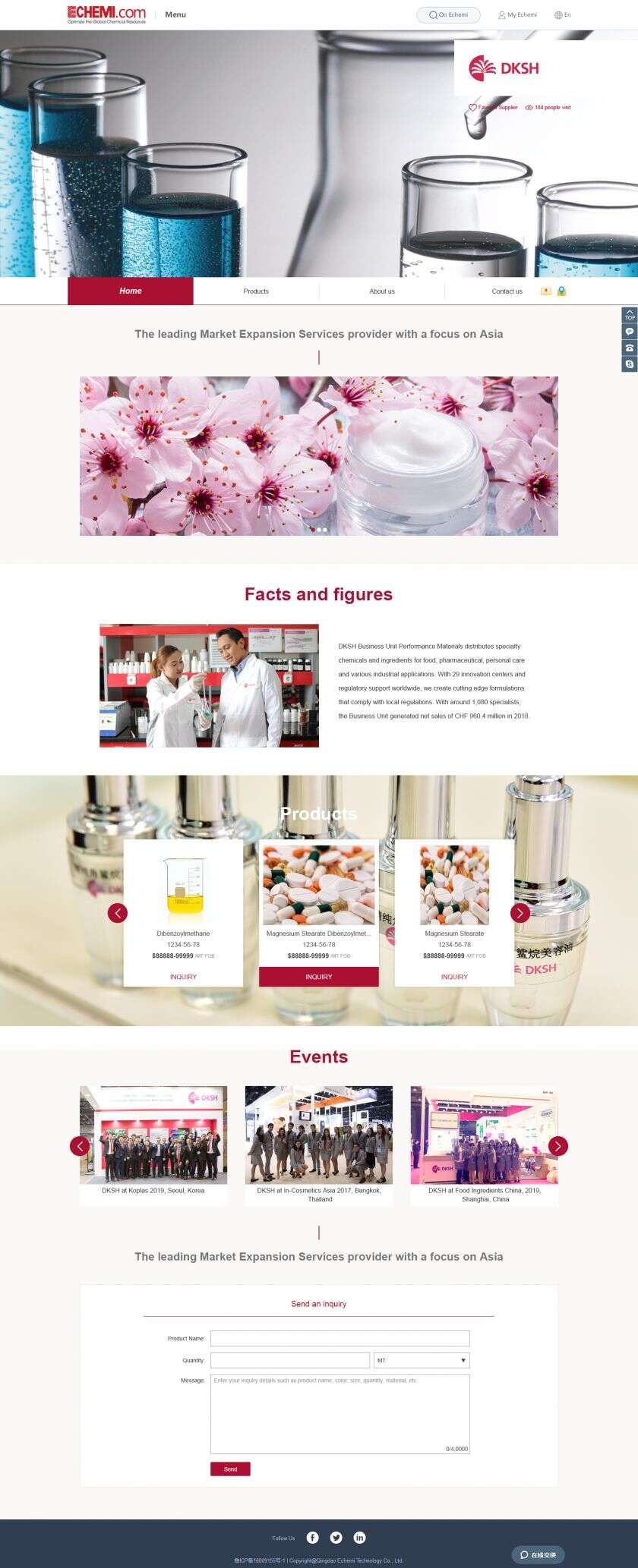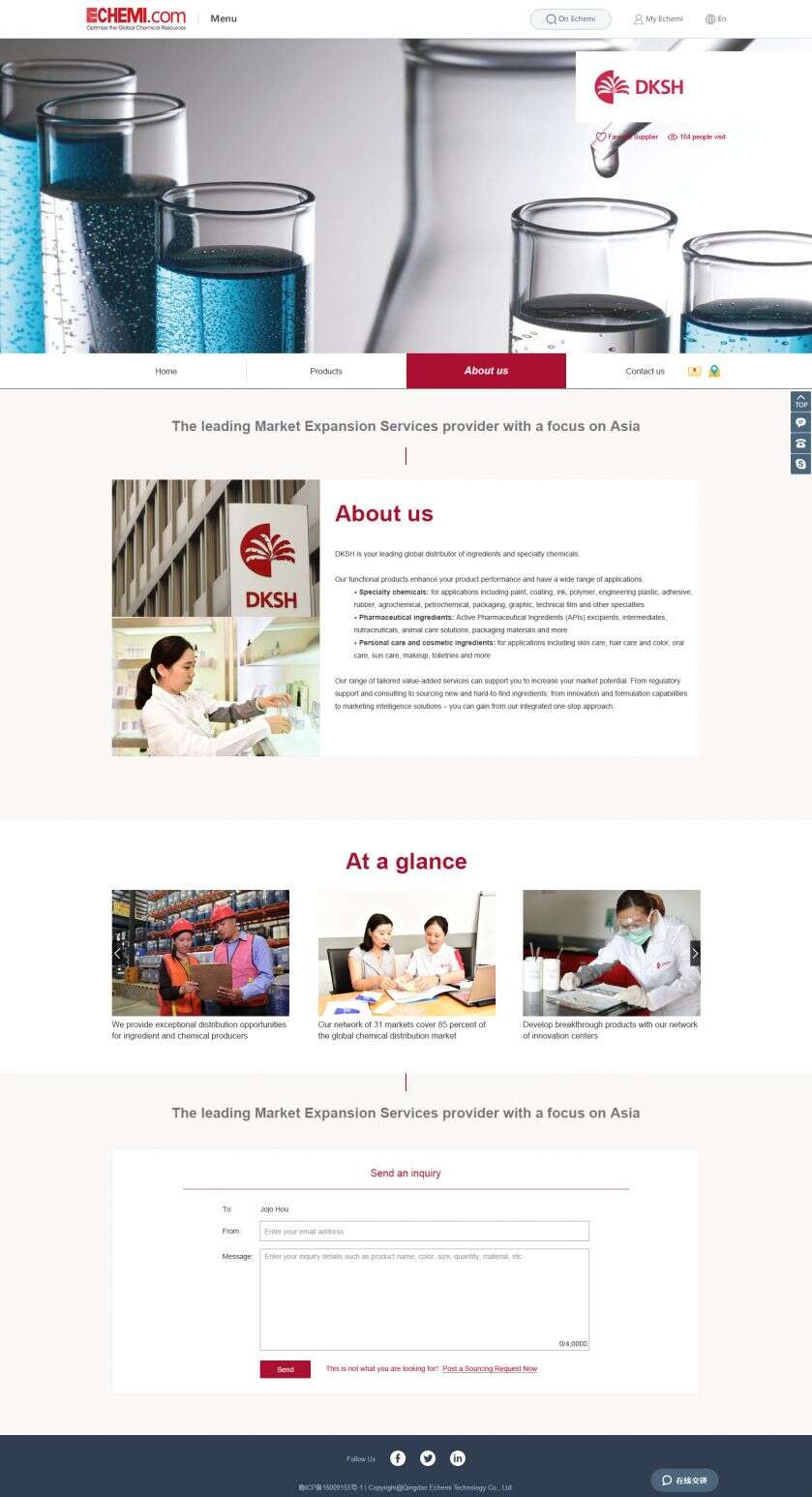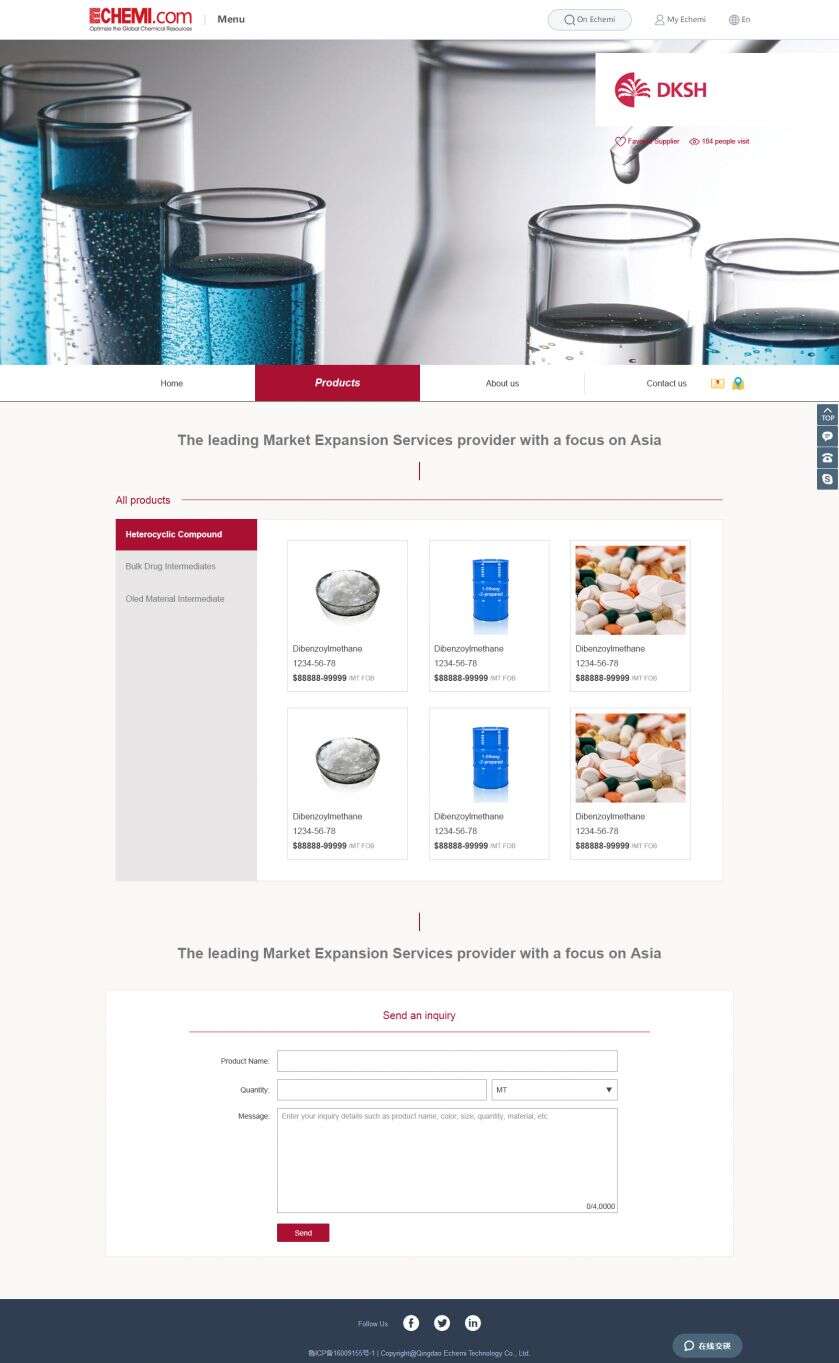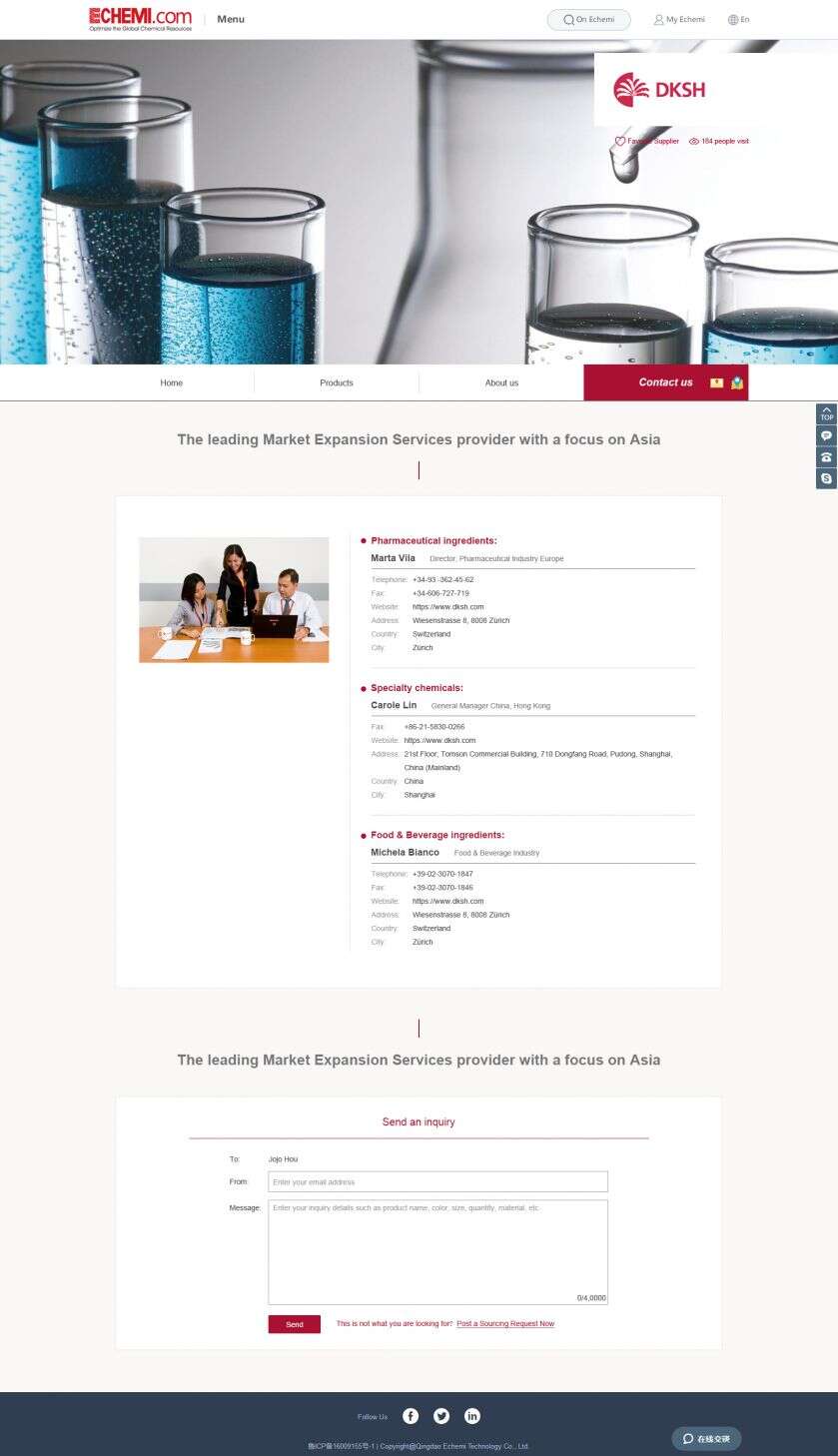 
Disclaimer: Echemi reserves the right of final explanation and revision for all the information.
Trade Alert
Delivering the latest product trends and industry news straight to your inbox.
(We'll never share your email address with a third-party.)