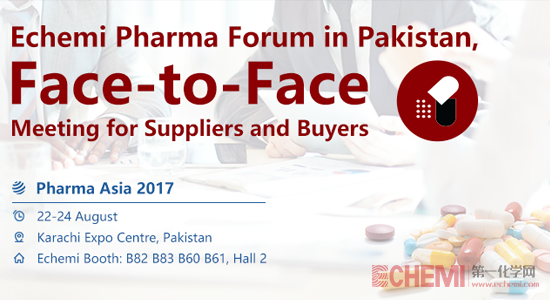 Time: August 22-24, 2017
Address: Karachi Expo Centre, Pakistan
Echemi Booth: B82 B83 B60 B61, Hall 2
Pharma Asia 2017
Pharma Asia is a 3 day event being held from 22nd August to the 24th August 2017 at the Karachi Expo Center in Karachi, Pakistan. This event showcases products like providing investors with a definite outlook of the regional pharmaceutical industry and an opportunity to meet their prospective counterparts and business partners etc. in the Medical & Pharmaceutical industry.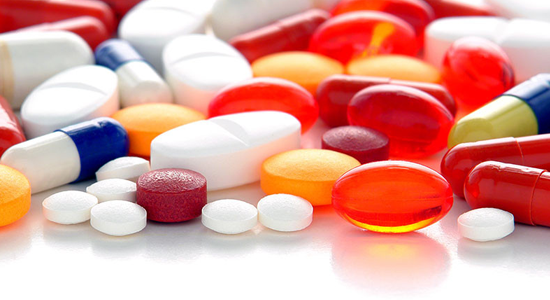 Echemi Pharma Forum:
From August 22 to 24, Echemi will attend Pharma Asia exhibition, and will take other three Chinese companies to this exhibition. On one side, for visitors, this is a good chance for them to know suppliers and choose their needs directly. On the other side, for suppliers, this is an opportunity to show their products and let more people know their companies.
During exhibition period, Echemi will hold "Pharma Forum & Procurement Conference", which is a face-to-face meeting for suppliers and buyers. There will be about 20 peoples attending to this forum. Firstly, Echemi provides an ideal environment for visitors to learn and share information. Secondly, participants could communicate with each other, seek cooperation opportunities, establish business relationship and develop pharmaceutic market in Pakistan together. In short, Echemi will focus on the immense potential in pharmaceutic area and seek opportunities to promote industrial cooperation and prospective joint ventures among local and foreign partners.
Chinese Suppliers:
> Henan ZT League Chemical Co., Ltd.
ZT League Chemical is a high-tech chemical enterprise with scientific research and industrial manufacture in one. The company first phase invested 117 million RMB, up to now it has completed the second phase investment, totally 296 million RMB, together with the third phase, total investment is 530 million RMB.
The product annual output is as below, special mineral spirits 60,000ton/year, isomeric alkane 100,000ton/year (food and medical grade), fisher synthetic wax 30,000ton/year, alpha-alkene 30,000ton/year, PAO 10,000ton/year, diesel fuel additives 50,000ton/year, besides, the company also can supply quantity production according to the customers' needs.
> Shijiazhuang Zexing Amino Acid Co., Ltd.
Located in Luancheng pharmaceutical and chemical base, Shijiazhuang Zexing Amino Acid Co., Ltd., with a floor area of 7,000 square meters, specializes in production of amino acid.
It produces all its amino acid products according to the quality standards such as AJI, USP, FCC, CP, BP, and EP, as well as is capable of processing special products in accordance with requirements of customers.
> Shandong Kunda Biotechnology Co., Ltd.
Kunda Biotechnology was established in Yishui Economic Development Zone, Linyi City, Shandong in March 2009. It is a fine biochemical enterprise engaged in the production of aldehyde, acid, amine, pyridine, potassium sorbate by deep processing potatoes.
In first-stage project, the company established two ethyl amine production lines with the output of 60,000 tons; two acetaldehyde production lines with the output of 60,000 tons; marsh waste heat comprehensive utilization cogeneration project, sewage treatment project and other supporting engineering. The second-stage project was established with the total investment of 1 billion Yuan RMB. The company has established two pyridine production lines with the output of 30,000 tons, two potassium sorbate production lines with the output of 30,000 tons, two crotonaldehyde production lines with the output of 20,000 tons, as well as supporting heating equipments, power units and sewage treatment facilities. Once completed, the annual output value of the park would be 3.5 billion Yuan RMB, foreign exchange earning by export would be 100 million U.S. dollars, and the profit and tax would be 350 million Yuan RMB.
Achievement of Pharma Asia 2016
The Pharma Asia 2016 covered a total area of 165,000 sqft, catering and showing more than 425 brands from over 45 countries. Approximately 815 international and domestic exhibitors display their produces. There are over 450 foreign delegates from more than 45 countries, such as China, Singapore, India, USA, Germany, Korea, Malaysia, Switzerland, UK and Russia.

Disclaimer: Echemi reserves the right of final explanation and revision for all the information.
Trade Alert
Delivering the latest product trends and industry news straight to your inbox.
(We'll never share your email address with a third-party.)