For a long time, pharmaceutical companies have relied on the patent protection of medicines to obtain market monopoly. With the expiration of pharmaceutical patents, generic drugs have entered the market. In the past, the economic benefits brought by the monopoly market have plummeted, and there are not enough new products on the market. This phenomenon is called the "patent cliff" by the industry. In the face of the "patent cliff", although it can be alleviated by extending the protection period, price wars, and sharing the market, in any case, it will eventually bring a heavy blow to pharmaceutical companies.
Now that 2020 is coming to an end, many pharmaceutical companies are experiencing the "cold winter" in the pharmaceutical industry. For the original research drug manufacturers, how to maintain market share in the future will face many challenges. According to data from EvaluatePharma, original research drugs with approximately US$159 billion in sales in 2020-2024 are facing a "patent cliff". The entry of generic drugs is expected to cause approximately US$94 billion in sales losses.
Recently, FiercePharma released The top 10 drugs losing U.S. exclusivity in 2020 report, focusing on the top 10 blockbuster drugs that will lose their exclusivity in the United States in 2020.
In this list, giants of multinational corporations are involved, including Novartis, Pfizer, Eli Lilly, Johnson & Johnson, Merck and TEVA. From the perspective of the areas covered, there are infections, tumors, nerves and rare diseases.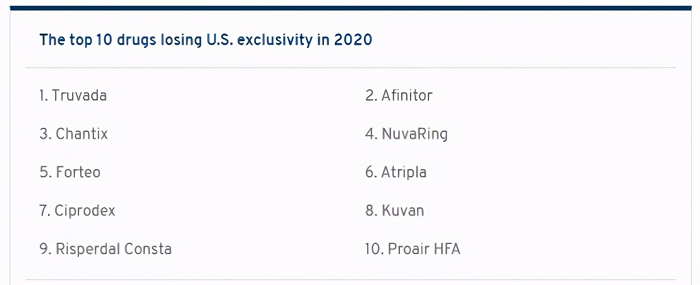 01 Truvada
The US biotech giant Gilead Sciences has faced many challenges in the past 2020. With the listing of the Israeli pharmaceutical company Teva on the Truvada generic drug in the United States, Gilead's sales have been declining. However, Gilead's anti-HIV drug layout is quite thorough. Since the launch of the new three-in-one anti-HIV drug Biktarvy in 2018, the sales performance has been very successful. According to data, it reached 2.76 billion US dollars in the first half of 2020, an increase of nearly last year. 1 billion dollars.
02 Atripla
Gilead's other drug, Atripla, will also have a patent expiration this year. Atripla is an anti-HIV drug that is a complex of efavirenz/emtricitabine/tenofovir disoproxil fumarate. In October this year, Teva was approved by the United States for the listing of Atripla's generic drugs.
03 Afinitor
Afinitor was approved by the U.S. Food and Drug Administration (FDA) in 2009 for the treatment of certain breast cancer, neuroendocrine tumors and other diseases. 2019 has already begun to face competition from certain generic drugs, and 2020 is even more difficult. According to the report, Afinitor was launched in the United States in 2.5 mg, 5 mg and 7.5 mg doses of generic drugs on December 10, 2019, with sales of $412 million in 2019.
04 Chantix
Chantix is Pfizer's star smoking cessation drug, which can effectively relieve the craving for nicotine and withdrawal symptoms, and can effectively reduce the pleasure of smoking. In 2019, sales of Chantix drugs in the United States were $899 million. However, as Chantix's patent protection expires, its price has increased substantially. In 2018, GoodRx reported that the price of Chantix had doubled in the past 5 years. The Chantix patent expires in November 2020.
05 NuvaRing
NuvaRing is a compound vaginal contraceptive ring of Merck. The product is currently facing competition from Amneal's imitation product EluRyng. It was approved by the FDA on December 12, 2019 and went on the market on the same day. It is NuvaRing's first imitation product.
06 Forteo
Forteo is an osteoporosis drug of Eli Lilly and was approved by the US FDA at the end of November 2002. In March 2011, Forteo was approved for listing in China. In 2019, Forteo's sales in the United States declined compared to 2018, with a decline of approximately US$113 million. Forteo has already competed to imitate biosimilars, the most representative one being Pfenex. In October 2019, the FDA has approved a new drug application for the biosimilar PF708 submitted through the 505(b)(2) regulatory pathway.
07 Ciprodex
Ciprodex suspension ear drops for the treatment of middle and outer ear infections was officially launched in 2003 and was acquired by Novartis in 2011. However, by 2019, Ciprodex has been separated from the Novartis system and independently listed on the Swiss stock exchange. And listed on the New York Stock Exchange. According to IQVIA data, Ciprodex's sales in the United States in 2019 are about 470 million US dollars. However, Ciprodex faces a patent cliff in 2020. It was targeted by Endo International Corporation (Endo) last year and has planned to launch a generic drug of this product, but there is no specific product approval information yet.
08 Kuvan
In October 2015, BioMarin, which focuses on the research and development of rare disease drugs, acquired Kuvan, an oral drug for the treatment of genetic disease phenylketonuria from Merck, and is currently facing competition in the market. This drug has been approved for the first time since 2007. It is the only drug combined with dietary adjustment to reduce the concentration of phenylalanine in the blood and brain of patients with phenylketonuria (PKU).
In 2019, the drug's global sales were US$463 million, accounting for 30% of BioMarin's annual sales. However, this year Kuvan is facing a patent cliff. According to FDA data, Par Pharmaceutical, a subsidiary of Endo, has received FDA approval, while Dr. Reddy's has received a temporary approval number.
09 Risperdal Consta
The antipsychotic drug Weisitong from Johnson & Johnson is mainly used to treat schizophrenia, bipolar disorder and improve symptoms of autism. It has been a best-selling product for many years. But with the gradual expiration of patents, it also faces fierce competition from generic drugs. So far, no generic drug product has been officially approved by the FDA. Johnson & Johnson also began to initiate litigation to maintain its market competitive position before the patent expires.
10 Proair HFA
Teva is a generic drug manufacturer, but Teva's Proair HFA (salbutamol sulfate) inhalation aerosol is beginning to face generic competition. On February 24, the US FDA approved the first ProAir-HFA (salbutamol sulfate) inhalation aerosol generic drug (Perrigo Pharmaceutical Co) for the treatment or prevention of patients with reversible obstructive airway disease aged 4 years and older. Bronchial spasm, and prevention of bronchospasm caused by exercise in patients 4 years and older.
According to FiercePharma, as early as 2014, Teva reached a patent settlement agreement with Perrigo and Catalent, allowing limited sales of Proair HFA generic drugs from December 2016 to June 2018. However, it was not until February 2020 that the generic drug was officially approved and the generic drug of the product was officially put on the market.

Disclaimer: Echemi reserves the right of final explanation and revision for all the information.
Trade Alert
Delivering the latest product trends and industry news straight to your inbox.
(We'll never share your email address with a third-party.)