Introduction: In March 2017, deep-processing products of coal tar continued declining on the soft coal tar market. Taking the anthracene oil market as the market, the prices declined RMB 800/mt from March 1 to March 21, which was down 23%.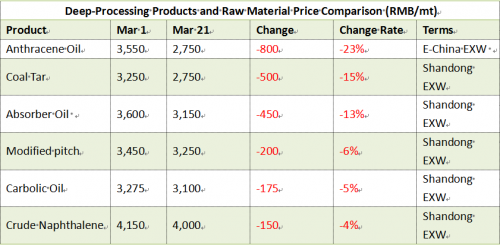 Analysis of Anthracene Oil Market
The direct reason for the slump in the anthracene oil market was the continous declines in coal tar market. Moreover, the operating rate of hydrogenation plant was low. Carbon black producers held bearish attitude.
Some negotiation prices are in the range of RMB 2,600-2,750/mt. Some producers in Shandong mainly implement the prices signed previously. Delivered prices are around RMB 2,830-2,880/mt. Some users' ideal prices are below RMB 2,700/mt.
But, decreasing prices of anthracene oil is not the biggest problem. Anthracene oil producers now face high sales pressure. The demand is soft. Downstream users' inventory is increasing. Hence, the anthracene oil price may slide further.
Analysis of Coal Tar Pitch Market
Decreasing coal tar prices and active bargain in the baking anode market weighed on the coal tar pitch market.
In early March, delivered prices for modified pitch in Shandong and Hebei were in the range of RMB 3,450-3,550/mt by acceptance. Then, the prices went down. Up to March 21, prices declined to RMB 3,200-3,350/mt.
Though cola tar prices may slide further, stable operating rate in the aluminum industry and improved baking anode market will boost the coal tar pitch market. Thus, the coal tar pitch market will be largely stable.

Disclaimer: Echemi reserves the right of final explanation and revision for all the information.
Trade Alert
Delivering the latest product trends and industry news straight to your inbox.
(We'll never share your email address with a third-party.)