The British brand evaluation agency "Brand Finance" released the "Global Healthcare Brands" Value List (Healthcare 2021). On the "Top 25 most valuable pharma brands" list, Johnson & Johnson and Roche continued to occupy the top two positions, while AbbVie jumped to third place. In China, 4 brands including Sinopharm, Guangzhou Pharmaceutical, Shanghai Pharmaceutical and Yunnan Baiyao are on the list. In the "Top 25 most valuable medical devices brands" list, Medtronic, Fresenius and BD ranked the top three.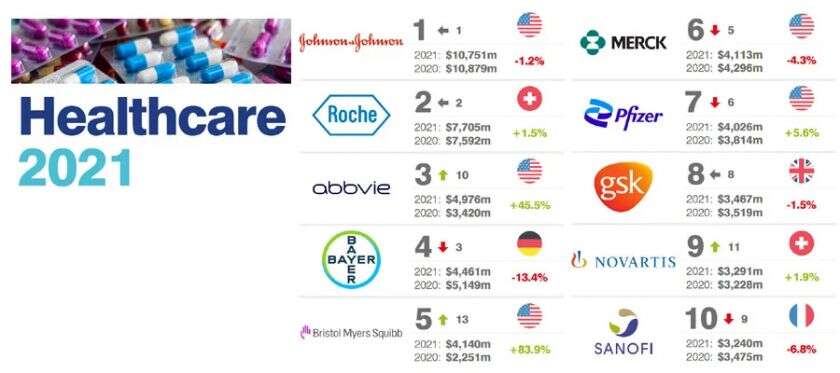 Top 25 global pharmaceutical brand value:(Ranking,Brand,Location,Brand Value,Annual Growth Rate)
1. Johnson & Johnson U.S. $10.751 billion/-1.2%
2. Roche Switzerland 7.705 billion USD/+1.5%
3. Abbvie U.S. 4.976 billion US dollars / +45.5%
4.Bayer Germany 4.461 billion US dollars / -13.4%
5. Bristol-Myers Squibb U.S. 4.140 billion US dollars / +83.9%
6. Merck & Co US $4.113 billion/-4.3%
7.Pfizer US $4.026 billion/+5.6%
8. GSK U.K. 3.467 billion U.S. dollars/-1.5%
9. Novartis Switzerland 3.291 billion US dollars / +1.9%
10.Sanofi France 3.240 billion US dollars / -6.8%
11. Sinopharm China
12.AstraZeneca, UK
13.Eli Lilly and Company, United States
14.Amgen United States
15. Novo Nordisk Denmark
16.Takeda Japan
17.Gilead Sciences United States
18.Merck KGaA, Germany
19.Guangzhou Pharmaceuticals Corporation China
20.Shanghai Pharmaceutical (SPH) China
21.Biogen United States
22.Teva Israel
23. CSL Australia
24.Sandoz Germany
25.Yunnan Baiyao China

Disclaimer: Echemi reserves the right of final explanation and revision for all the information.
Trade Alert
Delivering the latest product trends and industry news straight to your inbox.
(We'll never share your email address with a third-party.)