On 9 June , U.S. time, Eli Lilly (NYSE: LLY) announced that its GLP-1 and GIP dual receptor agonist Tirzepatide (TZP) phase III clinical trial of the cardiovascular outcome study-SURPASS-CVOT was included The patient's first dose. This study is a head-to-head trial with 1.5mg Trulicity® (dulalutide), which aims to assess the non-inferiority and superiority of TZP.
The SURPASS-CVOT clinical trial included 12.5k patients with type II diabetes and atherosclerotic cardiovascular disease from 30 countries. The primary endpoint measures the time when MACE-3 first appeared (MACE-3 is the composite endpoint of cardiovascular death, myocardial infarction, or stroke). The key secondary end point measures all-cause mortality and time of occurrence for each part of the primary end point. Lilly expects the clinic will take about 4 years.
The molecule is a dual-receptor agonist in Lilly's research and development pipeline. Lilly's hope for TZP is that it may expand multiple indications. In addition to type II diabetes, it also includes obesity, NASH and cardiovascular benefits.
TZP is a linear peptide containing 39 amino acids. The lysine residue at position 20 is conjugated to a C20 fatty diacid module via a linker. Positions 2 and 13 contain two non-coding amino acid residues (Aib, α-aminoisobutyric acid), the C-terminus is amidated. Unlike the long-acting duraglutide through the Fc fusion protein, the structure of TZP is a combination of GIP partial peptide sequence analogs and Exenatide partial peptide sequence, and conjugated fatty acids similar to Somaru peptide side chain The chain achieves a long-term effect. The side chain of TZP is similar to the side chain of somalopeptide: it is composed of a fatty acid chain and AEEA chain. The main function of the side chain is to increase the half-life and achieve long-term injection once a week.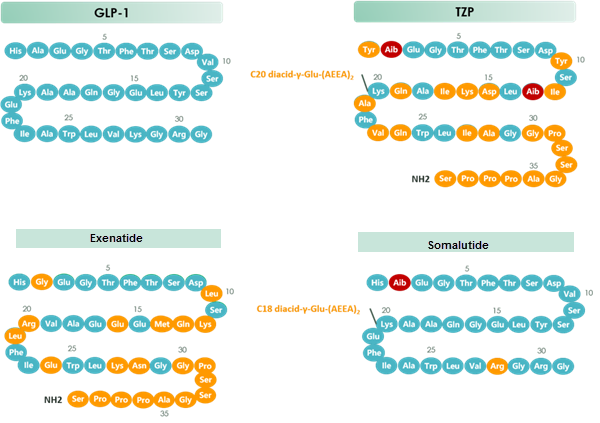 chart 1 Structure of GLP-1 & TZP & Exenatide & Somalutide
TZP was rated by EvaluatePharma as the most valuable R&D project in 2020, with an NPV of $11.72Bn, and predicted revenue of $1.6Bn in 2024. According to EvaluatePharma Vision's prediction, the cost of SURPASS-CVOT clinical will exceed the record of Trulicity CVOT trial-Rewind, which requires at least $1.9bn.

Disclaimer: Echemi reserves the right of final explanation and revision for all the information.
Trade Alert
Delivering the latest product trends and industry news straight to your inbox.
(We'll never share your email address with a third-party.)