Market Review
Due to the advent of summer, most domestic vitamin factories are affected by high temperature and will choose to suspend production for maintenance between July and September. This year's vitamin B1 factories are no exception. It is reported that Jiangxi Tianxin took the lead in starting maintenance in mid-July. Its VB1 products originally had a long delivery period and no inventory, which made it difficult to find VB1 goods under the Tianxin brand in the market. In addition, Huazhong Pharmaceutical chose to overhaul in August, and most of its employees took high-temperature vacations, resulting in a further decline in VB1 market supply.
At the same time, as can be seen from the figure below, the domestic VB1 MONO market price has returned to the low level of nearly this year, and factories are less willing to further reduce prices. Therefore, the domestic vitamin B1 price stabilized in July, and the VB1 MONO market price was mostly concentrated at 18-19 USD/ KG; The market price of VB1 HCL is mostly concentrated at 26-27 USD/KG.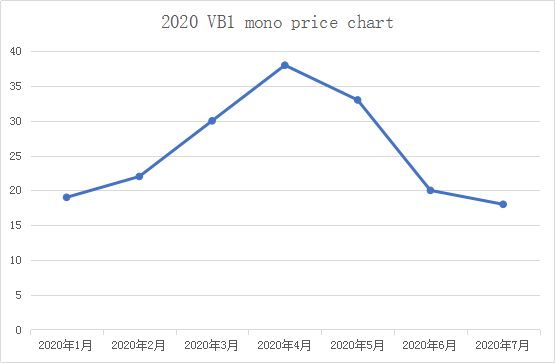 Current market conditions
As can be seen from the above table, at this stage, the prices of Tianxin and Brother are relatively low, but Tianxin is affected by the delivery date in September, resulting in a reduction in order volume. Brother's order volume in July increased significantly, and inventory was rapidly consumed. At present, new orders are produced. Must be scheduled.
At the same time, Tianxin Pharmaceutical expects to resume production after September. At the same time, Huazhong Pharmaceutical's high temperature shutdown in August is expected to be about 20 days, and Brother Group orders are increasing. Therefore, the domestic VB1 market price may not be expected in a short time (in August). There will be major changes. VB1 MONO will still focus on 18-19USD/KG; VB1 HCL will focus on 26-27USD/KG.
Echemi forecast
In August, the decline in the supply of vitamin B1 from the two domestic factories in Tianxin and Central China, coupled with the tight supply of Brother's technology, will support the stability of the price of VB1. At the same time, as shown in the figure below, the current price of vitamin B1 MONO has been at a level of nearly 2 years. At a low level, factories' willingness to cut prices has also declined. Therefore, in the short term (August), the price of domestic VB1 is likely to remain stable.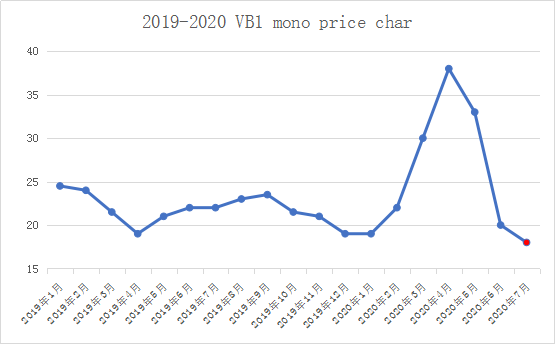 
Disclaimer: Echemi reserves the right of final explanation and revision for all the information.
Trade Alert
Delivering the latest product trends and industry news straight to your inbox.
(We'll never share your email address with a third-party.)