What's hot and what's trending this month

1) The IPA market has declined continuously this month.
2) The raw material acetone fluctuates.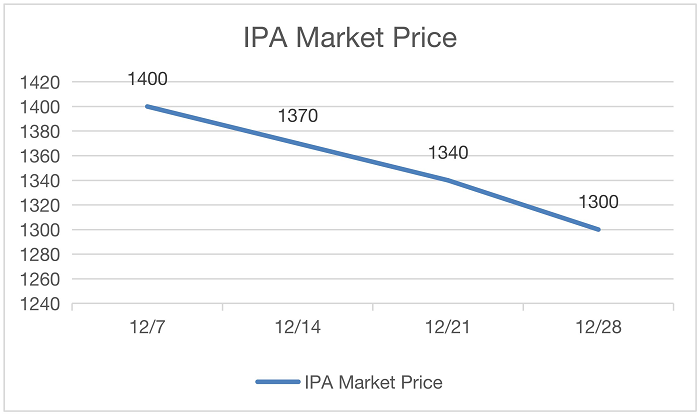 Summary of the market this month

IPA market shock operation this month, the overall trend downward. IPA alcohol market since the beginning of this month, weaker weaker from the raw material of acetone, IPA market to fall, the first working day after the end of a wave of rebound, thanks to acetone rebound, but due to the continued weak downstream demand, and since then acetone is declining, IPA alcohol depressed market sentiment, the market decline in the center of gravity to maintain, IPA alcohol market recover from last round of working days this month, is the result of factory inventories low, based on the spot supply nervous, the grocers lift up emotions under market focus, however, due to continuing decline, the acetone and IPA downstream buying light itself, the IPA alcohol market pushed up slow, The market's center of gravity is frozen.
Market forecast for next month

The domestic acetone method factory has not yet started up, and the factory inventory is low, the spot supply in the field is tight, the acetone method may start up with the continuous decline of acetone; Aftermarket to see the downstream demand is still difficult to improve, just need replenishment mainly; Acetone price fell rapidly this month and was at a low level. Next month, it rose weakly and remained at a low level of shock. Propylene price remained within a range of fluctuation to keep it within a reasonable range. Next month, the IPA market is still bearish, so the possibility of a downward price is more.

Factory shutdowns in China

In December, the IPA factory operating rate was about 36%.
Chart of China's IPA export trend in 2019-2020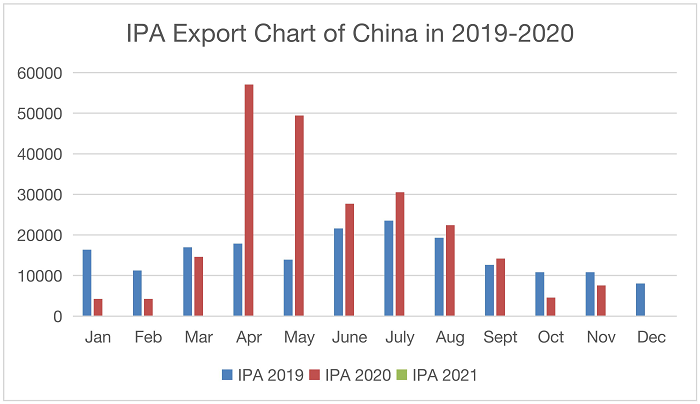 According to customs statistics, the average import price of IPA alcohol in November 2020 is US $1371.75 / ton. In November 2020, 7,537.60 tons of IPA alcohol will be exported, and the average export price will be US $1,033.44 / ton.

Note: The General Administration of Customs will no longer release the import and export data of January and February separately in 2020. Instead, they will be released to the public in March. January and February will be equally divided.

Summary and views

Aftermarket, IPA market or weak shock. In terms of raw materials, acetone is difficult to be good, propylene is also weak, the base surface support is weak; Supply side with the acetone price continues to go down, domestic acetone method factories may have plans to start, the supply side is more relaxed; Demand side to maintain a light, rigid to the main, the overall did not change too much.

Disclaimer: Echemi reserves the right of final explanation and revision for all the information.
Trade Alert
Delivering the latest product trends and industry news straight to your inbox.
(We'll never share your email address with a third-party.)