What's hot and trending this month

December PA market due to reduced demand, prices all the way down.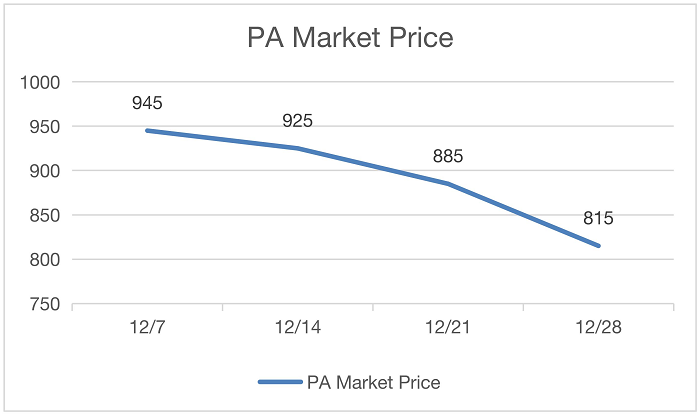 This month's market summary

In December, the domestic PA market all the way down, the demand level factor has become the main factor affecting the market. The main downstream plasticizer in the past month faced with the impact of the major raw material butanol shortage and the situation of production reduction, and then the demand for PA decreased; Unsaturated resin and other downstream into the traditional off-season, the demand for PA also weakened. The domestic PA industry as a whole starts the load high, stable market supply, in the downstream demand weakened, the domestic PA industry accumulation expected to increase, domestic PA industry panic and wa-see atmosphere filled, the market appeared a rapid decline, the market basically gave up all the previous gains. By the end of the month, as the price of the PA market fell to near the cost line, and the domestic PA export window once again opened, the domestic PA market low ushered in the focus of replenishment, the domestic PA market oversold rebound.
Next month market forecast

At present, the overall inventory of domestic PA industry is low, and from the cost side to support the strength, the factory price will be strong, is still the main factors supporting the market. However, the improvement of real demand from downstream is limited, and the market follow-up is insufficient. Demand factors may still be the main bottleneck restricting the market. Domestic PA market is expected at the beginning of the month or there may be a small correction, prices stabilized in the middle of the month.

Factory stoppages in China

In December, domestic anhydride plant operating rate of about 80%.
China's PA export trend in 2019-2020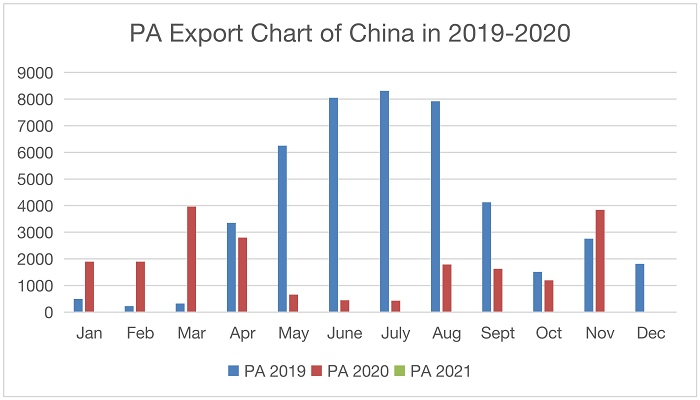 According to customs statistics, China exported 3,837 tons of PA in November 2020, and the average export price was US $701.374 / ton. In November 2020, China imported 0.05 tons of PA and the average import price was us $2340 / ton.

Note: The General Administration of Customs will no longer release the import and export data of January and February separately in 2020. Instead, they will be released to the public in March. January and February will be equally divided.
Summary and views

In December, the high level of PA fell, to the end of the near smooth transition, but the factory inventory and export orders support, firm offers, manufacturers and brokers have positive expectations for next year, is expected to bottom out of PA rebound, but limited by the cost and manufacturers negative inventory, the increase is expected to be small, also need to pay attention to the manufacturers device dynamics.

Disclaimer: Echemi reserves the right of final explanation and revision for all the information.
Trade Alert
Delivering the latest product trends and industry news straight to your inbox.
(We'll never share your email address with a third-party.)